Brian Delgado
Entering his senior year at Cal State LA and his final season as a member of the baseball team, Golden Eagles' team captain and first baseman/catcher Spencer Sundahl had to overcome a lot to get to where he is today.
Sundahl began playing baseball at four years old, after his father built a baseball academy in Chula Vista. Aside from baseball, Sundahl also played basketball, but ultimately stuck with baseball because of how immersed he was in the sport.
"Baseball was my first love as a kid," said Sundahl. "Being around baseball my whole life with my dad really influenced me to stick with baseball."
In the 2014 Major League Baseball (MLB) Draft, the Baltimore Orioles selected to draft Sundahl in the 28th round. Unfortunately, one month prior to the draft, Sundahl suffered a spine injury in his senior year of high school and declined the selection.
"I first noticed that something was wrong with my back when I took a swing in practice and I felt a really tight pull on my left lower back," said Sundahl. "A couple weeks went on and it got progressively worse. I wasn't able to squat, hit and throw without pain, or run normally."
After seeing a specialist, Sundahl was diagnosed with bilateral spondylolisthesis, a condition when the bottom two vertebrae of the spine are not fused together and start separating over time, not allowing the spine to be in the correct form.
Sundahl recalled having to sit in a chair for eight hours a day with his back erected in order to maintain his posture. "I had to take that summer off from baseball and do physical therapy for four months straight, three days a week."
It was definitely a tough time for Sundahl, who was going through the peak of his career at the time. Despite the injury, Sundahl was able to keep a positive mindset through it all.
"The biggest thing for me was to stay positive," said Sundahl. "I think [the injury] happening to me at a young age has carried me throughout my career and keep a positive mindframe when things are not going my way."
To this day, Sundahl continues to ice his back each night and performs back stretches in order to help his mobility.
After high school, Sundahl was committed to play for the UC Davis Aggies. However, midway through the year Sundahl decided to transfer to Southwestern Community College.
The decision to transfer from a Division I school to a junior college was because Sundahl felt homesick during his time at UC Davis. He believed he needed to go back to a junior college to mature and fine-tune his skills on the diamond.
Sundahl calls his time at Southwestern a "pitstop", as he was only there for one semester, before transferring to Mt. San Antonio College for the 2016 season. That year, Sundahl played 35 games and batted .299, scored 17 runs and had 23 runs batted in (RBIs) with one home run.
During his time with the "Mounties", Sundahl met future teammate and current Golden Eagles' utility man, Nate Alam. "We were just teammates at Mt. SAC and once we both found that we were both coming to Cal State LA, we got in touch and became brothers over the years," said Sundahl.
Prior to the 2017 season, Sundahl transferred from Mt. SAC to Cal State LA and he was focused on continuing his baseball career with his new team.
"The mission is to play baseball and make sure you get your job done on the field," said Sundahl. "That was the mindset I came in here with and that is the mindset I've always had in my career."
It was a new chapter for Sundahl's baseball career, as he was now a member of the Golden Eagles. However, the decision was made to have Sundahl "redshirt" the 2017 season.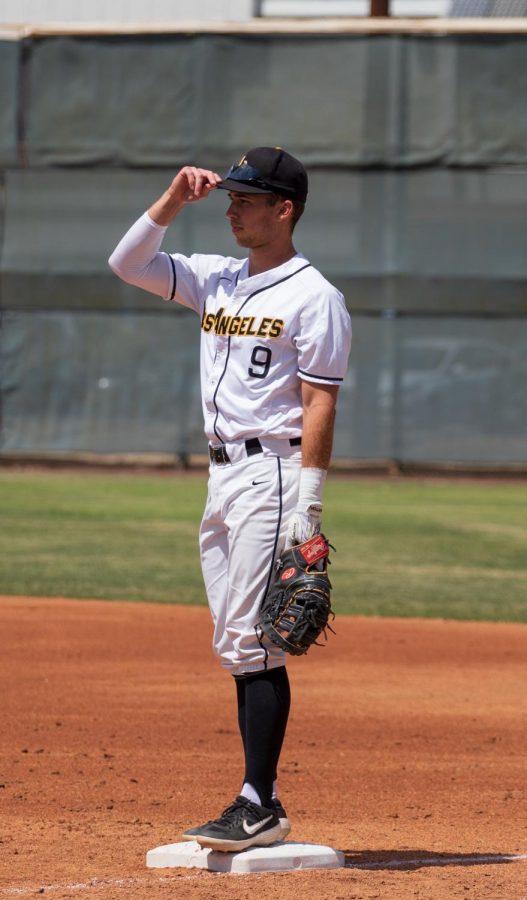 "We [redshirted Sundahl] because he came in as a catcher and we felt that he wasn't going to get the playing time he wanted to get," said Golden Eagles head coach Vince Beringhele. "He was genuinely disappointed because he wanted to contribute to the team right away."
Redshirting Sundahl allowed him to learn and grow in his first year with the program and after the 2017 season, he was set to debut for the Golden Eagles in 2018, but that would not be the case.
Weeks before the start of the season, Sundahl took part in a Cal State LA intersquad game. Sundahl stepped up to the plate to face right-hand pitcher Dylan Suppan and was hit by the pitch on his right elbow.
He then went down the first base line and attempted to move his elbow, but according to Sundahl, his elbow was stuck. And at that moment, he realized something was wrong.
"I had never broken a bone before and for that to happen, my hand was shaking, everything was shaking," Sundahl recalls. "[The athletic trainer] thought it was a deep bone bruise but then I ended seeing the x-ray [technician] at the health center and they told me I had fracture my elbow so I had to go to the emergency room immediately."
Because Sundahl's elbow was broken so severely, doctors were unable to put the bones in a cast, so they ended up putting seven screws and a plate to maintain it. Sundahl still has the scars remind him of that fateful day.
Going through that injury was more difficult for Sundahl to overcome, mainly because he knew he was nearing the end of his playing career.
Upon seeing the x-ray technician, Sundahl was told that he would be out for the year and his 2018 season was over before it started.
Despite receiving the bad news, Sundahl never gave up hope. "I kept a positive mindset and I always had a feeling that I would [come back], just because I was in shape, my mindset was in the right direction and I never lost sight of that," said Sundahl.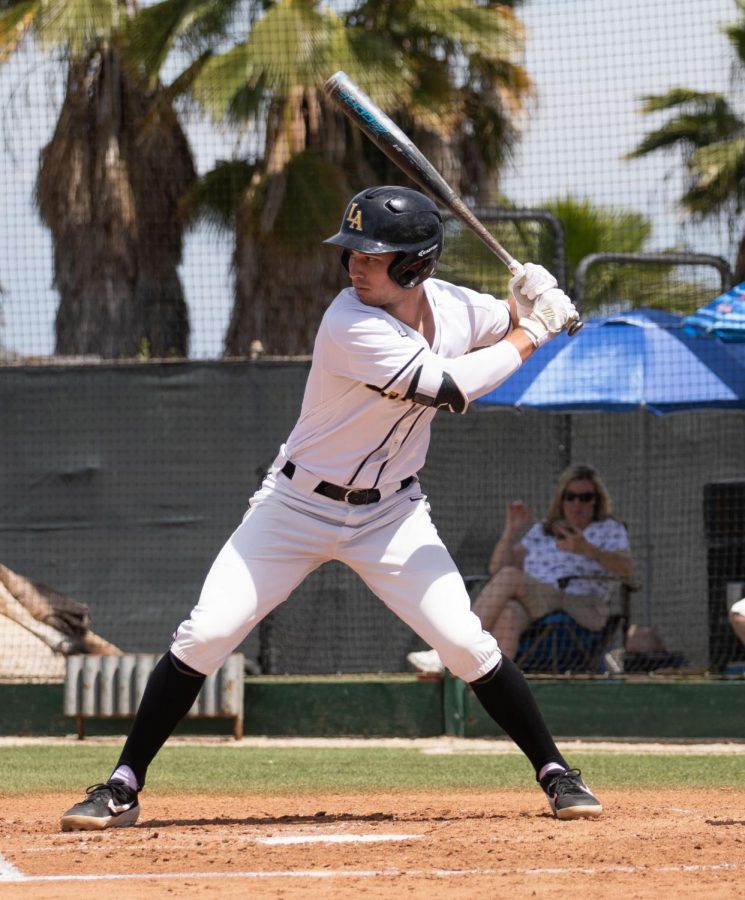 Sundahl surprised everyone when he made his Golden Eagles debut on April 13, 2018 against the Sonoma State Seawolves and picked up a base hit in his first at-bat for Cal State LA.
Even though there were a few games left in the season, Sundahl made each one count. He was one of the Golden Eagles' best players down the stretch and helped his team make their push to the playoffs.
In 18 games, Sundahl batted .339 with 19 hits in 56 at bats. He scored 13 runs and racked up 17 RBIs and was fourth on the team with five home runs.
"When he came back, he certainly gave us a lift," Beringhele. "I don't think anyone saw him coming back as hot and as prepared because to not play for that long and to come in and get off to a great start was really incredible."
After his debut in 2018, Sundahl looks to pick up where he left off in 2019, but before the season began, Sundahl received some surprising news from his team. He was voted in as one of the team captains for the Golden Eagles.
"Having my teammates vote me as one of the captains is a huge honor," said Sundahl. "I really look forward to coming out here every single day and leading [the team] by example."
Even though his collegiate career is winding down, Sundahl remains hopeful for an opportunity to play professionally. "If the opportunity comes, I'd love to keep on playing in the professional baseball leagues [and keep playing] as far as it takes me," said Sundahl.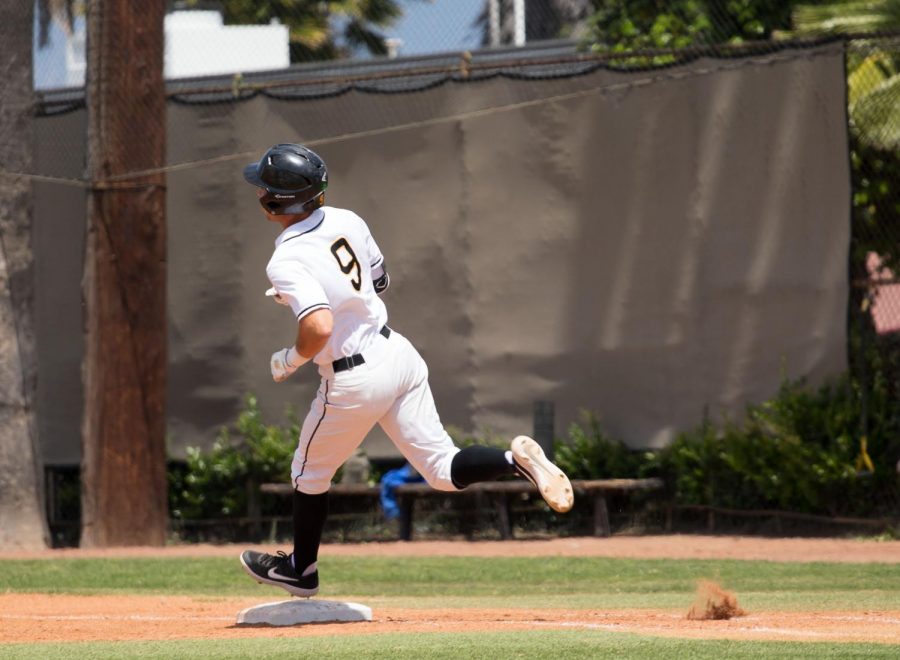 What stands out the most to Beringhele is Sundahl's perseverance: "He had so many things go wrong for him and he never lets it affect him," said Beringhele. "Having gone through so much, anybody could have quitted anytime, but he didn't allow that to happen and he stayed positive all the way through."
From overcoming two serious injuries, to becoming the team captain for the Golden Eagles, Sundahl's will and determination exemplifies his passion for the game. As this chapter of his life comes to an end, the future remains bright for this Golden Eagle.
"The biggest thing for me is being able to go day in and day out with the right mindset and having a positive outlook on life all the time," said Sundahl.