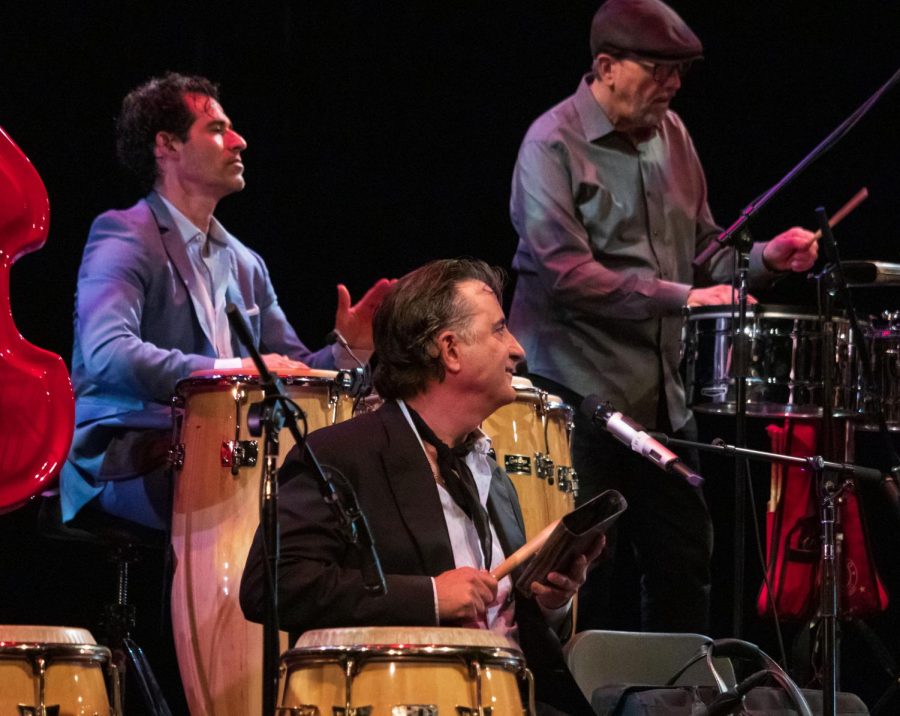 Brian Delgado
For the past few years, Andy Garcia and his All Star CineSons have booked an impressive array of gigs, from the Geffen Playhouse to the Catalina Jazz Club. It was only a matter of time before they injected the Luckman Fine Arts Complex with a shot of that Cuban flavor only they deal.
On Feb. 2, Andy Garcia delivered his one-night-only Cuban tribute to a sea of suits and sparkling dresses. Mix in a few cocktails and some hot-blooded fans, and there was no need for an afterparty.
The show started late, exactly twenty minutes past the scheduled 8 p.m. start time. But perhaps Garcia was just busy preparing his lecture as the PA set the mood with a playlist of classic Latin American tunes like Ray Barretto's "La Pelota." By the time he and his fourteen-piece band appeared from out of the smoky haze, it was clear the audience was in for a trip down Cuban memory lane.
The concert was designed as a tribute to the legacy of Cuban musicians who not only gave birth to the rumba, mambo, and guaracha styles we all know and love, but were also instrumental to their country's politics.
Throughout the performance, Garcia shared bits of his history with the audience.
"We lived in an efficiency, six of us: two on the couch, parents in the room and a bean bam boom for the grandmother," said Garcia midway through the concert, referencing his Miami Beach childhood. "But we had our freedom and our voice. If it wasn't for the sacrifices of that generation that brought us here so we could have our freedom."
Over the course of the two-hour-and-twenty-minute long concert, not only Cachao Lopez and Celia Cruz, but other Cuban artists like percussionists Mongo Santamaria, Chano Pozo and poet Jose Marti were tributized through either renditions of their most popular songs or, in the case of Marti, an original composition adding a light topping of piano, cello, violin and trumpet to his poetry.
The band made sure to do justice to the artist's intended vision behind each piece, playing Cachao's 1938 Mongo, for example, in its original upbeat tempo rather than in the lazier swing of the late twentieth century.
From start to finish, Garcia took the crowd through adrenaline-inducing hits where maestro Arturo Sandoval's trumpet work stole the spotlight to tear-jerking ballads.
Throughout it all, Garcia never lost connection with the audience, even inviting them to dance during his Celia Cruz tribute; however, it seemed that the folks in the front row did not need his approval. Many were on their feet from the start, moving their hips to the booming bass and soprano sax, some hands swaying in the air, others gripping cocktails.
By the end, the whole theater was on its feet and with the flashing lights and all, one might have even mistaken it for a nightclub in Havana.