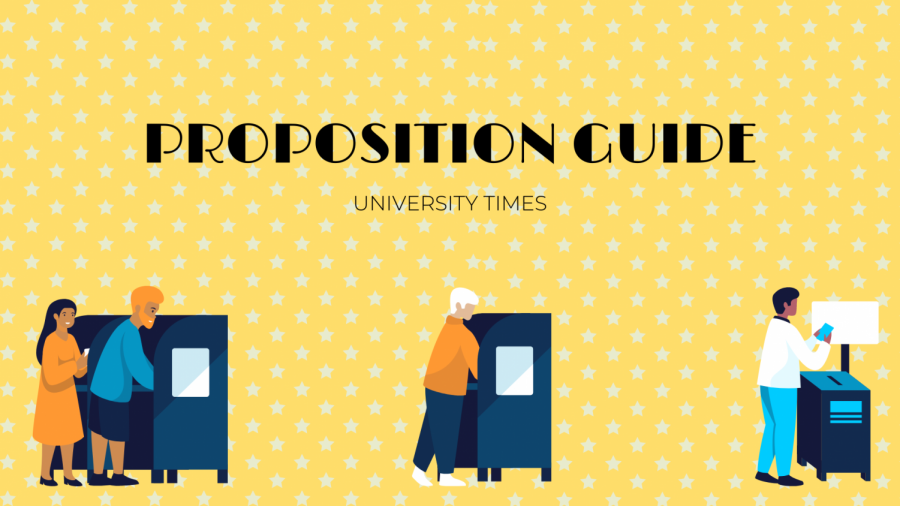 Cal State LA's Associated Students, Inc. (ASI), recently hosted the "Ballot Breakdown: Know Your Propositions" event to help students cast their vote for measures that will be on California's ballot.
The event was part of the "We the People" series, which is aimed at empowering students to engage in the democratic process, according to Brooke Mero from civic engagement office for ASI.
"It's important to remember that all these propositions have an agenda and they're often really good at obscuring those full extents of that agenda," said Mero. She suggested looking at who financially supports each proposition to know who is behind them.
Raquel Cetz, a policy advisor for the Coalition for Humane Immigrants Rights (CHIRLA), and a guest speaker at the event, broke down the 12 propositions on the ballot and presented "yes" and "no" arguments for some. 
Here is the prop breakdown according to Cetz, and CHIRLA's voting guide.
Prop. 14 – California Stem Cell Research Institute
Proposition 14 would issue "$5.5 billion in general bonds for State Stem Cell Research Institutes," said Cetz. According to her, this will help provide more educational opportunities and training to further stem cell research. It would also supply therapy for brain or central nervous system diseases and conditions such as epilepsy or alzheimers.
Cetz acknowledged this has been a proposition in the past, and some voters believed "there was not enough transparency that was available in terms of how these funds were being spent, and how much money went into what they stated it was for."
Prop. 15 – California Tax on Commercial and Industrial Properties for Education and Local Government Funding Initiative
Otherwise known as the Schools and Communities Funding Act, the proposition will tax big corporations, then redistribute the money to schools and local communities, according to Cetz.
Prop. 16 – California Repeal Proposition 209 Affirmative Action Amendment 
This proposition would provide access to people of color and those who haven't been given opportunities to work in said environment. The proposition would be "eliminating discrimination within the state interns of contract hirings and anything that has to do with education as well," according to Cetz.
Prop. 17 – California Voting Rights Restoration for Persons on Parole Amendment 
This would allow for people who have been convicted of felonies and are in parole to have their voting rights restored, according to Cetz. "It's important because that's another pool of folks who would have their voice to be able to vote," said Cetz.
Prop. 18 – California Primary Voting For 17-year-olds Amendment 
Proposition 18 would allow "folks who will be turning 18 at the time of the general elections to vote in primaries and special elections as well," said Cetz. 
Prop. 19 – California Property Tax Transfers, Exemptions and Revenue For Wildfire Agencies And Counties Amendment
"[This] would allow eligible homeowners to transfer their tax assessment anywhere within the state and allow tax assessments to be transferred to more expensive homes." said Cetz. 
According to her, this would change tax assessment transfers and inheritance rules, with some exceptions for folks older than 55. It would also allocate additional revenue resulting from the ballot measure to wildfire agencies and counties. 
Acknowledging the many differentiating views for this proposition, Cetz encouraged students to do further research on it. 
Prop. 20 – California Criminal Sentencing, Parole and DNA Collection Initiative 
This proposition will make changes to policies that are related to criminal sentencing charges, prison release and collecting the DNA samples from those with some misdemeanors such as shoplifting, theft or vandalism.
This would also bring a costly increase and restrictions on the release of parolees, according to Cetz.
Prop. 21 – California Local Rent Control Initiative 
This proposition would give local governments the power to enact rent control on housing over 15 years old. This would also guarantee new tenants that their rent will not surpass an increase of 15% as compared to previous tenants. According to the CHRILA voting guide, landlords with less than two homes would be exempt.
According to Cetz, this may help provide affordable housing and help homelessness. She recognizes the vote on this depends on how the voters' stand on issues like homelessness and rent.
Prop. 22 – California App-Based Drivers Regulations Initiative 
The proposition, which most Lyft or Uber account holders have seen, would consider app-based drivers to be independent contractors and enact several labor policies related to app-based companies, according to the CHIRLA voting guide.
Cetz acknowledged the contrasting views of the corporate companies pushing a "yes" vote, and unions urging a "no" vote. According to a Mercury News article, the Secretary of State shows over $185 millions was spent by "economic giants" to ensure voters to vote "yes," keeping "drivers as contractors in California." This led to it becoming "the most expensive proposition" in California, says Ballotpedia. 
Prop. 23 – California Dialysis Clinic Requirements Initiative 
According to Cetz, this would require having an on-site doctor at dialysis clinics, clinics receiving consent from the state to close, and additionally, clinics being expected to follow through with reporting requirements. A "yes" vote would also ensure that no discrimination occurs if a patient is unable to pay. 
She also acknowledged the concerns of some people who feel a "yes" vote would increase the cost of dialysis clinics, adding an additional burden to doctors. 
Prop. 24 – California Consumer Personal Information Law and Agency 
Initiative
According to the CHIRLA voting guide, Prop. 24 changes provisions to the California Consumer Privacy Act (CCPA) and will create a California Privacy Protection Agency to implement and enforce the CCPA. 
This would also make questionable changes to the protections of consumer data, and personal data, but not all the information found in social media.
"All of these different social media platforms we use carry our data and information, and many of the times, we don't think about it," said Cetz. 
Prop. 25 – California Replace Cash Bail With Risk Assessments Referendum 
Proposition 25 would replace cash bail with risk assessments for suspects who are awaiting trial and enforces Senate Bill 10. Cetz recommended students further research SB 10, which, according to her, eliminated bail bonds in 2019. 
The risk assessment would assess how much of a risk the individual is, which is beneficial for those who are jailed for petty crimes, such as stealing a candy bar from a store, and who can't afford bail, according to Cetz. She acknowledged that a "no" vote would keep cash bail in place for those awaiting trial.
———
Cetz urged students to continue researching the propositions to figure out how it impacts different communities as voters and to try politically to educate their community.
Cetz reminded Cal State LA students that all registered voters will receive a mail-in ballot by late October and to make sure that the ballot signed and is postmarked by Nov. 3.
In an interview with the UT, Mero, the ASI Civic Engagement office, said, "We chose to have an event on the props specifically because I think many voters, myself included, lack the information needed to confidently decide on how to vote on ballot measures." 
Mero added, "I still rely on voter guides sometimes, from groups I trust to help me decipher the ballot measures."
Among the students who attended the event was Cal State LA student Rochelle Cordero. 
"The event overall was very informative, and it goes in depth of what each proposition means," stated Cordero in an email with the UT. 
Cordero added, "The ballot itself gives a summary of the proposition but this event really opened my eyes and helped me become cautious of what I am voting for. After this event, I am confident in submitting my ballot early."