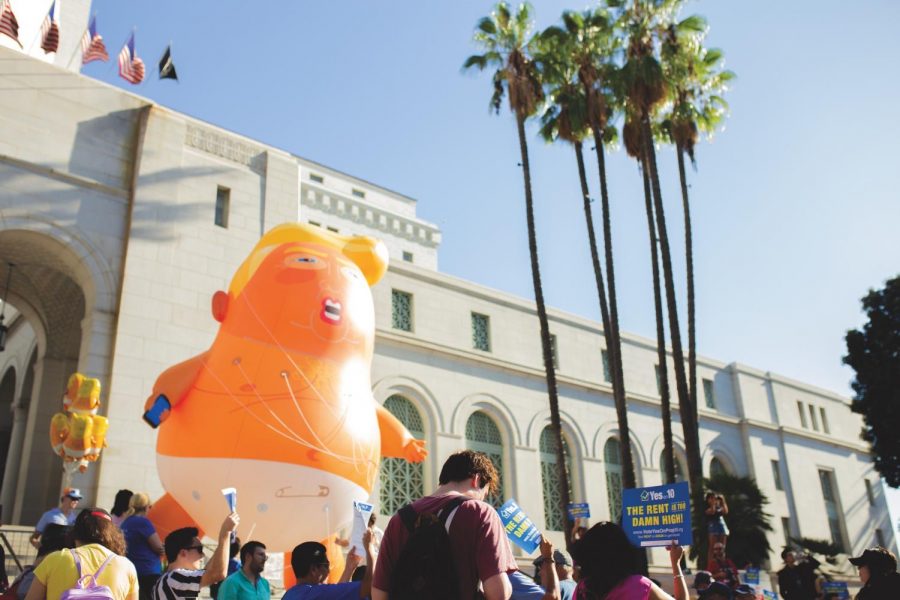 Rachel Carrillo
Chants of "Yes on 10!" and "The rent is too damn high!" echoed throughout the streets of downtown Los Angeles last Saturday afternoon.
Advocates and supporters of Proposition 10 gathered outside the Los Angeles City Hall for a rally as the "Baby Trump" balloon loomed in the background.
The "Yes on 10" Rally, hosted by Housing Now, partnered up with Backbone Campaign and Backbone San Diego to bring the Baby Trump balloon to LA.
Many in attendance took advantage of the opportunity to take photos of the Baby Trump balloon and expressing their support on Proposition 10.
"I support Prop 10 because we need to stop landlords from jacking up rents $100, $200, $300 at a time. It's absolutely crazy," said Will Johnson, a supporter of Backbone Campaign.
Prop 10, also known as the "Local Rent Control Initiative", is an initiated state statute that would repeal state law that currently restricts the scope of rent control policies that cities and other local jurisdictions may impose on residential property according to Voterguide.sos.ca.gov.
The state law, known as the Costa-Hawkins Rental Housing Act (Costa-Hawkins), limits local rent control laws.
According to the Costa-Hawkins Act, rent control cannot apply to any single family homes. It can also never be applied to any newly built housing completed on or after Feb. 1, 1995. Lastly, rent control laws cannot tell landlords what they can charge a new renter when first moving in.
"We think that rent control has the potential to help the most people in the shortest time," said Dagan R. Bayliss, the Director of Organizing at SAJE (Strategic Actions for a Just Economy).
Bayliss also believes that Prop 10 is the best available tool now in addressing the issue of people on the verge of homelessness. According to Bayliss, people becoming homeless is more costly: The cost of supported services as well as funding and building new housing for homeless people is much more expensive for the taxpayers.
Gloria Cortez of ACCE Action (Alliance of Californians for Community Empowerment) has been homeless for over a year. Like many others, she couldn't afford to pay the down payments and as a result, became homeless.
"It's going to make a huge impact, because there's a lot of families homeless at this time, and there's many more who will be homeless because they can't afford the high rent increases."
Diana Feliz Oliva, a transgender woman and Cal State LA Alumna, spoke to the crowd about her own experiences and struggles when trying to find affordable housing:
"For six months unfortunately, I had to go from couch to couch, friend to friend until I was able to find affordable housing and housing that recognized my rights as a human being."
Despite her struggles, Oliva remains hopeful that Prop 10 will pass and transgender people will be able find affordable housing without being discriminated against.
Rosemary Serna, another Cal State LA student, spoke during the rally as well. As a resident of Highland Park, Serna's place of residency was bought by an investment group called Interstate Equities Corporation. She along with many other tenants experienced an "$700 increase in rent without any renovations or repairs to their units."
"Having your rent go up $700 feels like having the rug pulled from under your feet. Some of my neighbors are experiencing harmful effects to their mental and physical health."
One couple really stood out at the rally, as Jud and Debra Lewis-Mahon showed up in their Uncle Sam and Miss Liberty costumes.
"We like to come out in our costumes and hope that it gets people excited and feeling like they're part of a movement as well," said Debra, who hopes more people will vote in this upcoming midterm election.
Jud believes it's important for the cities and towns to have the power to enact the rent controls that they need to:
"With the right support of the state, we can hopefully get on top of homelessness issues and rental and property issue."
Debra, agreeing with her husband, said jokingly, "We have two young adult sons, and hopefully they might someday be able to move out."
Voting for Prop 10 along with other propositions will be held during the midterm election on Tuesday, Nov. 6, 2018 from 7 a.m. to 8 p.m.