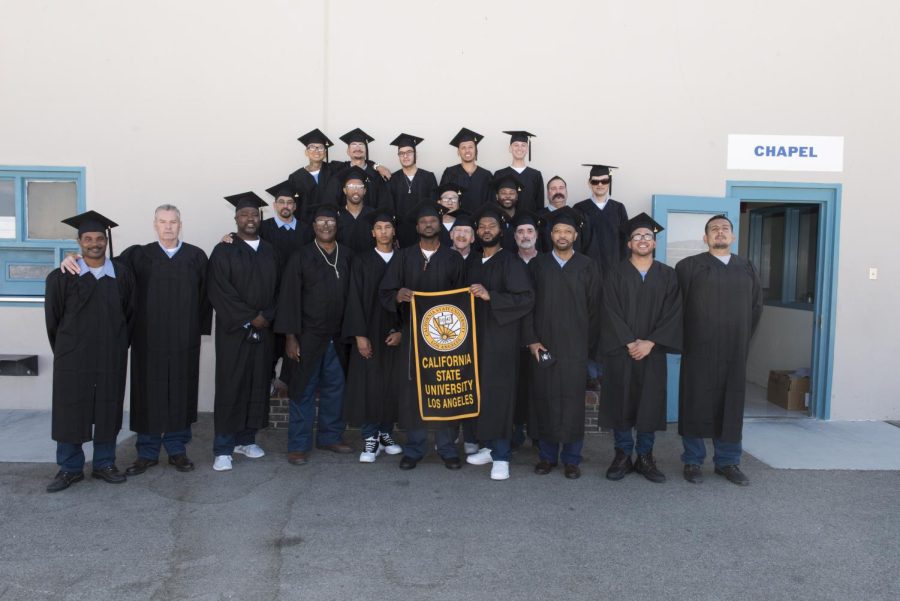 Robert Huskey/Cal State LA
While serving time, Daniel Whitlow, a graduate of Cal State LA's  Prison BA program, did not intend to give up on a brighter future. 
"The bachelor's program was the greatest thing going in my life with the exception of my family and my loved ones," said Whitlow.
The Cal State LA Communication Studies Prison BA program started in 2016 and has allowed inmates to create a space to propose educational programs and attend classes. 
"These types of opportunities are once in a lifetime," said Whitlow. Whitlow noticed the number of inmates that were interested in the program, "There were dozens and dozens of us, and we all had conversations regularly about the importance of what this might be. So combined with that and everything else, I knew that it was the right choice for me."
After completing the BA program in May of 2020, Whitlow decided to further his education and enroll in Cal State LA's communication studies master's program. 
Currently a Cal State LA graduate student, Whitlow works as a tutor at the Center for Academic Success. During his 22 years at Lancaster Prison, Whitlow used his situation as an opportunity to discover a new interest and invest in his personal and academic development. 
Prior to his introduction to the Prison Graduate Initiative program, Whitlow was taking correspondence classes with Coastline community college with a program called "Achieving college education Coastline College. However, he was missing an important factor. 
"Classes were fun, but I didn't forge an identity for myself as a student because I didn't get a chance to interact as a student," he said. "I interacted with textbooks, but I never interacted with professors or other students. I didn't realize that I desperately needed that for the development of my identity and for what I wanted to pursue with my education."
When Whitlow was introduced to the opportunity of being part of the first cohort of Cal State LA's  Prison BA program, he immediately thought of his single mother who put her education on hold to provide for her son. After Whitlow was incarcerated, his mother decided to go back to school. It served as a distraction from her situation while also providing her with opportunities for success.
"I saw this progression in her, and I wanted to model myself after that, not only because she was my mother and because we were close, but also because I could see that her life was better because she decided to pursue her education," said Whitlow.
Once he began the master's program on campus, after being released in 2020 subsequently after earning his BA, Whitlow experienced a great amount of stress while trying to balance the workload of the program with several unexpected life complications. At this point, he considered dropping out and continuing the master's program once things were resolved. 
"I kept with the program," he said. "I'm not going to drop out, but the only reason why is because my wife reminded me that my education has been one of the guiding lights that not only changed my life but got me out of prison and gave me an opportunity to pursue and do the good work that needs to be done for incarcerated people."
Duncan Martinez, another former inmate who was part of the first cohort, was one of the first in the group to fight tirelessly to get this program going.  
"There were fundamental problems that were difficult," said Martinez. Some of those challenges came from inside the prison, such as "the officers on the ground not liking the idea of us getting a college education." 
Not knowing whether the students would even be able to graduate was difficult for some. 
"One of the difficulties emotionally was that we didn't know for a fact if we were going to graduate," said Martinez. "As a matter of fact when we started, it really looked like we were not going to graduate." 
What would have been two years of schooling outside the prison system took the student inmates four years to complete since they were only able to take two classes at a time, according to Martinez.  
Daily life as a student inmate consisted of "always, always, always" doing the reading, he said. Students were expected to complete their readings and assignments, but they still had full-time jobs, responsibilities, and daily life to deal with in the yard. Finding the time to do everything became challenging.
If the students had any questions, they had to carefully reread the material and work together to find the answers. Martinez said they would assist each other if they had any challenges because they were always a team. 
"That's where the cohort was strong," he said. "If one didn't get it, then we would help each other out until they all got the material." 
Martinez was motivated by his family and himself. "Motivation was everything, but also my family set a high bar in wanting me to do it," he said. 
Martinez does not want the cohort's success to be a one and done. 
"We want to see cohort 15 graduating," he said. "When I got out of prison, I had two real goals. Parole plan 'A' was to find a job that I can't say no to, and plan 'B' was to go get a master's in something that I really care about. I don't have an end game for that, and I don't know that I will until I'm actually doing it. I'm making decisions based on joy."
"I feel amazing, we were put in an amazing position with an amazing professor and an amazing school against all odds," he continued. Ten years ago, he "would have thought you were crazy to think that I would ever get a bachelor's degree while being in prison." 
Martinez will be pursuing a master's degree in television, film and media studies at Cal State LA next year. 
"I go from sitting in that credit classroom that often was ridiculously hot or ridiculously cold and the limited resources we had and the absolute bliss we had in those days, and I think about where I am at now, and I am overjoyed," he said.
Martinez has a message for the third cohort, who is now beginning the same journey he started four years ago. 
"Don't take this for granted," said Martinez. "Never take it for granted. It's doable."
On the day of graduation, Oct. 5, students were "excited and proud," said Kamran Afary. They wore black caps and gowns over their prison uniforms and crossed the stage as their names were being called. Afary was one of the professors teaching communication to the inmates.
"The cohort that just graduated are helping transform not just prison education, but prisons away from a punitive environment," said Afary. "They have grown immensely and become articulate social justice advocates. They are deeply hungry for the resources that we provide and give back much more than we can imagine in terms of creativity."