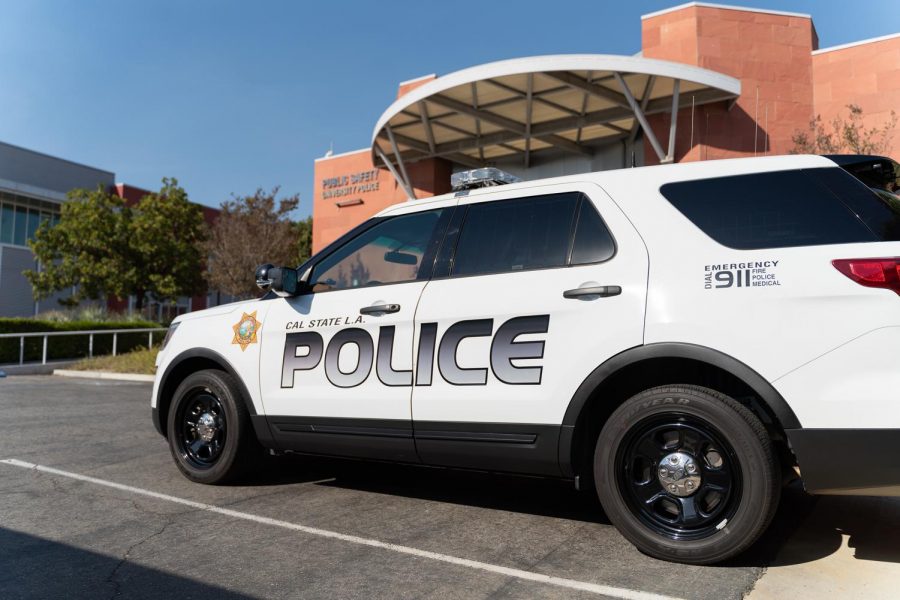 Brian Delgado
UPDATED: Wednesday, Nov. 6 @ 11:10 p.m.
A rumored date surfaced on social media late Tuesday evening, spreading concerns throughout the Cal State LA community. A tweet stating that the graffiti found last Wednesday in a bathroom stall on campus that threatened the school's safety specified of Nov. 13 as the day the threat would materialize.
According to Sargeant Raul Lopez, the tweet being shared on social media is one that has resurfaced from last week after the graffiti was found. He explained that during their investigation, Public Safety found the threat to be non-credible.
Lopez confirmed around 11 p.m. that there is "no credible threat" to campus and that the school will remain open.
Chief of Police Larry Bohannon told the UT in an email that after interviewing those who have come forward with information of the graffiti within the bathroom stall that they "have not uncovered any evidence of a credible or immediate threat to the University or any specific group on campus."
When asked about the rumored date, Bohannon said, "Spreading rumors is irresponsible and serves only to fuel fear and apprehension."
Bohannon encourages anyone with information to contact the Department of Public Safety at (323)343-3700.
UPDATE: Thurs. Nov. 7 @ 5:21 p.m.
Following the possible threat found in an on-campus bathroom, Cal State LA will not release any details while the investigation is underway.
In a statement from the Director of Public Safety Larry Bohannon, provided to the UT by Director of Communication and Public Affairs Robert Lopez:
"Details including location and what the graffiti said are part of our investigation. Only the person or people involved with this crime, and witnesses, would know these details, which is why we cannot release them to the public. Doing so could jeopardize the investigation and the apprehension of the person or people responsible."
Vice President for Student Life Nancy Wada-McKee also issued an email telling students if they "have been experiencing fear, anger and anxiety in recent days," they can visit a counselor in the Student Health Center or contact the Counseling and Psychological Services (CAPS) at (323) 343-3300. CAPS also has a 24-hour hotline available at the same number.
Faculty and staff can get support by accessing the Employee Assistance Program.
"The campus is open and safe. We have found no evidence of credible threats. Still, we know your feelings are very real. You are not alone," said Wada-McKee in the email.
A second alert from Public Safety on Thursday said there has been no evidence found to suggest a credible threat to the University community. As the investigation continues, Public Safety is asking for anyone with information to contact (323) 343-3700.
Original breaking story:
Another possible threat surfaced at Cal State LA; marking the third threat in a little over a week.
 In an alert from the Department of Public Safety at approximately 7:20 p.m. on Wednesday, graffiti was found in a bathroom wall on campus "that implied a future threat," but investigators determined there was "no immediate threat to the University."
Public Safety investigated the situation and consulted with outside law enforcement, according to the email. Public Safety will continue investigating the graffiti as a crime.
 As of now, the campus is deemed to be safe and will remain open, but expect higher police presence for precaution.
 Public Safety is asking anyone with information to call (323) 343-3700.
 The UT will update this story as it unfolds.