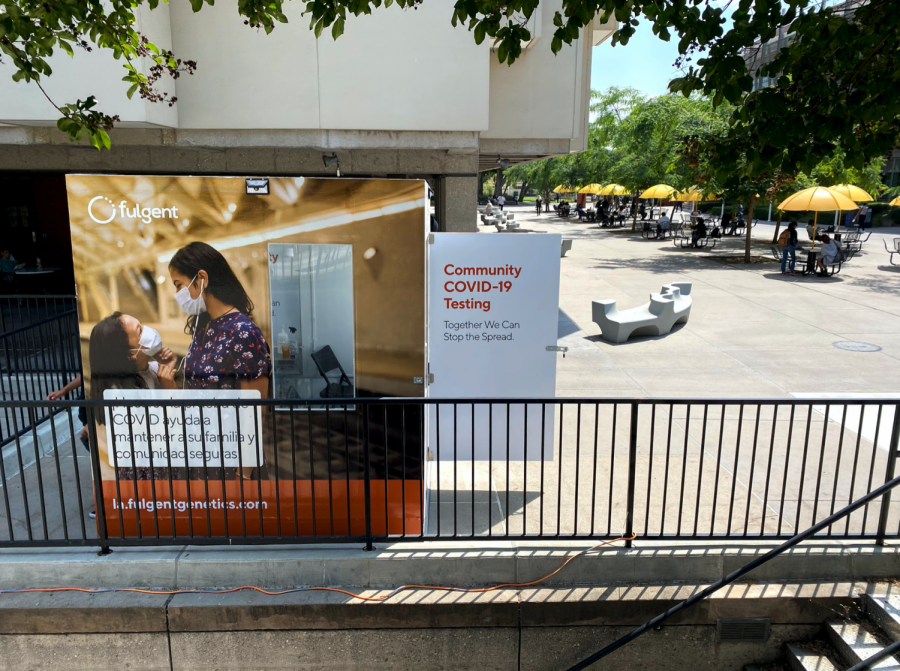 Cornell Chuaseco
According to the recently released COVID-19 data, the number of cases reported to Cal State LA was steadily rising before a small dip last week. 
The total reported cases since the week of Aug. 16, have been highest among students, with 33 student cases reported compared to eight employee cases. This data only includes the number of individuals who have reported their diagnosis to the university. 
Out of the 33 student cases reported, all but three are believed to have been on campus. 
Students and employees who are unvaccinated, partially vaccinated or who have not submitted their proof of vaccination through their GET account are required to get a weekly COVID-19 test. This includes students and faculty who are exempt from vaccination due to medical or religious reasons.  Students and employees will need to present their Golden Eagle One Card to get a free COVID-19 test on campus. 
According to the COVID-19 update sent by the university, on the occasions when someone has been around another person who has tested positive, they will be contacted by the school's COVID-19 Compliance Task Force. The Task Force, with the help of the Los Angeles County Department of Public Health, notifies those deemed as having had close contact with people who have tested positive for COVID-19. The contacted people receive quarantine instructions and information about COVID-19 testing.  
Following the Department of Public Health's orders, everyone must wear a mask regardless of vaccination status. While on campus, masks are required indoors and in campus vehicles. When outdoors in crowded areas, masks are recommended.

Before arriving on campus, employees, students and visitors are required to self-screen for COVID-19 symptoms.  According to the Health Watch self-screening, you must not come to campus if you are experiencing any of the following symptoms.
Fever of 100.4 degrees Fahrenheit; or
Alternating chills and sweating; or 
Cough, trouble breathing, shortness of breath; or 
Sore throat; or 
Muscle or body aches; or 
New loss of smell or taste; or 
Nausea, vomiting or diarrhea; or 
Headache; or 
Congestion or runny nose; or 
Fatigue
Students who test positive for COVID-19 are urged to contact the Student Health Center at (323) 343-3302 to report the diagnosis. Employees who test positive should notify their supervisor, who should then contact Human Resources Management.
There are two testing sites on campus offering free COVID-19 tests to students, staff and faculty when they present their Golden Eagle One Card. The testing sites are located in the main walkway, between the University Bookstore and the Greenlee Plaza near Salazar Hall. 
Cal State LA students and community members can also get vaccinated at the pop-up clinics that will be held on campus Sept. 15-16 from 10 a.m. to 3 p.m. More information and instructions on how to make an appointment at the pop-up clinics can be found here.