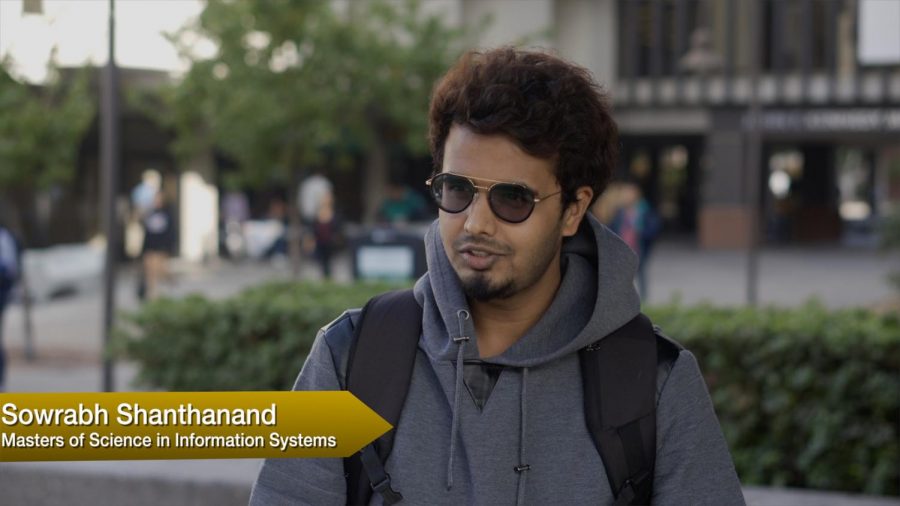 Erick Brigham
"I completely approve removing the orange man." That's what English major Rey Castillo said when asked how he felt about the impeachment inquiry into President Donald Trump.
The UT conducted an informal video survey on what campus community members had to say about the topics of the Democratic presidential candidates, issues that matter to them and impeachment.
Everyone interviewed by the UT supported impeachment. According to an Axios/College Reaction poll, conducted in early October, "76 percent of college students support an impeachment inquiry. That number has soared from just 52 percent in late May."
However, there was greater variety among the candidates they support.
Sowrabh Shanthanand, a grad student, supports former Vice President Joe Biden for his experience, and isn't concerned about his age. "It's better to have someone with the right mind and old body, rather than someone with the wrong mind and [young body]," he said.
Biden is leading in average national polling, according to the New York Times. However, last Tuesday, a Monmouth University poll showed that Mayor Pete Buttigieg is polling above Biden in Iowa, where the Democratic primary season inaugurates.
Margaret Finnegan, a criminal justice lecturer, supports Senator Cory Booker and former HUD Secretary Julián Castro. The lower polling candidates have not qualified for the December debate, according to the New York Times. Finnegan admitted she's uncertain of their chances to succeed, but appreciates Castro's stance on immigration, an issue she deeply cares about.
Castillo voted for Senator Bernie Sanders in the 2016 primary season and plans on voting for him again. He appreciates Sanders' platform on wealth inequality and the student loan crisis.
Student loan debt has accumulated to over $1.5 trillion, a record high; a reflection of the rising costs of higher education as "tuition has more than doubled since the 1980's," according to Business Insider.
To hear more about what Golden Eagles had to say on these topics, check out the QR code or follow us on instagram @csula_university times.