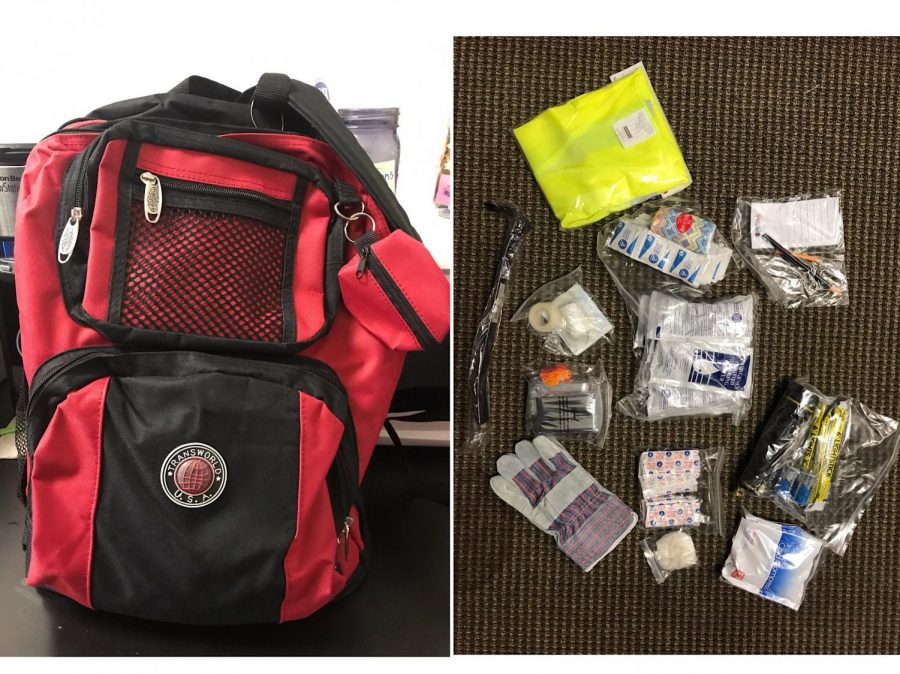 Catherine Valdez
We all know that California has a lot of seismic activity but not all of us are properly prepared should a major earthquake strike.
"My son was 2 months when the 7.1 earthquake struck Mexico City in 2017. Watching the news and images on social media about the aftermath literally took [away] hours of sleep for me," said Diana Gonzalez, a Huntington Park resident. She didn't want to be left unprepared like so many of the victims on television, so she said she bought an extra diaper bag and made her own emergency kit for for her baby with spare diapers, wipes and medicine. She later made one for herself, recently purchasing a duffel bag to carry both kits in.
Cristina Salgado, another area resident, said she also has an emergency pack with a first aid kit, food, clothes, shoes, lamps, water bottles and other necessities.
"We also teach the smaller kids what to do in case of a big earthquake. We don't keep our exits blocked or cluttered they're always free of anything because you just never know when one will hit," she said.
Besides speaking with residents, we leaned on government officials and others to help us answer common questions about earthquake preparation.
Why should we prepare for natural disasters?
They're a reality in California. In fact, nine earthquakes rattled California within 24 hours starting on Christmas Eve., according to the Sacramento Bee.
The San Andreas Fault runs through the state and consistently produces earthquakes, including those with high magnitudes. For instance, the city of Huntington Park has been hit with 4,583 earthquakes since 1931, according to Sergio Infanzon, the city's director of community development.
What's more, in the next 30 years, there's a 60 percent probability that a 6.7-magnitude earthquake will hit Los Angeles, according to the USGS.
Developing strategies for preparing for natural disasters before and after they strike can protect lives, homes and communities.
How can you prepare yourself for an earthquake? 
Some ways you can prepare yourself include:
Make or purchase an emergency kit that has supplies for up to three days.
Secure heavy furniture and appliances to the walls or floor.
Get earthquake insurance.
Make a plan with your family about what to do during a natural disaster, including where to meet.
Take earthquake drills seriously.
What should your emergency kit contain? 
An emergency kit should contain supplies for at least three days and copies of important documents such as birth certificates, medical information and passports. Some other items to include are: 
Water
Canned food 
Can opener 
Flashlight 
Batteries 
Medications 
Multi-purpose tools 
Sanitation and hygiene products 
Smartphone charger 
Family contact information  
Emergency blankets 
Map 
Radio 
Whistle 
Surgical mask 
Matches 
Work gloves 
Extra clothing 
Duct tape 
Scissors 
What should you do in the event of an earthquake? 
The first thing you need to do is stay calm and duck, cover and hold. According to the Red Cross, people should try to protect their head and torso at all times.
You should also be prepared for aftershocks. People who are in a building should stay there until the earthquake stops and it is safe to exit.
If you are in a car, you should pull over to a clear location, fasten your seatbelt and stay there until the shaking has stopped. People who are outside should find a spot that is clear and far away from buildings, power lines, and trees. Elevators should be avoided at all times; Taking the stairs is safer.
What should you do after the earthquake has stopped? 
When the earthquake has stopped, be prepared for aftershocks by dropping and covering until it comes to an end.
Then, you should grab your emergency kit and look for a safe location. After making sure that you and your family are safe, help others if you are able to. Turn on your radio for information from authorities and follow their instructions. 
What are some hazards that you should look out for during and after an earthquake? 
Ground shaking: This is the motion felt by the seismic waves due to the earthquake. The strength of the shaking all depends on the earthquakes magnitude. 
Landslides: Landslides occur from ground shaking and they can cause major damage to roads, buildings, utilities and other facilities. 
Liquefaction: Liquefaction is also caused by ground shaking that results in wet soils. These wet soils change from solid state and liquid state—which affects the soils ability to support structures.
Community News reporters are enrolled in JOUR 3910 – University Times. They produce stories about under-covered neighborhoods and small cities on the Eastside and South Los Angeles. Please email feedback, corrections and story tips to [email protected]