Experts: Keeping film sets safe means hiring more experienced professionals
Worker shortage and tight budgets may contribute to safety issues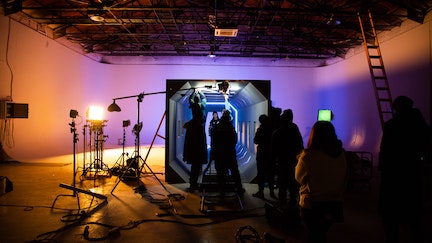 Is the film business a safe industry to work in? A few months ago, it would have sounded like a weird question, but with the recent tragedy that occurred on the set of  "Rust," the question has gained merit.
According to a report by the Associated Press, as of 2016, only 43 people have died on film sets in the U.S. since 1990. While no loss is acceptable when it comes to human life, and the report indicated that that number may be a lowball estimate, 43 deaths in 26 years are much lower numbers than in many other industries.
As it stands, films with union workers have several extremely long and thorough guides and regulations for keeping things safe. Everything from working underwater to preparing food is covered, and pertinent regulations are sent out on safety bulletins with the schedules and other information.
"I think that there's enough regulation in existence. What I don't think we have is the enforcement facet," says Douglas Keenan, a veteran prop master.
Obviously, the issue of keeping sets safe is complex, but an aspect Keenan seemed to find important was always hiring professionals, even if there are much cheaper options: "A professional isn't going to come work on a show and not get paid… Producers make a decision to capitalize on their profits and not to pay people, and I think that's the bigger issue today."
This concern is mirrored in the tragedy on the set of "Rust" with armorer Hannah Gutierrez-Reed. The 24-year-old had only ever worked as an armorer on one film before "Rust," according to an L.A. Times story.
Alex Daniels, a stunt coordinator and president of the Stuntmen's Association of Motion Pictures, put an emphasis on experience. "When it comes to performing action, when it comes to safety, there is nothing that can replace experience.," Daniels said. "One of the issues I find currently, is that there's so much production, there's so much content going on… I don't believe that there's enough qualified people available to fill the spots, and by qualified, I mean experienced people." 
"It's hard to imagine from how many different angles things can go wrong." Thomas Smith, an Assistant Director who started working in the film business in 1978, believes that communication and vigilance on set are key to making sure nobody gets hurt. "It becomes every individual working together, as a team, taking care of each other."
Smith said that he likes to use the daily safety meetings to very clearly outline potentially dangerous activities for the day, and to make sure that everyone understands what should be happening, and what shouldn't be. "It's a part of the process, just like saying 'action' or 'rolling,' keeping an eye on safety is part of that process."
With this in mind, Gutierrez-Reed was not the only one who made errors on the set of "Rust." Dave Halls, the assistant director, was responsible for checking the revolver that would eventually shoot Halyna Hutchins for live rounds, according to Keenan. While the details of how and why Halls announced that the gun had no ammo are unclear, it is safe to say there was some lapse in vigilance that led to a tragedy.
When asked whether the film industry overall was a safe industry to work in, Daniels had this to say: "Absolutely, it's a safe industry… When it comes to risks, we can't think of everything, potential things that could go wrong or accidents that could occur, because that's life. But following the guidelines and the protocols based on the experience that already has gone before puts us in a much safer place."
Community News produces stories about under-covered neighborhoods and small cities on the Eastside and South Los Angeles. Please email feedback, corrections and story tips to [email protected]