Former NBA and WNBA Champs 'Coach-Up' Cal State LA Players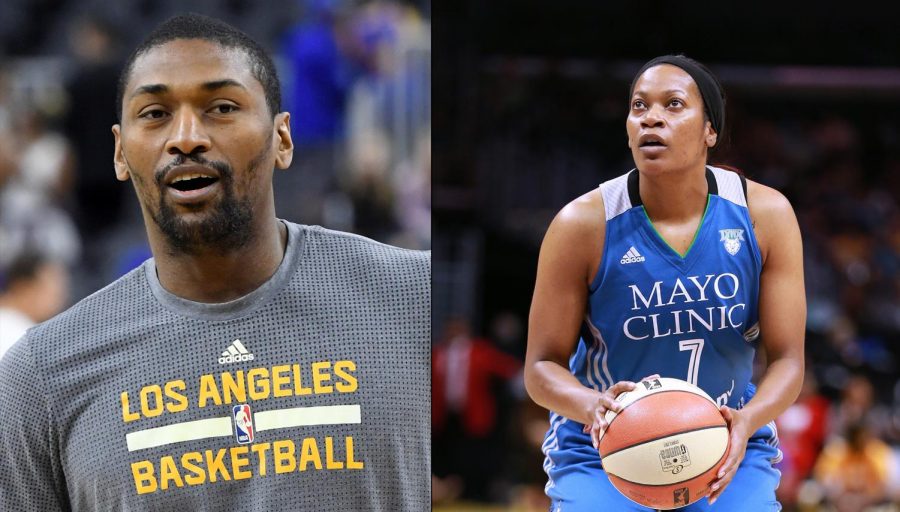 The Cal State LA women's basketball team will be getting coaching assistance from two big names in the world of basketball: Jia Perkins, a former WNBA champion with the Minnesota Lynx, and former Lakers' player Metta World Peace, according to Head Coach Torino Johnson. 
Perkins is a first-year assistant coach for the Golden Eagles. Meanwhile, World Peace, formerly known as Ron Artest, will provide a different perspective on the defensive end of the floor. World Peace is not an official part of the Cal State LA women's basketball coaching staff, but has participated in multiple practices.
In the upcoming season, Perkins will bring a new element of competition and vocalization to the court which will add to the team's strategy offensively, shared junior guard Jasmyne Martin. 
With the additional help of assistant coaches David Elliott and Kameron McClinton, the team's ultimate goal this year is to bring home a national championship.
While Perkins sets the tone offensively, and World Peace's elite defensive mindset helps the team grow, it seems the lady Golden Eagles may have found a dynamic coaching duo.
Johnson said he is excited for the upcoming season, and sees the eagerness from his players to learn from these former big-time athletes.
"They are being put in situations where they can actually be successful. It [stems] from having people who have walked that walk, [who] come in and talk to you, who assist you through drills and [who] assist you through different life crises. It's not for us to be condescending, it's not for us to be derogatory. We are having the right types of conversations, and Jia and Metta embody that. They both are wholesome people that know how to articulate themselves."
With the addition of the former all-stars, the women's basketball team might be poised to make a deep postseason run.
The next home game for the Cal State LA women's basketball team is against San Francisco State on Dec. 5 in the University Gym.
This story was produced for JOUR 4820 Digital Journalism.