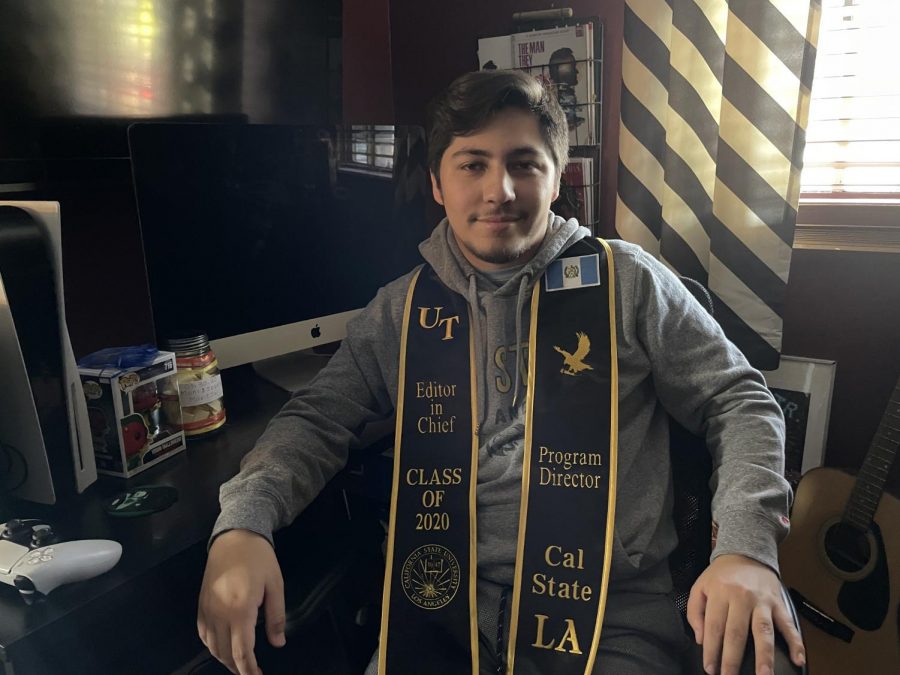 It took me five-and-a-half years to finish college.
Go ahead. Make fun. I can laugh about it now because I am on the other side.
I have a degree that nobody can take away and found a career that I love. But most of all, thanks to my extra long time at Cal State LA, I have made lifetime friends and achieved accomplishments I never would have dreamed of had I not hit the brink of failure and found a way to finally grow up.
When I first walked onto campus in Fall 2015, I was a mere boy who could barely grow facial hair. By the time I finished, I served as editor-in-chief of the campus newspaper and program director of the campus radio station. At 23, I can now grow facial hair, or at least a solid mustache and stringy goatee.
It is an understatement to say that I wasn't always interested in getting involved at Cal State LA. I planned on being a commuter student since my parents' home was just 20 minutes away from campus. I never wanted to be on campus longer than I had to.
I claimed to be a television and film student, but despite an interest, I had nothing to show for it after a year in school. Classmates talked about shooting music videos, the equipment they bought, or the script they just wrote and I felt discouraged because I had done none of that.
Then, one day, I saw a flyer on a campus bulletin board for Golden Eagle Productions, a television and film organization on campus. Desperate to make some kind of progress, I typed the details into my phone and told myself I would show up. But when the day came, I didn't go. I just drove home feeling like I wasn't good enough.
Sure, I watched a lot of movies, but I didn't know anything about making one. So, I spent the next year doing the bare minimum: turning in essays just seconds from the deadline and guessing my way through exams.
My grades began to slip and graduating in four years became more and more unrealistic. Without a care in the world, I let it be until I got hit with a satisfactory academic progress (SAP) report.
My GPA was on the verge of falling below a 2.0 and if it did, I would've been removed from the school. I rushed to an advisor where we came to the agreement that if I passed all my classes with a B, I'd be okay. I could stay at Cal State LA.
I was ashamed to tell anyone about my grades. I already wasn't a great student in high school as I skated by with C's. I didn't want to disappoint my parents, so I held the truth from them.That SAP report was the wake-up call I needed.
I had failed myself letting my grades slip. I felt like I was taking someone's seat at Cal State LA that deserved it far more than I did.
In talking to my advisor, it'd become apparent that it was my first time talking to one. I hadn't picked a path yet in the television and film program. Without thinking much about my options, I chose journalism.
People always ask "why journalism" and if I ever come up with an answer, I'll be sure to tell you one day. What I do know is that choosing journalism changed my life forever.
The journalism program at Cal State LA was relatively small. You will see many of the same faces in your classes. I didn't make any initial good first impressions. I typically kept to myself and had my guard up around everyone. I'm sure none of my classmates thought highly of me as I pushed them away.
I was mainly just angry at myself and didn't have an outlet to express it. So I passive-aggressively took it out on everyone else.
I had walked into classes full of people that had no reason to like me. While it seemed many of them forgot, I hadn't exactly become a friend to them.
The one girl who disliked me the most, Monica Tamayo, became my best friend. Little did we both know that would turn into something even more.
Every class we had, Monica made an effort to ask about my day and how I was doing, but I responded in sarcasm and gave a cold shoulder. I tried to push her away, but over 16 weeks in a four-hour class with only 15 people, I dropped my guard.
I would show up to class a whole hour early because I knew my first college friends would be there. They were the first group of friends that took me out for a drink after finals.
Monica at the time was contributing to the University Times (UT), the campus newspaper, and I would read her work from time to time. The thing that struck me though was the lack of writers they had.
When I brought it up to her, she looked at me and said, "Well, then do something about it. Just join." Because I was hesitant, I waited until the very last day of the semester to apply.
I got hired on as an intern for the Spring 2019 semester all while taking the UT class. I was turning in around three stories every two weeks on top of other classes. By the end of my first semester, I knocked out 20 stories. I even wrote throughout the summer turning in almost two stories every week.
I worked as an unpaid intern for about seven months, but I didn't mind because I loved finally being part of something. I was promoted to copy editor followed by entertainment managing editor, covering everything under arts and culture.
My week became filled with stuff to do. Monday's production night saw us scrambling to get the paper ready for print Tuesday morning. Last-minute copy edits, calling out each other's names and pizza to keep us fueled. A busy newsroom is a joy I don't think enough journalists talk about.
Once the print was out, we'd get a day to breathe before we spent the rest of the week covering and editing stories leading up to the next production night. I loved it.
I took on more responsibilities like becoming program director for Golden Eagle Radio, the campus station. Listening to and scheduling shows on air became a weekly ritual for me. I became involved with two major campus organizations, developed connections and more importantly, a group of friends that felt like a second family.
As I became editor-in-chief of the UT, I pushed myself to hop on breaking stories and create the first short-form news show for the site. All while I picked up an internship with EdSource where I had meetings every week, working with fellow college journalists covering student homelessness and mental health.
I even took on the responsibility of a mentor, which came as a shock to me, teaching all that I know to a bright young reporter. I never saw myself as a role model or someone somebody could look up to. But I was happy I could be.
I saw my time come to a close as I graduated December 2020, hitting a 3.5 GPA just in time to graduate Cum Laude. I prepared my passing of the torch and stepped away to let the next generation take the wheel. Two months later, I landed a job opportunity at KCET as an editorial assistant. Not bad for someone just out of college.
A lot of students, especially during this pandemic, are going to feel alone like I did. You'll doubt yourself and even though you want to, you'll hesitate about going to that club meeting. You'll think that students already have their cliques and there's no room for you. That's not true.
We all want to be part of something, we're just so afraid to talk to the classmate next to us. Chances are they're thinking the same. It's the friendships that make college worthwhile.
So the next time you see that flyer, join the club.