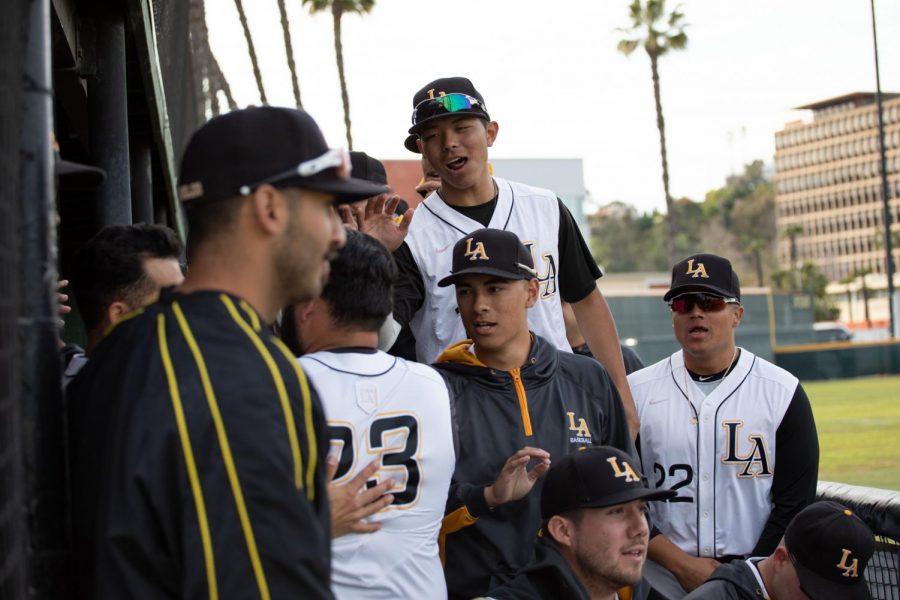 Brian Delgado
The Cal State LA men's baseball team grabbed the bull by the horns this past weekend, as they defeated the Cal State Dominguez Hills Toros three times in a four-game California Collegiate Athletic Association (CCAA) series.
It was a rough start in the series opener for the Golden Eagles, as they were blown out 20-4 at Reeder Field on Friday.
Despite the tough loss, this game served as a wake-up call for the Golden Eagles.
Cal State LA starter Saxon Andross got his win of the season in game two of the series. Andross struggled in the first two innings and gave up five runs (three earned), but settled down as he pitched six innings and struck out six.
The Golden Eagles' offense came alive, as they defeated the Toros, 15-10. The game featured a pair of two-run home runs by first baseman Spencer Sundahl and second baseman Nate Alam.
Myrow had a big day at the plate, going 4-for-4 with five runs batted in (RBI).
The series shifted to Toro Field in the city of Carson for a Sunday doubleheader.
Starting pitcher Alec Daily went eight innings and gave up two runs on six hits and struck out five to earned his first win of the season.
Cal State LA pitcher Dylan Suppan returned from an arm injury and picked up the save, but it was not an easy task in his season debut. Suppan gave up three straight hits to start the ninth, but managed to work out of a bases-loaded jam to secure the win for the Golden Eagles, 5-3.
In the seven-inning nightcap, the Golden Eagles' starter Micah Hee pitched six innings and gave up four runs on eight hits to earn his third win of the season.
The Golden Eagles scored their first two runs after left fielder Michael Tillman and Alam both walked with the bases loaded. The Toros took the lead in the second with three runs of their own, but the Golden Eagles tied it in the fourth behind Daily's RBI single.
A Toros error in the fifth allowed Garcia and Odekirk to score, which made it a 5-3 game. Reliever Julian Garcia earned the save for the Golden Eagles as they defeated the Toros 5-4.
"The first game was a rude awakening, we needed it to get our bats going and our defense as well," said Myrow. "It was a great test of character. The identity that we thought we had at the beginning of the season is now starting to take shape."
After the series, the Golden Eagles improve their overall record to 7-12. They are currently tied for ninth place in the CCAA with a record of 6-9 and one and a half games out of playoff contention.
The Golden Eagles will begin a four-game home series against the Stanislaus State Warriors on Friday at 6 p.m at Reeder Field.