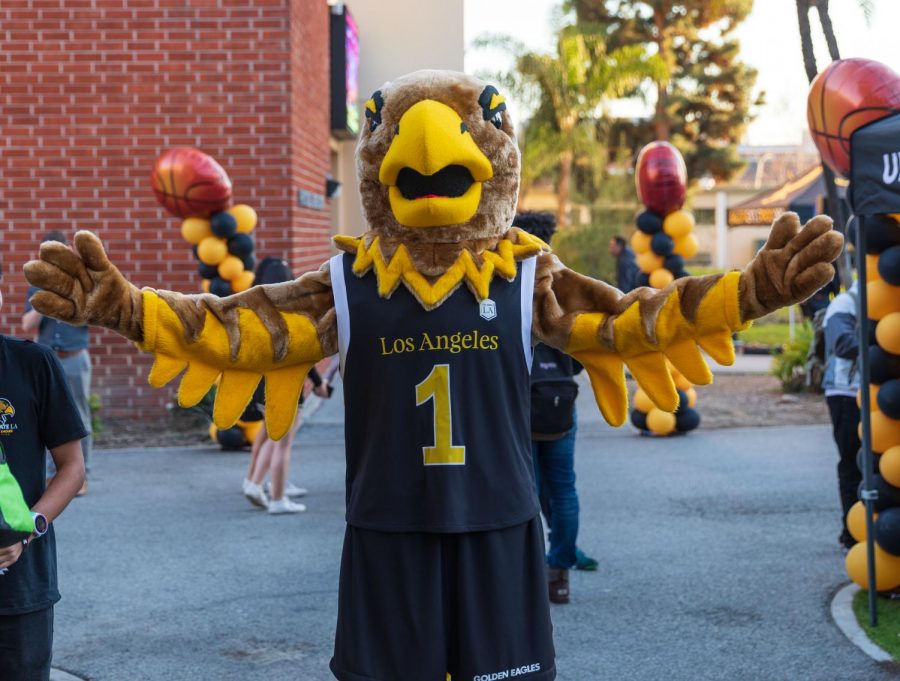 Brian Delgado
The Spring 2019 Homecoming started off with music blasting, free Pink's Hot Dogs, vegan food and a giant basketball carnival game attracting long lines of students just before the men's and women's basketball games. The festivities prior to the games allowed students to interact with on-campus organizations as they gave out free items to attendees.
"It's really fun because everyone comes together and are watching the games. For us, we're giving out free tickets to get a free shirt during halftime," said Alejandra Sanchez of the New Students and Parents Programs (NSPP).
Although Cal State LA is an unofficial "commuter school", the festivities helped students, faculty and staff to build up support for the Golden Eagle athletes.
"Free events, free food and spirit week really helps motivate them to come out. Sometimes, unless you don't follow the Instagram, you might not know about the events. I'm part of the Greek community, I'm part of the organizations; I send them the flyers, I message them on Instagram, stuff like that," said Cal State LA cheer captain, Evelyn Felix.
The crowd brought the energy, but the Golden Eagles' Women's basketball team fell short against Cal State East Bay Pioneers, 67-56, Thursday evening in California Collegiate Athletic Association (CCAA) conference play.
"People were really passive and not aggressive in the first half and in the second half, you could see everyone wanting to score when they got the ball, attacking the basket and making free throws," said Golden Eagle guard Christine Delapina.
"So many lapses–mental lapses–we forget whether we were in man or zone. It's one of those things as a coach for me we have to continue to teach," said Coach Johnson.
The Golden Eagles have a positive mindset, however, as they near the end of the season.
"I just see it as for me, my time is coming to an end; I only have a few more games. I'm going to give all I have and give my teammates all my energy," said Delapino.
This is the second loss in a row for the women's basketball team as they fall to 4-12 in CCAA conference and 7-13 overall.
The second homecoming game ended in disappointment for the Golden Eagles men's basketball team. They were stunned 83-73 Thursday night by the Pioneers in overtime. The Pioneers are currently the second place team in CCAA conference.
"Eastbay is a half court team, they're a little better in the half court than we are. We had a nice crowd, we needed to play our way, get the tempo going and get the speed of the game going," said Head Coach Jim Saia.
A momentum shift started after Anthony Hopkins would take a charge against East Bay's Juwan Anderson, resulting in a double technical foul on both players. Moments later, Hopkins would hit a big 3-pointer to cut the lead.
"He was huge for us tonight, we always look for him to be tough and aggressive," said Shacquille Dawkins. "He's one of our vocal leaders, he leads by example every single time.
With a minute left, the Golden Eagles were up; however, the lead vanished after a foul committed by Jordan Rodgers provided the Pioneers a pair of free throws, resulting in a 2-point Pioneer lead, 70-68.
With 10 seconds left, Coach Saia would decide not to call a timeout and let Dawkins create a play for a game tying shot attempt. Dawkins drove down the right wing to make a tough layup among the trees to tie the game up.
"I didn't want to lose. They trust me to take the last shot. I was thinking three, but they gave me the lane so I just took it," said Dawkins.
The game tying layup would be the last field goal the Golden Eagles would make, as they only managed to score three free throws, losing 83-73 in overtime.
"We've had so many tough losses; I mean just down the stretch we've had so many discouraging losses. One thing about this team is, they're resilient, and they don't quit. They're a resilient group, " said Coach Saia.
The Golden Eagles were led by Rogers, 18 points, 5-of-8 from 3-pointers, and Dawkins, with a game-high 22 points. The Golden Eagles fell 8-8 in CCAA play and 12-8 overall.