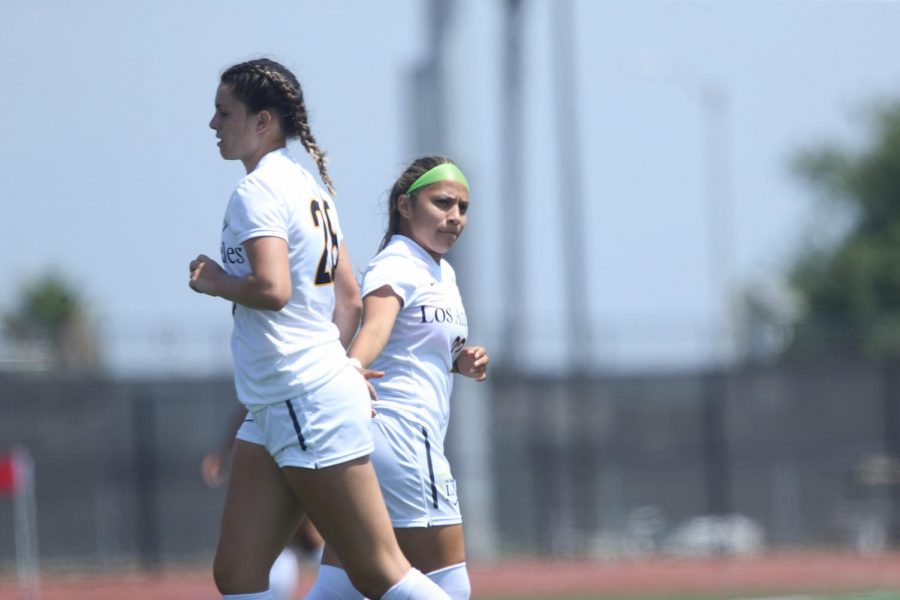 Cal State LA
The Cal State LA Golden Eagles traveled to Carson last Saturday to take on the Cal State Dominguez Hills Toros in a non-conference game — defeating the Toros, 1-0.
Even though the game didn't count toward the Golden Eagles' CCAA conference record, the game plan didn't change.
"We're in the mindset of getting a win — non-conference or conference," said LA Golden Eagles' head coach Isabelle Harvey.
The game remained scoreless until the 72nd minute. It all began with a free kick from Meranda Salazar, kicking the ball to Kimberly Surio who scored her first goal of the season and Salazar earning her first assist.
"[Meranda] placed the ball and I was there at the right time, and we finished it off," said Surio.
She credited her teammates: "I owe it to my team. We're always pushing each other, fighting for each other, and we played out as a team."
This is the second time this season the two teams faced off against each other; the first was back on September 26, when the Golden Eagles defeated the Toros, 2-0 at University Stadium.  
The victory gives the Golden Eagles their fourth win in five games, improving their overall record to 8-3-2, as their CCAA record remains at 4-2-2. Currently the Golden Eagles are in sixth place in the CCAA standings with 14 points.
The Golden Eagles' next game will be on the road as they travel to La Jolla on Friday to take on the UC San Diego Tritons. The Tritons are currently ranked third in the CCAA standings with 21 points, winning seven out of the last eight games against CCAA opponents.
Surio is looking at the upcoming game against the Tritons as a big opportunity: "If we work together and follow the game plan from the coaches, we'll be able to get the win."
In the last game between the two teams, the Tritons shutout the Golden Eagles 3-0. "I'm not looking at what happened in the past. The seasons are different," said Harvey. "We're going to go ahead and play them and work for the [best] result."