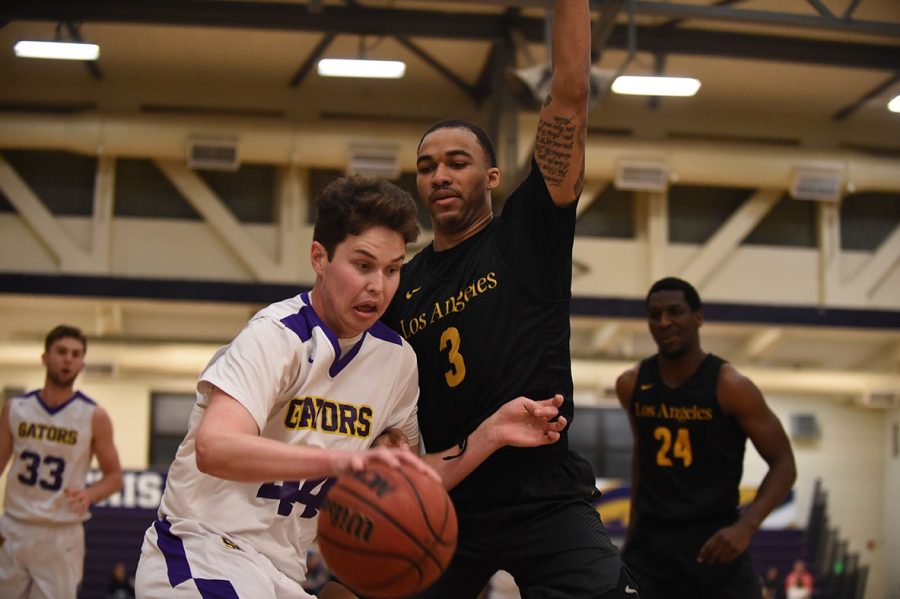 Michael Urakami/SF State Athletics
The No. 5 seed Cal State LA Golden Eagles knocked out the No. 4 San Francisco State Gators in overtime, 81-76 in the opening round of the California Collegiate Athletic Association (CCAA) Tournament on Tuesday at the Gator's Main Gym at Don Nasser Plaza.
Victory was extra sweet for Los Angeles because prior to this matchup, the Golden Eagles lost seven straight games to the Gators. It is the first time the Golden Eagles defeated the Gators in the CCAA Tournament, as they were 0-3 against in their previous playoff matchups. This was also Cal State LA's first victory at San Francisco State since 2012.
The game did not go as smoothly as planned because of two power outages in the second half.
The first outage lasted 40 minutes, as the Golden Eagles trailed, 50-49, with 9:43 left in the game. The second outage lasted five minutes, with the Golden Eagles down 63-60, with 3:56 remaining
The Gators jumped out to an early lead and maintained their lead over the Golden Eagles, but Cal State LA would continue to battle back.  The Golden Eagles got their first lead in the second half, 68-67, with 45 seconds remaining after a successful 3-point play by their guard Shacquille Dawkins. It was a short-lived lead as both teams would head into overtime tied at 70 apiece.
Once overtime began, it was a one-man show from Dawkins as he scored all 11 points for the Golden Eagles.
Dawkins led his team in scoring with 21 points off the bench, all coming after the first half.
Overall, the Golden Eagles shot 40 percent from the field, 31 percent from 3-point range and made 28-out-of-38 from the free throw line. The Gators had a shooting percentage of 39.3 and shot 27.3 percent from 3-point range while making 22-out-of-28 from the free throw line.
Nearly three-and-a-half hours after tip-off, the Golden Eagles emerged victorious and will head into the semi-finals of the CCAA Tournament.
The Golden Eagles have been this far twice before, but they fell short of the championship game each time. Perhaps a third time will be the charm for Cal State LA as they look to continue their playoff push later this week.
The next stop for the Golden Eagles will be at the Pioneer Gym in Hayward, as they battle the No. 1 seed Cal Poly Pomona Broncos on Friday in the semifinals of the CCAA Tournament.