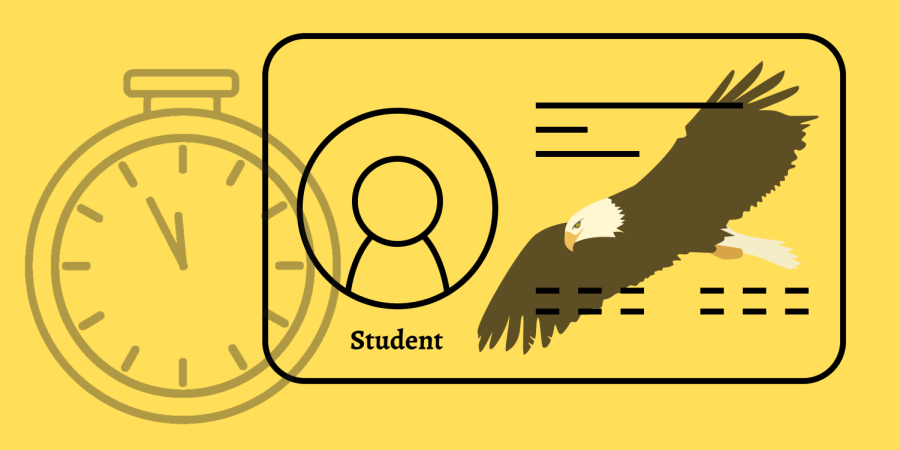 Students waiting to receive their Golden Eagle One Card have found the process took longer than expected. 
Justin Tran, a business administration major, wished the experience was easier. "I didn't expect I would be standing out in the sun waiting for two hours to get my One Card," he said.
Tran mentioned the second-floor location of the One Card office was inconvenient for students and crowded during the hot weather. When he went to the office a week before school started, some students were practicing social distancing and others were not.
Nirvan Pradhan, a pre-business and marketing major, did not know that students had to prepay for the card online. Pradhan, who went during the second week of the semester, said he had to ask other students where the office was located and added he did not know how to make the purchase online. 
"I just think more posting and announcements about it could have been sent out and maybe more people working so the line would go faster," said Pradhan.
Elma Tsao, a pre-nursing major, also experienced a long waiting period during her move-in week. When she got to the office, Tsao noticed that social distancing was not enforced while waiting in line.
"I personally didn't have any trouble getting my ID except the fact that I had to wait in line for three hours for it," she said. "The actual process was super fast and I got it within five minutes when it was my turn."
Aside from the long wait time to receive her One Card, Tsao said she had a good experience overall.
Ronnie Wills, director of student financial services, said in an email to the University Times that the information was posted online on the One Card website and also included in an email sent out to students attending the new student orientation.
"During the first two weeks of the semester, our office had to take photos and print identification cards for two classes of incoming students who, because of the pandemic, were coming to campus for the first time," he said. "I believe this was the main contributing factor to the long lines." 
The decision to switch to online payments was done in response to COVID safety guidelines, said Wills. 
He added that plexiglass has been installed on counters, staff wear face masks, and hand sanitizer is made available. Wills also noted they monitor the line to ensure students are wearing their masks.
Due to the amount of first-time students on campus, Willis said they were allowing students who had not yet paid their online fee to get their One Card and pay later during the first two weeks of the semester 
Students need their One Card to access any campus resource, such as library and food services. 
The Golden Eagle One Card Office is located in room 220.1 of the Golden Eagle building. The office is open Monday through Friday from 8 a.m. to  5 p.m. According to the website, students need to be enrolled in classes for the current semester to obtain a card, and they need to read and sign the One Card terms and conditions online or in the office. 
Students must pay online and present the signed terms and conditions, proof of payment and a form of photo identification to the office. Students will then be able to have their photo taken and will receive their Golden Eagle One Card.