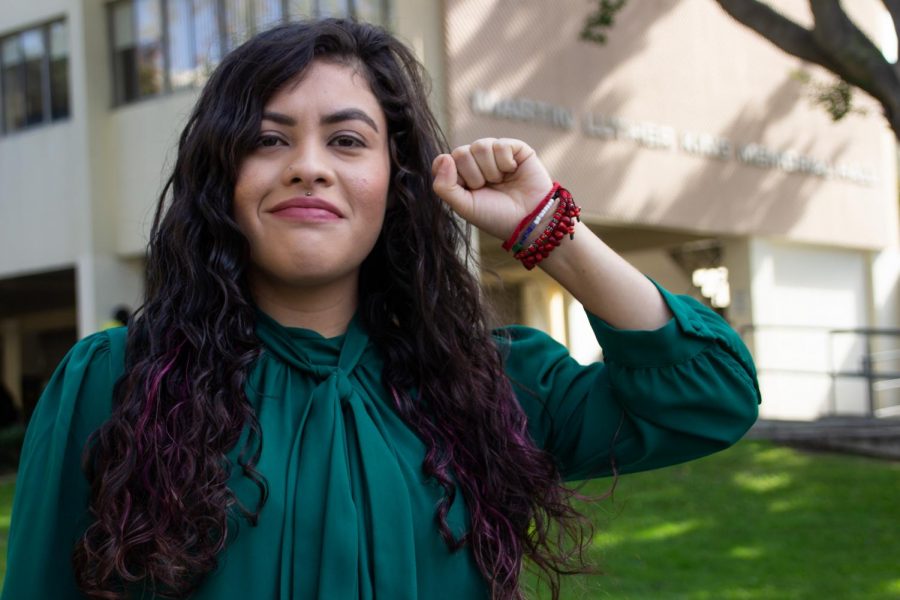 Marisa Vasquez
Upon arriving to her house, Claudia Rueda, a Cal State LA Spanish Literature student, noticed a barague of unmarked police vehicles with flashing lights surrounding her family's home. "For me, growing up undocumented, Police always means ICE," Rueda stated.
In April of 2017, Rueda's mother, Teresa Vidal-Jaime was arrested during a criminal investigation of another member of their household. Despite not being a person of interest in the criminal investigation, Vidal-Jaime was placed in immigration detention due to her immigration status.
"At that point I was like really afraid and really scared cause my mom could [have] been deported that day, Rueda explained.
Prior to her mother's arrest, Rueda had been taking part in the Immigration Rights Movement for approximately five years. Shortly after her mother was taken into custody, she utilized her previous experience to speak out publicly about her mother's arrest.
Through her protests and rallies in her community, Rueda's mother was released the following month on May 12, 2017, two weeks after the initial arrest.
What happened next, Rueda explains was due to her advocacy for her mother's release. On the morning of May 18, 2017, Rueda woke up and went outside to move her family's car for street cleaning. As she stepped out of her house, she saw three unmarked cars. Immediately, she knew it was the police.
"I got really scared, because I was already scared with what was happening with my mom" said Rueda.
Surrounded by the officers, Rueda gave her name and was immediately arrested and taken away from her family.
"I get out and I put my hands up and I just say who I am and they're like 'Oh that's her,' and then they arrest me and put me in a van. They don't read me my Miranda Right [and] they don't tell me why I'm being arrested," explained Rueda.
She was housed in a detention center in San Diego for three weeks before being released on the orders of Immigration Judge Annie S. Garcy on June 9, 2017.
Judge Garcy determined that Claudia was "not a flight risk or a public safety threat and ordered her released on her own recognizance."
Rueda describes her time in the detention center as an horrible experience. "The people there make you feel like you're nothing, like you're human trash." Despite being detained, Rueda never lost hope. "I always have hope in the powers that the community has because I seen it first hand when it comes to organizing myself, but I always had hope that I would get out."
Even while Rueda was held in detention, students, activists and university professors gathered together to show support. During last year's commencement at Cal State LA, demonstrators carried cardboard signs to help explain her story to others.
"It means a lot because sometimes when you're going through this, you feel like you're alone," said Rueda. "When I received letters and emails of people reaching out asking how they can help, it makes me feel like I'm not alone."
Rueda explains to UT that she is suing the Department of Homeland Security because of how they arrested her. According to Rueda, the Border Patrol agents did not have an arrest warrant nor did they give her a reason as to why she was being arrested. Rueda also said that the agents did not tell her who they were or where she was going. "It's an abuse of power and they intimidated me because I was talking to the media publicly for my mom's case."
After Rueda was released from detention, she submitted a DACA application to USCIS on June 19, 2017. Despite meeting the criterias for her application, Rueda's DACA status was denied.
Rueda tells the UT that she received a one-line letter, indicating that her DACA application was denied, without any reasoning or explanation. "Usually when they deny you, they give you an explanation, not a one-liner," said Rueda. "In that letter, it felt like I couldn't appeal it or do anything else about it."
"There's no reason for me to be denied," Rueda added. "I was surprised because I qualified for it and it was a good application. There was nothing wrong with it."
Adding to the lawsuit, Rueda claims that her DACA application was unfairly denied due to her immigration activism. According to her lawsuit, Rueda came over from Mexico to the United States in 2001 when she was six years old. She has lived and gone to school continuously here for the last 17 years.
Upon hearing the denial of her DACA application, Rueda was shocked. "I started to cry because I was really scared. I was happy to be back with my family but it's scary because they came for me once, and it makes me wonder if they can come for me again."
Despite fighting for her lawsuit, Rueda continues to pursue her Bachelor's degree in Latin American Studies. However this entire ordeal has taken a toll on Rueda's physical and mental health, putting her in a state of hypervigilance and affecting her academically as well.
"I wasn't able to focus in school, and I had to withdraw from my classes last spring and take incompletes," said Rueda. "It's hard to concentrate in class because I don't know if I'll still be here."  
Rueda hopes that her lawsuit will gave her another chance to have her DACA application properly reviewed. Rueda also hopes that her lawsuit will stop ICE and other federal agencies from targeting other immigration activists such as herself.
Rueda's message to her fellow DACA recipients is to keep fighting and to not let anyone intimidate or question your humanity. "For me it's like I'm fighting for my right to exist and to live with my family, and everyone should have that right."
Despite facing a possibility of deportation, Rueda continues to have hope in others supporting her fight. "Even though we're being attacked, there's always going to be people who are going to fight back and not take these abuses against our communities."
Not only does Rueda have her lawsuit to fight, but she is currently undergoing deportation proceedings in the immigration court to determine whether or not she will remain here in the United States. Her next court hearing will be for her deportation proceedings on November 28, 2018.