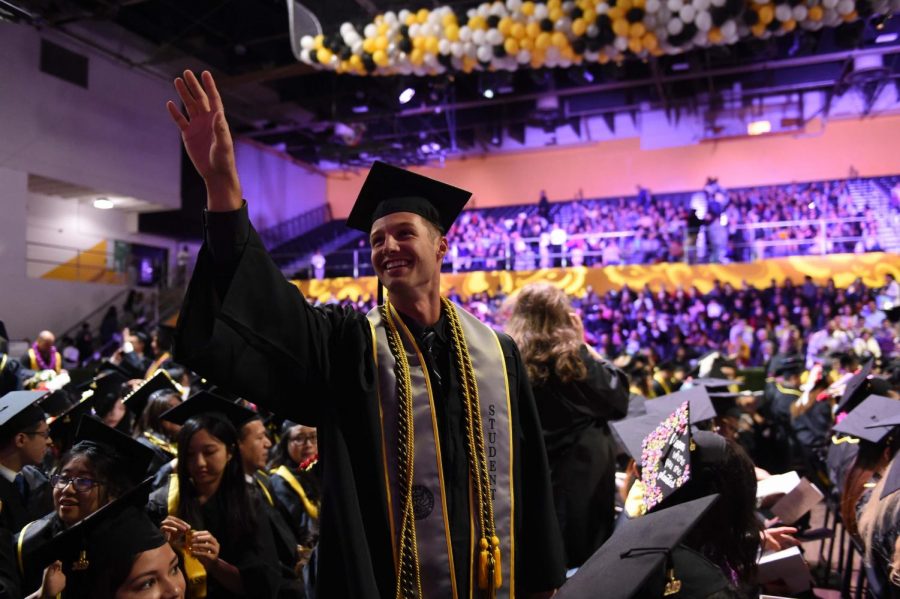 Photo courtesy of Robert Huskey/Cal State LA
As the coronavirus response unfolds, seniors are concerned on whether they will be able to move their tassels from left to right. On Tuesday, William Covino, the school president, sent out a campus-wide message with preventive measures against the coronavirus. These include promoting social distancing by canceling all public events on campus – leaving commencement in the air. 
"As the situation evolves, we will address the question of Commencement and how best to acknowledge the hard work and achievements of the Class of 2020 and their families, as well as the commitment and support they have received from our faculty and staff," said the commencement staff in an email.
Cal State LA seniors scheduled to graduate in spring 2020 had concerns regarding the possibility of them not walking across the stage this coming May.
"I will definitely not be okay with commencement being canceled," said Elizabeth Palacios, a criminal justice major. "I feel like every single student who is graduating this year, including me, has worked hard enough to make their family proud to reach the goal of walking on stage. That is a moment that I feel shouldn't be taken away from anyone."
Covino's message left some students disappointed and with many questions regarding the fate of commencement. Many are afraid that they won't be able to share their accomplishment with their family and friends. 
"In my perspective, the comment that was given by Covino was very vague and left a lot of students feeling uneasy," said Alicia Prieto, a rehabilitation services major. "A lot of these students are either first generation [students], parents or have struggled through this experience in order to be told, 'Guess what? You are done but you're not going to be celebrated.'"
On the other side of the country, the New York governor's office announced that graduation ceremonies for several public universities are likely to be canceled, reported USA Today.
"It's very difficult to process! It took me almost 17 years to return to school. It took me three years to transfer out of ELAC and another two years to earn a bachelor's," said Dan Stevens, a social work major. "Honestly, not walking at commencement will feel like an empty accomplishment. I have family who've booked flights just to see me walk that stage."
Some students were more receptive to the measures Cal State LA is taking.
"I appreciate the university taking the virus seriously and I think if it will protect the health of students and their families, [then] it is a good idea," said Amber Jolly, a graduate student. "Covino seems cautious about making a final decision about commencement as we don't know exactly how [the] coronavirus will unfold – and I think that is a fair decision as graduation is still about two months away."
 A fourth-year student said that families visiting from other countries should not be put at risk by attending the ceremony. "I would much rather wait until this becomes more manageable," said Bryan Miranda, Cal State LA student. 
For some students, graduation day is a gift for family and friends who have supported them throughout their college experience. "I'm actually doing the Nuestra Graduación. I specifically paid for this ceremony so my parents could experience it and understand it hence the fact that they are only fluent in Spanish," said Joanna Aguayo, a communications major. "This ceremony symbolizes my hard work and all the sacrifices my parents endured."
The UT will continue coverage on the latest developments and updates regarding this issue.