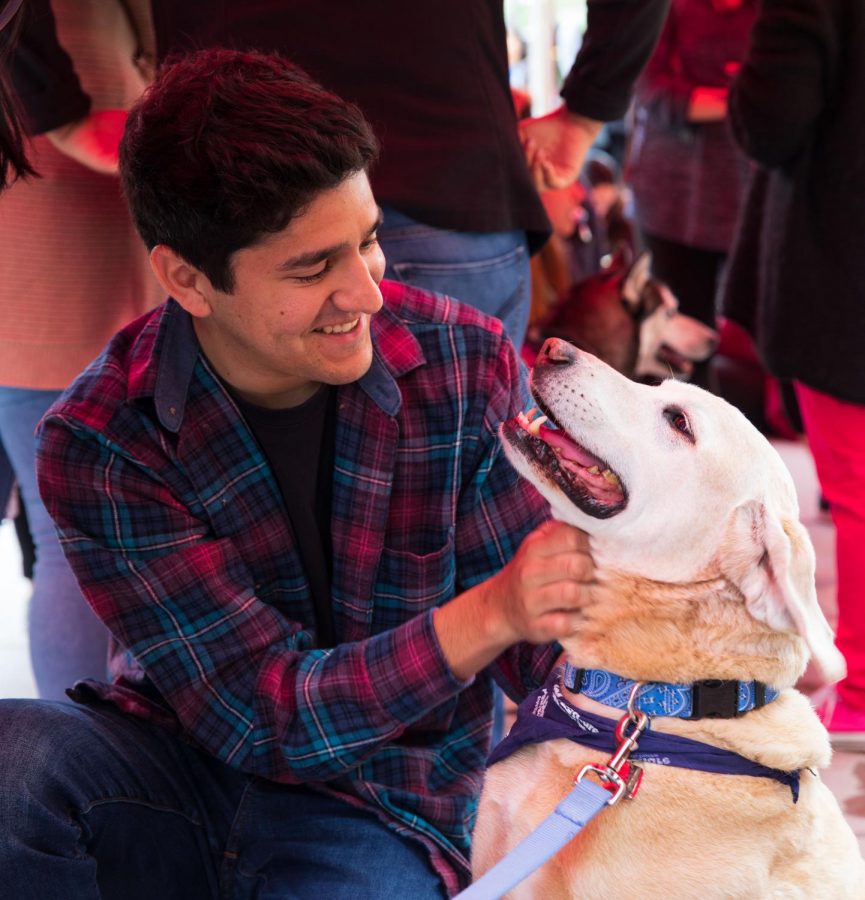 Brian Delgado
Cal State LA students are deep into studying for finals, which for some, can become quite stressful.
Paws-to-Share, an organization that provides in-person animal visits, came to campus last Wednesday as an opportunity to help students de-stress.
Many students lined up so they could pet and play with the dogs to help them get their minds off finals.
"I have three to four finals left and petting the dogs gives me a sense of stress relief. It keeps me away for a bit because I still have to go back to that, but just for now, it's a good 10 to 15 minutes of relief," said freshman Melody Zavala.
Other students, like junior Evalina Chinn, were so in love with the dogs they were disappointed that they could not spend more time with them.
"It was definitely stress relieving. I would say next time to have more dogs because it's really crowded and you only get three minutes with each one. Honestly though, it was still great," said Chinn.
The dogs had their respective owners by them and were more than happy to share their pets for this event, like handler Amy Fekes, who brought her white Labrador, Dillon.
"The dogs just have to be ready to give love more than anything. It's not so much about training as it is about the dog wanting to be around people and give all the love they can," said Fekes.
Each dog underwent a vetting process prior to visiting college campuses, testing their behavior, temperament and social interactions. Some are even therapy certified, but it was important for co-founder of Paws-to-Share, Nicole Abend, that they were seen as a "pet service group."
Abend organizes this event for different colleges during finals.
Abend explained that their organization's belief is, "dogs are the best medicine and it brings us a certain joy to be able to share with students and seeing their faces and how happy it makes them. It's like a joy to us."