The Golden Eagles Finish 1-1 After Home Tournament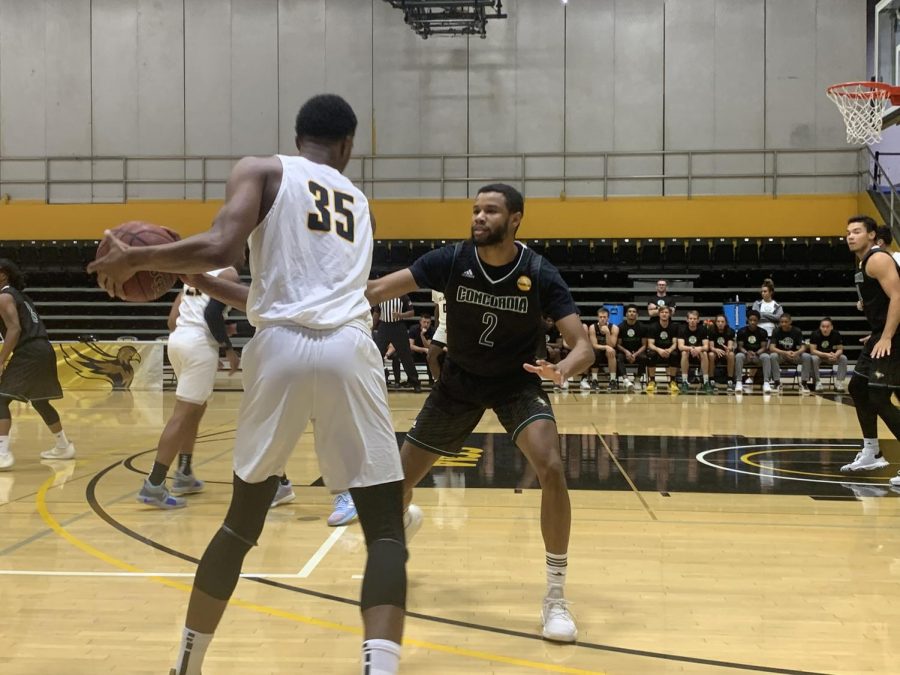 The Cal State LA men's basketball team hosted the CCAA/Pacwest Challenge and played Friday and Saturday. They lost to Concordia-Irvine 90-76 on Friday, but defeated Biola 78-69 on Saturday. 
In the tough loss against Concordia-Irvine, the men started off the game slow, going down 7-0 early. It didn't get better for the Golden Eagles as they saw Concordia-Irvine's lead increase to 20. The 20-point deficit was the highest of the game. Cal State LA attempted to claw their way back into the game, but ultimately lost by 14 points.
"They're a top-15 team in the country. They've played four games, and this is our first game. So it's a real tough first game to play … We just have to do a better job. We didn't execute, but this was a lot of guys first time out," said Head Coach Jim Saia.  
The lack of experience on the floor was due to some injuries. Guard, Bailey Kikuchi was injured, and  returning forward Jordan Rodgers was not completely healthy but played through it.
The Golden Eagles were lead by forward Ja'Sean Lewis who had a double-double with 17 points and 10 rebounds. Guard Michael-Isaiah Ajiboye had a team-high 18 points.
The teams shifted their focus on the next game against Biola, which recently lost in overtime after being up by as many as 15 in a prior game.
"Just because they lost a lead doesn't mean they're not mad just like us. Our perspective on what we're going to do is to go at them as hard as we did today. We're mad too so it's going to be a dog fight," said Ajiboye prior to the game against Biola. 
The Golden Eagles defeated Biola by 11 points, but saw their 21-point lead sliced to single digits towards the end of the second half. Biola showed grit and determination as they sparked a comeback cutting a 21-point lead to just a single point. After cutting the score to 67-66, a big three from guard Fard Muhammad gave Cal State LA a 70-66 lead. After trading points, a layup from Ajiboye and a three from guard Shaquille Dawkins put the game to bed, resulting in a Cal State LA win.
Once again the squad was led by Ja'Sean Lewis who posted another double-double with 10 points and 14 rebounds. Dawkins led the team in points and assists with 18 and 8 respectively. 
"I thought we guarded. I thought we defended. We also had 23 assists tonight so we passed the ball a lot better than we did [against Concordia]," said coach Saia on the team's performance. After back-to-back double-doubles, Lewis received high compliments from his coach, who called him the "anchor of the team." Dawkins believes Lewis is "one of the most important pieces to our team …  I think he's an All-American. One of the best players in the country in my opinion." 
Lewis thanked his team saying, "[I] couldn't do it without my teammates. I can crash all I want but these guys find me, Shaq had 8 assists, he finds everybody. I'm just trying to get better and move forward everyday."
The team's priorities are solidifying its identity and being defensively tough. 
"[We're] the team that doesn't quit, you can throw any type of obstacles against us and we're not going to quit. [We don't] quit, and just know we're never going to give up," said Dawkins.