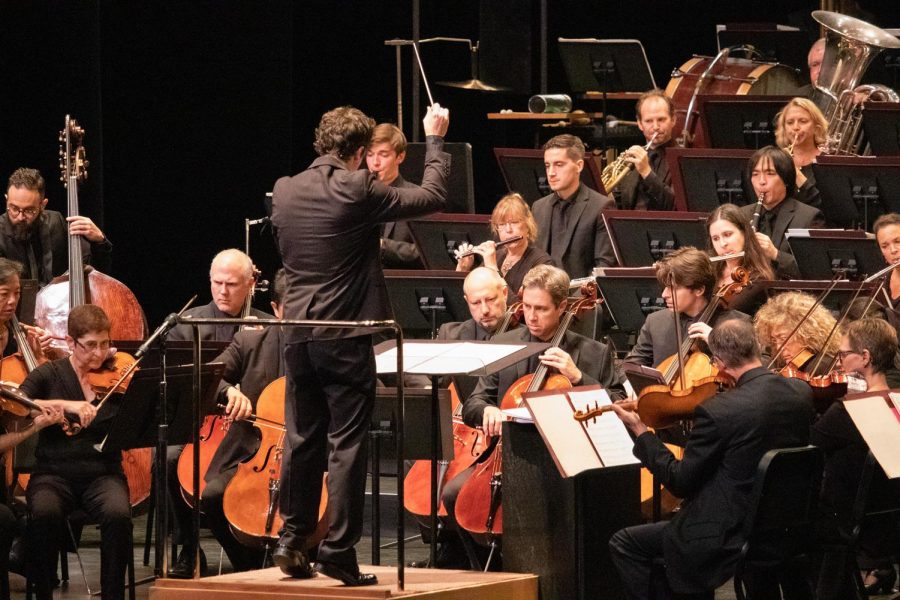 Joshua Letona
The Los Angeles Philharmonic typically performs with tickets north of $70, but for Cal State LA, the orchestra performed for free.
The neighborhood concert, which was performed at The Luckman Fine Arts Complex last Thursday, is part of the organization's mission to bring the orchestra to "neighborhoods underrepresented in [their] audiences," according to the LA Phil's website.
First-time audience member Magali Palma, a Cal State LA alumni, attended the event with her companion Mark Reyes after finding out about the show that day through an email.
"It's not something we can afford necessarily… it was really cool we got to see it for free here," said Palma.
"We live right down the street, we didn't have to go to the Hollywood Bowl or the Walt Disney Concert, which is really nice," continued Reyes.
Leni Boorstin, senior advisor for the LA Phil, was glad that neighborhood concerts could bring the LA Phil closer to people's homes and introduce the orchestra to new audiences. 
"The reason I'm out front is to see everyone who has come to hear… all the people that are near and far that are coming to the concert," said Boorstin.
The Youth Orchestra Los Angeles (YOLA), a music program for students in South Los Angeles, opened the concert with four teenage students in the string quartet led the show with the song "Waltz in D-flat major, Op. 54 No. 4."
For Madelyn Rubio, YOLA member and Los Angeles County High School for the Arts (LACHSA) student, having performed with the LA Phil before at 15-years-old, this night marked a first for her.
"I've never actually opened for them, so this is like a good experience," said Rubio. "With the LA Phil in back of you, it was really cool."
Rubio and her fellow YOLA members, like 16-year-old Sergio Paez, will get to travel with the LA Phil later this year to Mexico City as part of the "LA Phil 100 Tour."
"The goal of YOLA and the LA Phil's education department is to create social change through music," said Paez. "It sounds cliché, but I can honestly say my life has been changed by YOLA."
The rest of the show was led by Paolo Bortolameolli, the orchestra's assistant conductor. He was also a member of the Dudamel Fellowship, a program created by music and artistic director Gustavo Dudamel, that gives opportunities for young conductors like Bortolameolli.
The conductor went on to perform pieces from Richard Wagner and Duke Ellington, ending the show with the "Symphonic Dances from West Side Story." The orchestra snapped in unison during "Prologue" recreating the sounds of the opening of the musical. Once they got to "Mambo," the orchestra shouted the name of the song throughout.
Audience members clapped as Bortolameolli showed to the crowd his music sheets and bowed with his fellow orchestra after every song until the lights went out for the show.
"We do the concerts in communities beyond our two main venues, the Hollywood Bowl and the Walt Disney Concert Hall, for the very reasons that we know that there all sorts of boundaries of people coming. I want to turn it around," said Boorstin. "This is music that we feel can touch everyone."