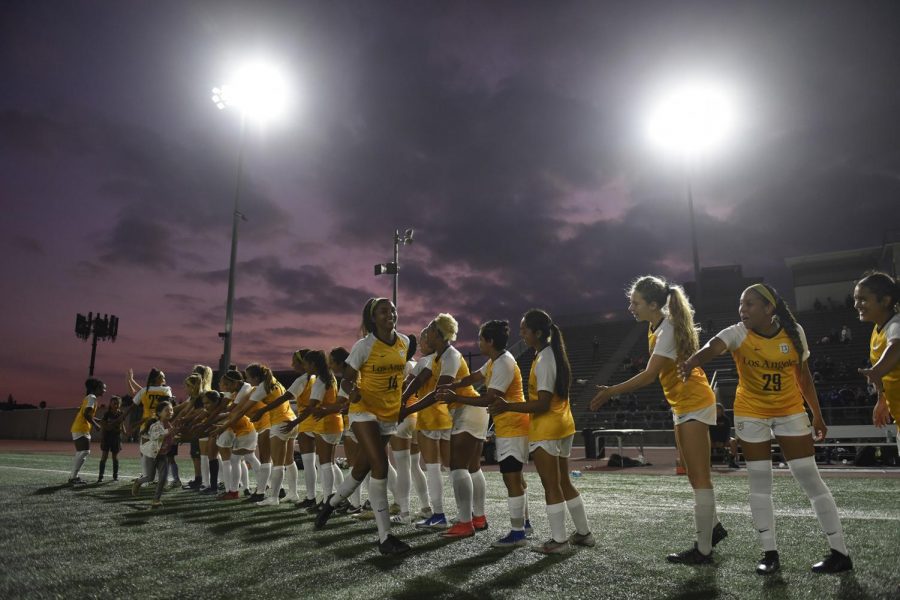 Photo by Robert Huskey/Cal State LA Athletics Department
It was a close call between Cal State LA and Stanislaus State, but aggressive play from the Golden Eagles throughout the game made it tough for the Warriors to find the equalizer they needed in the second half.  
Head coach Erik Garcia complimented the team's performance.
"They came in focused, paying attention to the small little details in regards to what the opponent was presenting. They presented some questions and we were able to answer them," said Garcia. 
Those answers from the Golden Eagles came in the form of two goals in the first half. 
The first to score was former Warrior, Ashtyn Bracamonte. She became a Golden Eagle last year after transferring from Fresno City College and playing her first year with Stanislaus State.   
Bracamonte was a dynamic threat on the field, sprinting towards the goal and weaving through defenders to meet a ball that was perfectly passed by Anahie Duran. Within the first 10 minutes of game play, Bracamonte put the Golden Eagles up on the board 1-0. 
"I think we did a really good job of pushing the ball up and attacking, it was kind of cool to score against my old team and it felt good to get the win," said Bracamonte.
This was her second goal of the season. 
Freshman midfielder Lauren Sanchez scored on a shot towards the far post after receiving a gorgeous pass from senior forward Leslie Ramirez.
Sanchez felt the team effort and the high energy from the crowd is what got the black and gold the win. 
"It was a great atmosphere. Hearing the parents and fans motivates us to keep going on and play harder. All and all, their support means a lot to us and we love it," she said. 
The Warriors got a goal in the second half from midfielder Summer England, but couldn't find the game-tying goal after that. The game ended 2-1 in favor of the Golden Eagles.