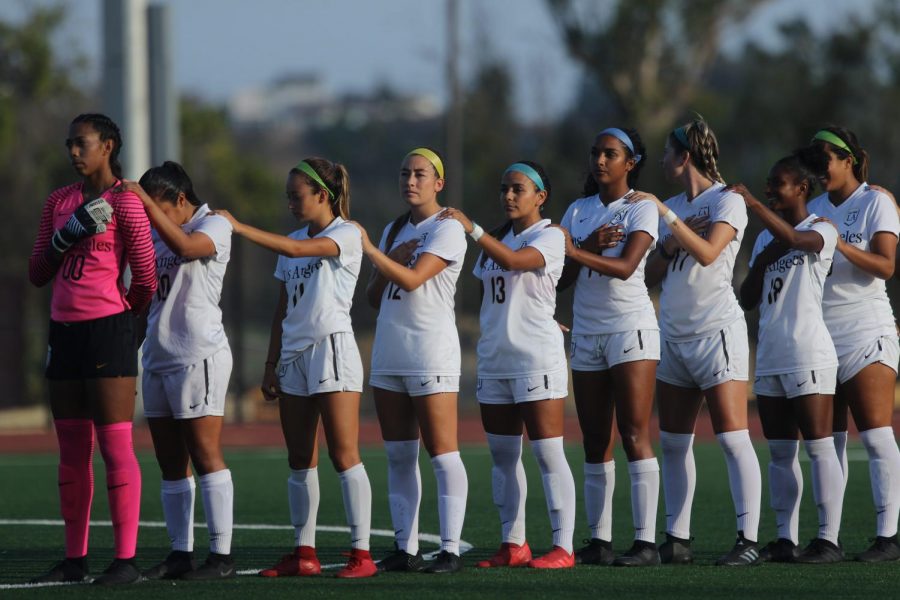 Photo courtesy of Robert Huskey/Cal State LA
The LA Golden Eagles women's soccer team started its season off on Thursday with a bang – a 2-0 win against the Azusa Pacific Cougars.
The team finished the 2017 season with a total of 9 wins, 5 losses and 3 ties, and advanced to the semifinals in the CCAA Championship Tournament.
Prior to the start of this season, the LA Golden Eagles were predicted to finish in third place in the California Collegiate Athletic Association, in a preseason poll of 13 coaches in the league, despite finishing in second last year.
That didn't faze Isabelle Harvey, the head coach of the Cal State LA Women's soccer team: "It's about coaches making their pick, and at the end of the day it's on the field that the game is being played so we'll see how everything fills out."
With a total of 22 returning players and 11 newcomers from the recruiting class, Harvey said she is definitely "excited to have a good start and a good season." Paulina Senices, Madison Mader, Natalie Reynoso, Ashtyn Bracamonte, and Yaqualin Garcia are some notable standouts from the recruiting class according to Harvey, stating that the newcomers will "contribute [to the team] right away."
That they did on Thursday: Newcomer Madison Mader scored the first goal of the season for the LA Golden Eagles. Returning player Irma Pinzon scored a goal in the second half.
The LA Golden Eagles' next two games will be their home opener on September 1st, versus the Biola Eagles and Monday September 3rd at home against the Dixie State Trailblazers.