A son of the arts
Alhambra filmmaker Ming Lai's journey to his dream career
Ming Lai took the long path to film-making.
"Some kids make skateboarding videos, do short films or home movies," Lai, 56, said in an interview with UT Community News. "I wasn't one of those."
Lai, a director, producer and writer who was born and raised in LA, is the founder of Humanist Films, a production company in Alhambra. He wrote, produced and directed documentaries such as the 2017 Visions of Warriors and 2011 Art Recession" and shorts such as the 2011 "Journey of a Paper Son" and the 2005 "Pawns of the King."
Wearing a blue, button-down shirt and black-rimmed glasses, Lai credited his creativity to his dad, Roque Lai, who worked as a portrait photographer in Macau, a region of China across from Hong Kong.
"He co-owned a portrait studio with his friends, and when he came to the U.S, they disbanded," said Lai's mother, Lut Heng Lai. 
She is originally from Guangzhou, where she worked as a seamstress in a garment factory before moving to the U.S and meeting Roque.
In the U.S. Roque searched for work and a friend suggested he could apply his film developing skills in the aerospace industry.
These companies would use x-ray technology to check different aircraft models for stress and cracks, so that's the area Roque Lai worked in.
"I was constantly surrounded by cameras and developed an appreciation for photography," Ming Lai said. "I grew up with all of this equipment and film rules, and so it was an integral part" of their life.
Lai also loved movies as a kid.
"They can transport you to a different time and place, exploring our humanity," he said.
During the era of Blockbuster, DVDs came with behind-the-scenes featurettes, which included directors' commentaries that would inspire him in different ways: "I started seeing how things were made; It was not only intriguing but informative. To hear how people were inspired to make something, what the processes were like, and what informed their choices, all of these things helped me in my own education."
Lai studied at UCLA and attended graduate school at Cal State Long Beach. He considered medicine and law as potential careers, but eventually went into advertising as a writer.
The field required interdisciplinary knowledge of creativity and business savvy, which appealed to him.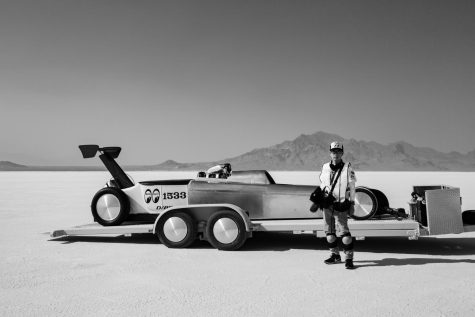 All was well until it wasn't.
When Lai was in his mid-20s, his father, Roque, began a steady series of dialysis treatments. Ultimately, he died due to kidney failure.
Ming recalled the day he and his mother retrieved the remaining pieces of his father's belongings. The two arrived at the bank where their safety deposit box was situated. Inside lay two camera cases, one made of vintage brown leather and the other a modern nylon case.
He gingerly opened the brown leather case. Inside there was a Leica M3 camera.
Immediately, he knew how special it was. "It's a level of commitment for photographers to have that camera," Lai recalled thinking.
The modern case contained a Hasselblad medium format camera that Roque had bought after retiring, with the hopes of getting back into creative photography.
A note on the cameras simply said, "Save for Ming."
Lai was overcome with emotions.
"He is leaving me his most prized possessions…these tools to get into the arts," he remembered thinking.
Lai treasured the cameras, thinking of his dad anytime he thought of them. But the hustle of daily life and work kept him from using them.
On top of that, his family had other things to think about. Lai's sister, Mini, was diagnosed with congenital heart disease while attending UC Irvine as a biology major. Her condition didn't deter her from continuing her studies and graduating after seven years.
But soon after, Mini's condition became life threatening and she got a heart transplant. The operation was successful and led Mini to pursue her true passion, the arts.
She started working as a professional illustrator after attending the Art Center College of Design. Her works touched on vast areas of the human experience, drawing inspiration from her own life, including spiritual and cultural aspects. After eight years of a fulfilling post-transplant life, Mini suffered a stroke and passed away in 2002.
Her death served as an abrupt wake-up call for Lai.
"It was experiencing one trauma only to continue with another; 9/11 had happened earlier, too, and so it just makes you think about life," he said.
He decided life was too short and like his sister and father, he should pursue what makes him happy.
So he took extension courses at UCLA for filmmaking and directed his first original short film, "Man Outside."
The story is a fictional retelling inspired by actual events from the lead actor in the film.
"It starred my friend, Yoshi Nakamura, who's passed on now so this film has a lot of deep meaning for me. He had gone to jail and eventually got help, reformed himself, built a great career, and helped others in similar situations," Lai said.
He learned a lot making a film for school on a tight budget.
"You have to wear a lot of different hats because you don't have the staff. Luckily, I had friends and family who were helping me," he said.
Compositional aspects were improvised using a Canon XL, with shooting taking place in an L.A nightclub. 
"Eventually, we worked together on the sound and music and presented the finished product to the class. Other students were quite amazed as it had come from nothing but then it became something," he said.
Lai worked as a freelance filmmaker for six years. In 2008, he founded Humanist Films, which freed him from the restraints of working for others.
A few years later, it released "Journey of a Paper Son."
The narrative story takes inspiration from the historical aftermath of the Chinese Exclusion Act of 1882.
"Chinese people found inventive ways to try to enter the country, such as through the 'paper son' phenomenon. What they did was buy fake papers under an alias, creating an entire fake identity," Lai said.
It had been on the dawn of April 18, 1906, when an earthquake struck the heart of San Francisco, devastating neighborhoods, and resulting in 3,000 deaths.
"The earthquake had destroyed a lot of records, so people would claim to be citizens with the hopes of bringing back their relatives from home," he said. The short film centers on a man who wishes to reclaim his original name in his final days, revealing his true identity to his children. In the midst of an identity crisis, a family paints a portrait of the fundamental issues that Asian Americans face.
"As an Asian American, you just want to be able to see more stories about yourself in your culture. I think that is true for many other races and cultures," he said. "You just yearn for that when you turn on the television, so you can find shows and movies like that. Nowadays, when you turn on Netflix you see more of that, but when I started, there wasn't any."
A study conducted by USC titled The Prevalence of Asian and Pacific Islanders across 1,300 Popular films shows that between 2007 and 2019, only 25 directors of top films were of Asian or Pacific Islander descent. 
Lai said some of his biggest inspirations are well-known in Asian cinema, directors such as Wong Kar-Wai and Akira Kurosawa, the latter of which served as inspiration for the name of Lai's production company.
Kurosawa, a Japanese filmmaker in the mid-half of the twentieth century, captured the essence of the human condition in numerous critically praised films such as "Seven Samurai" and "Rashomon." 
Lai's latest project is a feature documentary, "Craft of Speed."
The documentary centers around Shige Suganuma and Chico Kodama, Japanese hot-rod engineers who have worked in the business for over 30 years.
"As Asian-American pioneers in their industry, they battled against racism and xenophobia and ultimately created a global following," Lai said.
Justin Chen, a professor at Cal State University Los Angeles in the television, film and media studies department, commented on the diverse potential of documentary filmmaking.
"Due to the broad and wide-reaching nature of most mainstream narrative films, there are certain kinds of stories they are often unwilling to touch. Documentaries thrive on such stories but have gone unnoticed by the general public, due to a lack of coverage," he said. "Their calls to action have made a real positive change in the past and that is what many documentarians are striving to achieve."
Tuan Tran, a friend and professional colleague of Lai's, said he is a unique filmmaker.
"He's very meticulous in setting things up and shooting, more precise. He's a very straightforward guy; if he sets out to do something, he'll do it," Tran said.
In his spare time, Lai has had the opportunity to be a guest lecturer in middle schools and colleges, including Cal State LA.
He hopes to encourage younger generations who want to break into film, offering advice and resources that weren't available to him growing up.
"I want to make it easier for kids who might be into film or from photography, or the arts in general, to explore these ideas. So that whether or not they become a filmmaker, photographer or writer, or an artist, I want them to expose them to the arts so that it can really enrich their lives so that it improves anything that they do," Lai said. "Creativity is key for anything."