A three-game winning streak comes to an end for women's basketball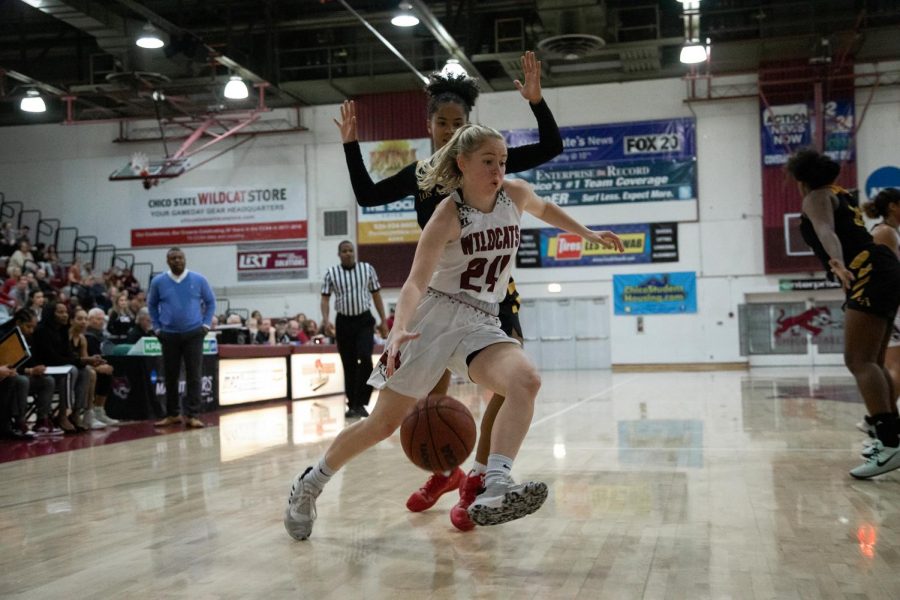 The Golden Eagles are now tied for ninth place in the CCAA after their three-game winning streak ended in Chico on Saturday.
The Wildcats wasted no time getting into high gear. They allowed only six points in the first quarter and put the ball in the basket with ease leading by 14 points to start the second quarter.  
This wasn't a good start for the Golden Eagles as guard Sydney Bordonaro would attest, "They came out on fire and they were defending us in a way that we tend to struggle with. We weren't playing well on both ends and that's why we got down by so much in the first half." 
Unfortunately, there was no time to recover after that. The final score was 69-57, in favor of Chico State.
The "black and gold" got some solid contributions from its backcourt. Bordonaro led the way with 17 points, four rebounds and three assists. Guard Alyssa Fisher had 11 points, three rebounds, three assists and two steals. Guard Mackenzie Barnes had 10 points, three rebounds, a steal and an assist.
Despite the way the game ultimately went there were some promising signs to start the fourth quarter. Something clicked for the Golden Eagles as they put together a 13-0 run.
After that surge, the 25 point Chico State lead had shrunk to nine and for a minute it felt like the win was slowly slipping from the Wildcats. 
"We started pressing and really turned it up a notch. It's just a shame because we turned it on too late," said Bordonaro. 
Turned it up a notch they did, forcing the Wildcats into bad shots and poor decisions. The pressure from the Golden Eagles resulted in ten Wildcats's turnovers. 
"The atmosphere was great. There was a ton of people and it's always fun playing in that type of environment. I'm really happy with the way our team fought tonight," said Bordonaro.
He added, "I said this in the locker room after the game. Earlier in the season, I think we would've quit, and took a 30 point loss, but now we would never. We continued to fight until the end of the game."
In the midst of everything, Bordonaro injured herself late in the fourth quarter. As she was coming off an on-ball screen on the right wing, she turned right and tried to get into a step-back move with the ball. Her shoulder slipped out of place as a result.
She explained how she has had three shoulder surgeries so it's nothing new for her. Despite the injury, Bordonaro will be ready to suit up for the next game.    
Cal State LA women's basketball will play at home this coming Saturday against the Toros of Cal State Dominguez Hills at 1 p.m.