Alhambra police outreach welcomed by some
Alhambra police host 'Know Your Neighbor' event
Christina Gonzalez's 4-year-old daughter was there when police officers took her father away in handcuffs.
So it's no surprise the child is scared of the police.
At a recent Alhambra Police Department event at Emery Park, she hid behind her mother as other children talked to officers. 
"I tell her, 'I know that they took your dad to jail. It's just his mistakes. You know we don't have to pay for his mistakes,'" Gonzalez said. "I tell her, 'They're here to help you. They're not here to take you away.'"
Eventually, her daughter walked up to the action, just in time for Chief of Police Kelley Fraser to invite her to a game of Connect Four.
Shyly, she obliged.
Gonzalez, an Alhambra resident, said the experience helped her daughter feel "comfortable" with police.
That was the goal.
In light of incidents of police brutality and racial profiling — and strained relations between the police and the communities they serve — events like the Alhambra Police Department's "Know Your Neighbor" gathering can help bridge the gap.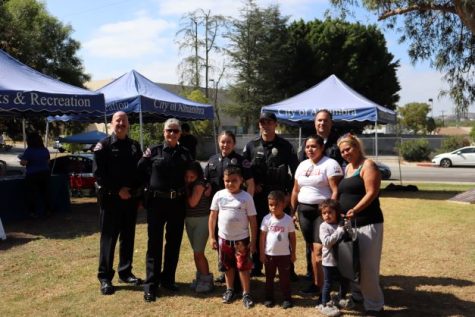 "Group Photo of Alhambra Police with local family." by Oscar Beltran
Officers want to show that they are not just law enforcement employees, but neighbors as well, and they want community members to feel comfortable approaching them.
"It's knowing who you live around. It's also knowing issues that the community is going through and hopefully, we can address those issues and concerns that they have," Fraser said. "It's really about bridging everybody together and having this great event in a park setting on a beautiful day…and just having an opportunity for everybody just to meet and greet and say hello to each other."
At the event, which included about 20 people, police officers walked around playing Corn Hole and board games and chatting with residents and their families.
Marissabel Orozco, a school resource officer, said Alhambra is a relatively small community where people know each other.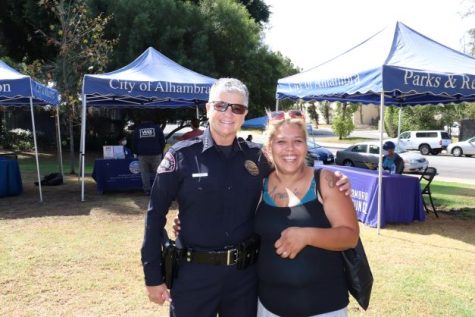 "Here we want everyone to know each other. So, if you ever need anything or you go on vacation, we know about it," she said. "We do vacation checks…Sometimes people get sick. [Maybe] you want people to be checking on you. Or you see a car that doesn't belong in the area or on your street, and you want that to get reported…to deter crime." 
The Alhambra Police Department plans to host another "Know Your Neighbor" event soon and will post details on its Facebook page.
Fraser said, "We're going to continue to bridge the gap, bring people together in this opportunity through parks."