American Red Cross brings fire safety to Huntington Park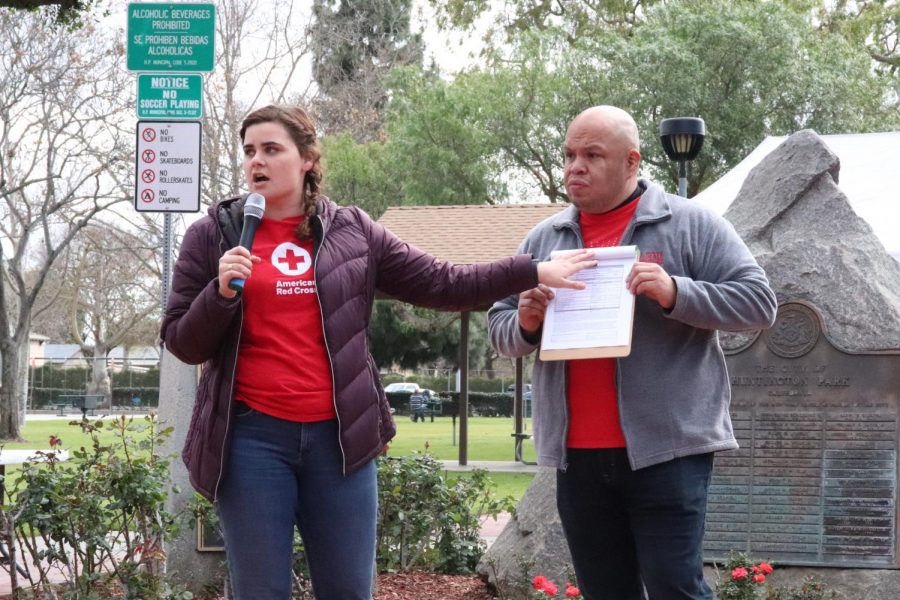 The American Red Cross is more than just blood drives.
On a recent Saturday, volunteers for the group installed hundreds of smoke alarms in local homes as part of the sixth annual "Sound the Alarm" event in Huntington Park.
"We have over 100 volunteers and we have about 170 appointments. Each home will get anywhere from three to four smoke alarms. We have a commitment to this community… Our goal is to reduce deaths by 25 percent [from] all home fires," said Veronica Garcia Davalos, executive director of a local American Red Cross chapter.
Home fires and related damages caused 10,600 civilian injuries and 2,630 civilian deaths nationwide in 2017, according to a report from the National Fire Protection Association (NFPA).
Volunteers included Linda Marquez High School students, the carpenters' union, the UCLA Red Cross Club and others from the community.
Volunteers received training through specialists so they could inform local residents about fire and earthquake safety, said Lydia Hoffman, an AmeriCorps volunteer.
"Educators run our Home Fire Safety Campaign so they talk about what are potential fire hazards like rags too close to an oven, what to do in case of a grease fire, and in case of a fire how to best protect yourself. You only have two minutes to get out of the house, which isn't commonly known. A lot of people think you got more time," said Hoffman.
Red Cross volunteers also addressed a problem all homeowners need to be aware of, especially in California: wildfires and other natural disasters.
"Huntington Park is one of the areas where we get a lot of calls through LA County fire [department]. They'll call us through our dispatch line and we'll deploy a team to the family, identify what needs they have after the disaster, and help them bring normalcy back to their lives," said Nelson Cox, the disaster program manager of the local American Red Cross chapter.
The annual event brings greater awareness and opportunities, said vice mayor Karina Macias.
"I live in the community so it's very important to me to have this event here. There's a lot of members in Huntington Park that [overlook] how important a smoke alarm is," Macias added.
American Red Cross hosts the "Sound the Alarm" event all across the United States to help at-risk communities with natural disaster issues. To get more information or to find an event near you, visit the organization's website.
Community News reporters are enrolled in JOUR 3910 – University Times. They produce stories about under-covered neighborhoods and small cities on the Eastside and South Los Angeles. Please email feedback, corrections and story tips to [email protected]