A deal two years in the making
Tentative agreements struck by union and LA wastewater agency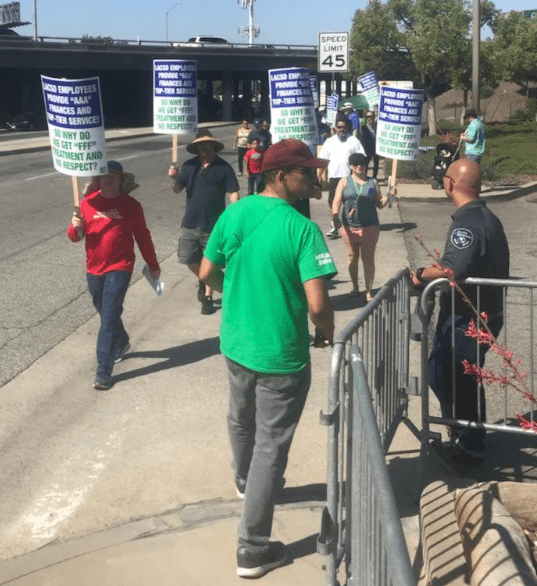 Employees of the Sanitation Districts of Los Angeles may be getting pay raises soon.
Union negotiators and managers struck three tentative deals similar in language that include a cost of living increase to help keep pace with inflation, according to Erica Zeitlin, the communications officer of the American Federation of State, County and Municipal Employees. The agreements and must now be approved by members before moving to the next few steps.
"After two years of struggle, speeches, and demonstrations, the union negotiating team is glad to report that they have reached tentative agreement with the Districts," according to a union announcement last week to members. "The agreement not only keeps the Districts' budget and rates intact, but also respects the outstanding service provided by the prize-winning professional workforce."
The Sanitation Districts of Los Angeles – which manages wastewater and solid waste and serves about 5.6 million people in Los Angeles County – faces seven separate unfair labor practice complaints filed by the union since bargaining began in 2017, according to the union. Employees of the agency unionized in recent years and two-thirds of its roughly 1,500 employees signed a petition declaring they have no confidence in upper management.
A districts official said rising pension costs were to blame for much of the dispute over the contract.
In recent months, employees of the Sanitation Districts have visited 70 different city council meetings. More than 10 cities, including Pico Rivera, have written letters of support.
"These workers merely want what most workers want – justice and a voice on the job, fair wages for their work, affordable health insurance for their families and a decent measure of retirement security," Rusty Hicks, president of the Los Angeles County Federation of Labor, AFL-CIO, wrote in a letter sent to city council members in various cities.
When conditions in the workplace reach a certain place "that's what causes change, that's what drove the employees to unionize, and once they did, they started the petition,"  Zeitlin said in an interview in late February.
She added that the workers earned awards and accolades for their service to public health and research so deserve to be properly compensated.
Greg Agee, a chemist for the Sanitation Districts of Los Angeles, said that some in upper management didn't seem to care to resolve workers' issues or improve wages for those who are struggling with the high cost of living in Southern California. He said he would like to see more transparency and fairness from managers. 
Managers at the districts said they want a resolution that is best for the employees and taxpayers, who help fund the districts.
"We greatly value our employees and provide salaries and benefits that result in low staff turnover. However, a major challenge for our agency—how to address rising pension costs—has led to protracted labor negotiations with some of our staff," Basil A. Hewitt, the districts' public information supervisor, wrote in an email. "We are guided in the negotiations by our directors and continue to seek a fair and equitable resolution. Beyond that, we cannot discuss these ongoing negotiations."  
Members plan to vote on the contracts Tuesday. If they're ratified, two other committees must consider approving them.
Updated April 22 to clarify that the union was formed in recent years, not recently, and to update the story with the latest developments.
Community News reporters are enrolled in JOUR 3910 – University Times. They produce stories about under-covered neighborhoods and small cities on the Eastside and South Los Angeles. Please email feedback, corrections and story tips to [email protected]