Boyle Heights artists create connections at a local coffee shop while being inspired by the community
Denis Akbari, Community News Editor-in-Chief
February 28, 2023
At the Weird Wave Coffee Brewers in Boyle Heights, owner Jackson Defa provides a space for some of the community's artists to grab a cup of joe and seek inspiration for their next masterpieces.
Boyle Heights photographer and film tech Juan Valdovinos, known by his artistic name Jval, and Boyle Heights artist Doug Rosenberg, known by his artistic name Tarpit, are some of the artists in the community that frequent the Weird Wave Coffee Brewers.
Jval thinks this café has a calm atmosphere, and everyone is patient and friendly.
"They actually care and take time to know your name and ask questions," Jval said. "Then, over time, you kind of just build that relationship."
"The cafe is selling even more than coffee. It's the chance for a conversation, especially for artists that might have a lifestyle that could lead to isolation," Tarpit said. "I think a place where those little human interactions might happen becomes something valuable for artists."
Since opening the business in 2017, Defa has believed that empowering Boyle Heights natives is something that many business owners don't have to do but should do.
"Boyle Heights is a really unique community and it has a rich background in terms of art, especially Chicano art and Mexican art," Defa said. "There are historic pieces of art that deserve to be looked at, and the community would do well by remembering what they mean." 
Defa thinks that, as a business owner, he has a responsibility beyond providing the community with a safe and clean environment.
"You have to give the community the best of yourself," he said. 
Boyle Heights artist Michael Wessel, who has done a lot of work with canvases, abstract art, ink work, and digital art, said that he goes to the café to meet new artists and likes the company there, which reflects the Boyle Heights community.
"I think there's a very specific energy within this community. It's such a diverse area with so many different types of people, situations, and ideas," said Wessel. "Creativity is always a central part of a community. All of my work focuses on myself and it's a reflection of the environment that I am in. The energy of Boyle Heights runs through all of it."
Boyle Heights is a predominantly Mexican neighborhood with a history of Chicano activists.
The coalition of anti-war Chicano activists held a march in 1970. Many women and Boyle Heights residents fought to end violence from gang members and from police in their neighborhood, according to Boyle Heights and the Fight against Gentrification as State Violence.
"These struggles have created a strong sense of identity for the people of Boyle Heights, who want to enjoy the fruits of their labor over the decades," said the article.
For Tarpit, who moved to Boyle Heights in 2013 but didn't grow up in the neighborhood, Boyle Heights is a place of inspiration.
Tarpit focuses on paintings and ceramics as his medium, and he created the mural 'Evergreen Cemetery' in April 2021.
This piece of art was a 40 feet-long painting of Evergreen Cemetery in a cartoonish style that depicted many animals and overgrown plants in the graveyard.
"I wanted my audience to think about the concept that you can live in a city but also relate to it like nature," Tarpit said. "The biome that we've invaded and changed so much, which is people in a way, it's very much alive, and it's very much a part of the city."
Tarpit had the opportunity to take up space on the wall, and he wanted it to resonate with people, even if his work might not be the typical Chicano-style mural.
"I think artistically this mural might have been kind of foreign to Boyle Heights because It definitely wasn't in a Chicano muralist type of style," he said. "But I wanted to reflect the community with the symbols involved. So maybe it sparks memories for some people if I'm lucky."
The symbols that represent the community for Jval are all about capturing street work, such as mundane life and people on the streets, with his photography.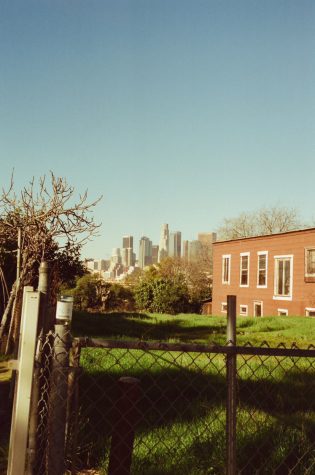 Of the many photos he has taken of Boyle Heights, Jval said a recent one he took of Boyle Heights with DTLA in the distance captures the essence of the city.
"In the photo, you can see L.A. from afar, but yet, it's behind a fence within a lot that's empty, and there's a building right next to it," he said. "Which means that L.A. is that place that everybody wants to be at, but we are in Boyle Heights."
The night when Jval took that photo, the cityscape took him by surprise, even though he had seen it a million times.
"It was just one of those nights that captivates you. You just kind of stop and take a moment and appreciate that you're like in one of the most popular cities in the world," he said. "And even though Boyle Heights is just the pocket of L.A., it's full of everything and everyone that it's in the arts. My art kinda stops time in a way.
Community News produces stories about under-covered neighborhoods and small cities on the Eastside and South Los Angeles. Please email feedback, corrections and story tips to [email protected].