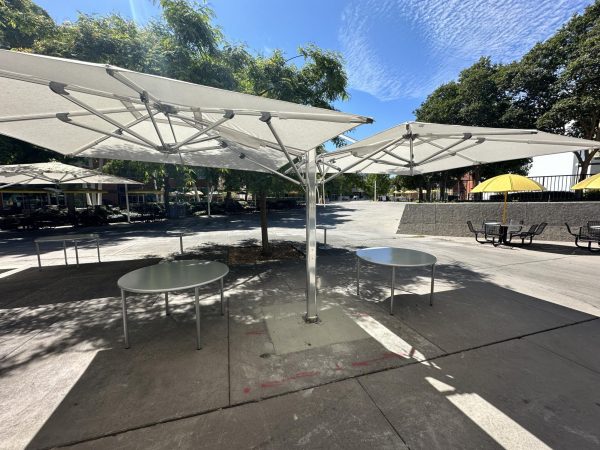 Umbrella shade structures installed near Cal State LA Library. (Anthony Aguilar)
Over the summer, Cal State LA upgraded outdoor seating areas, providing students with more shade from the sun and charging stations. 
The upgraded outdoor seating and shaded areas give students space to socialize and work outdoors.
In a statement to the University Times, the Cal State LA Public Affairs said that the new outdoor seating and shade options were created to "allow the university community to study, eat, gather and build community across different areas of campus."
The structures are also equipped with charging stations that are powered by solar panels on the top of the units.
The Cal State LA Public Affairs said that "the pandemic increased the need for more outdoor options that allow for safe gathering." These upgrades were funded by the Higher Education Emergency Relief Fund (HEERF), which was given to several campuses for essential upgrades. The Physical Planning Committee approved these funds to be used for the outside furniture.
The HEERF is a federal relief grant that was a part of the CARES Act to provide support to student learning and education during the pandemic.
While the new structures improved outdoor settings, some students see this as a missed opportunity to help improve other locations around campus.
Sociology major Jenny Vargas said she would've liked to have seen these renovations done in some of the main buildings instead.
"I think the funds could've been used to fix the King Hall building since it is one of the older buildings," Vargas said. "Everything is so outdated and could be worked on for students… I wish that they could add more benches or seating inside the King Hall building, just because they're very uncomfortable to sit on, like a cushion or something."
Vargas said that she does not think that the new structures are as beneficial to those who commute.
"Students can sit there and wait in between classes, study, eat, or even hang around with friends on campus," Vargas said. "But I feel like it benefits more students who live on campus and are there every day, because for commuters I feel like they're not that useful." 
Vargas said that as a commuter she wouldn't have the opportunity to use the new structures as much as those who dorm.
"Honestly I think that Cal State LA installed these charging stations in order to give people some fresh air," said Adrian Hernandez, a history major. "Seems as if all the charging stations that we have are indoors, so these are a pretty good change of pace. I've visited other universities that have some iterations of outdoor charging stations."
Though he sees the benefit of new structures, Hernandez doesn't see himself using them as much.
"I would probably not use them to study nor charge my laptop, as I already have a set study area, but it would be pretty cool to use these on a cool day just to get some much-needed fresh air," Hernandez said.