Construction, permit and staffing issues lead to delays for Eagle Rock tiny homes
The project still faces mixed feelings in the community
When a project to build 48 "tiny homes" in an Eagle Rock parking lot broke ground in September, mixed emotions flooded the neighborhood from concerned homeowners to excited unhoused community members.
Five months later, city officials have yet to cut the ribbon on the operation — and it's almost three months past the planned completion date. 
The project, at the northern end of Figueroa Street across from the Eagle Rock Recreation Center, was expected to be completed in December according to community and outreach member Jane Demian.
But construction and permit delays mean that move-ins have been postponed once again with an expected opening date of March 1, according to Demian.
Union Station Homeless Services in Pasadena, along with the office of District 14 Councilman Kevin de León, led the movement to bring 96 beds and on-site amenities to the unhoused Eagle Rock population.
The tiny homes don't just aim to provide shelter to those who need it, but they could quell the concerns of residents about decreased property values as homelessness rises in the community. 
Neighborhood leaders like Eagle Rock Neighborhood Council (ERNC) President Richard Loew hope that the tiny homes, in conjunction with other measures, can help people off the streets and improve the quality of life for all residents.
"I know that there are concerns in the community, which is why I'm hoping that when the tiny homes get up and running, the way it's managed and the way it's run will allay some of those concerns," Loew said. "The real goal is to move [the homeless] out of those [tiny] homes and into the permanent shelter and I think those concerns of the community will be put to rest a little bit."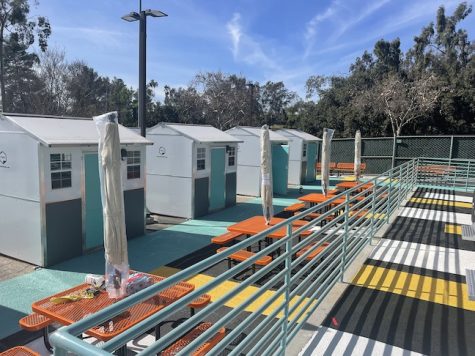 Each tiny home starts at $5,500, according to the website of Pallet, the company that builds them. The 8-by-8-foot cabin takes less than an hour to build and features air conditioning and heating, outlets, a locking door, a smoke detector, some storage, and more.
In addition to delays with permits and construction, staffing shortages as a result of the omicron variant further pushed forward the finish line for the tiny homes, according to Demian, who also serves as co-chair of the Eagle Rock Neighborhood Council's Housing and Homelessness Committee. She added that the neighboring Arroyo Seco tiny homes village two miles east in Highland Park even went on a month-long quarantine during that time, putting a halt on any new incoming members.
When 55-year-old Tami Ditty-Perez was approached by an outreach member representing Council District 14 to set up and secure a temporary residence for her in the tiny homes, the lifelong Eagle Rock resident was excited to find a place to call her own after 15 years of sobriety and living on the street. 
It's "something that I've been wanting for all these years, just a place to call my own, somewhere to be," said Ditty-Perez. "I don't want to have to worry about being on the street and bugging people to go stay at their house. It's just overwhelming."
Ditty-Perez explains that consistent delays have caused her to lose faith that the tiny homes will open any time soon as each setback piles on to her anxiety and skepticism. 
Once open, members of the village will have access to six restrooms, equipped with showers, toilets and six sets of laundry machines, along with mental health counseling to guide them through traumatic life experiences. People living in tiny homes will also be able to receive mail at their temporary residence. Brenda Lynch, a spokesperson for Union Station Homeless Services said it will provide three meals per day to each person despite lacking an on-site kitchen. 
After moving in, tenants will be assigned a "care coordinator" to work with them to help set them on a path toward permanent housing. Although there is no formal application process to land shelter in a tiny home, unhoused individuals within the community are prioritized in outreach services according to Matthew Tenchavez, director of homelessness strategies for District 14.
The single-entrance village will have 24-hour security and residents will not be required to submit to a curfew or drug testing. 
"I understand about the homeowners complaining about all this stuff," said Ditty-Perez. They're complaining about these tiny homes and, 'Look at all these people.' Well, these people have to be somewhere, they can't just live in a tent and be on the street all their lives, but it's up to them, they're getting help, they need to help themselves."
In 2018, prior to the approval of the tiny homes, the neighborhood association, along with The Eagle Rock Association (TERA), a volunteer organization advocating for land-use planning, held meetings with the community to brainstorm the most practical location to place their unhoused neighbors. After considering the Eagle Rock Branch Library, the old city hall building, and other city-owned lots, a majority of voters agreed on the Figueroa lot.
A 0.4-acre portion of land encompassing the lot, owned by Southern California Edison Co., will be rented out in order to provide fire access and turnaround lanes, perimeter fencing, dumpsters and parking spaces, according to the documents from the Los Angeles City Clerk's office. The Los Angeles Department of Recreation and Parks has licensed the land since 1986 to add parking spaces to the Eagle Rock Recreation Center and has consistently renewed the five-year contract since then. The revision to the licensing agreement will increase annual fees totaling $16,647 to be paid in increments annually on Aug.1 over the course of five years.
Although each dwelling contains two beds, tiny homes are non-congregate shelters meaning roommates are paired with someone with who they have already shared a tent or been living with according to Demian.
Eagle Rock's neighborhood council plans to sit down with representatives from Council District 14 at next month's housing and homelessness committee meeting on March 21 to discuss the citywide "Homeless Street Engagement Program," adopted by Los Angeles City Council last September to take a more hands-on approach to expand housing resources in the most affected areas. 
Council District 14 consists of over 7,600 unhoused residents, according to the Los Angeles Homeless Services Authority's 2020 homeless count. That nearly matches the entire San Diego County homeless population, according to Forbes.
While it is no secret that homelessness in the area poses a challenge for the neighborhood, Demian wants to reassure homeowners that they will not be negatively affected as a result of the tiny homes. 
"I tend to side with the people who are unhoused because they have nothing and housing is really what they need," said Demian. "For somebody who is housed to say, 'We don't want them here,' well, they're already here. They've been living here. And some of these people are locals who have lost their ability to climb up out of this hole."
Angelenos interested in donating to the Eagle Rock tiny homes village can visit the USHS website.
Updated March 1: The opening has been delayed another two weeks, according to Ditty-Perez.
Community News produces stories about under-covered neighborhoods and small cities on the Eastside and South Los Angeles. Please email feedback, corrections and story tips to [email protected].