Cross Cultural Center's open house teases upcoming events
Anne To, Multimedia Reporter
September 18, 2022
On the second week of the fall semester, Cal State LA's Cross Cultural Center (CCC) held an open house for students to learn about the four different identity-based centers.
The four identity-based centers consist of the CCC are: Pan-African Student Resource Center (PASRC), Asian Pacific Islander Student Resource Center (ASIRC), Chicanax Latinax Student Resource Center (CLSRC) and the Gender and Sexuality Student Resource Center (GSRC).
Located on the second floor of the Student Union, the CCC is a student resource that provides areas for students to study and interact with others from similar cultural backgrounds.
The 90s-themed open house gave tours to students and faculty and each center provided a free food voucher. The vouchers could be redeemed at the Cena Vegan stand located outside of the Student Union.
Cal State LA junior, Katherine Flores, was one of the dozens of students that attended the open house.
"I've always been introverted and I've never been in a community like this," Flores said. "It just seems so welcoming, like if you have any questions or you need any guidance, they are here to help you."
Students describe the CCC as a way to meet others. 
"I've definitely met way more people than I thought I would be meeting in my first week of college at this new school," said transfer student LunaSoliel' Holloway.
PASRC
Paul Carter, the Pan-African Student Resource Center coordinator, described the center as helpful for students to learn how to connect.
"It's a place where you can come connect and find people within your identity, learn about an identity and how to be an ally as well," Carter said. "A place to connect and engage with Black identity, Black culture and Black history."
The PASRC is holding an event called "Love Being You" in October, that will share the experiences of Black women on campus. There are also plans for events supporting Black-owned businesses in the future. 
ASIRC
Keiko Buensuceso, the student program coordinator for The Asian Pacific Islander Student Resource Center (ASIRC), says that the resource centers are welcoming to anyone to come.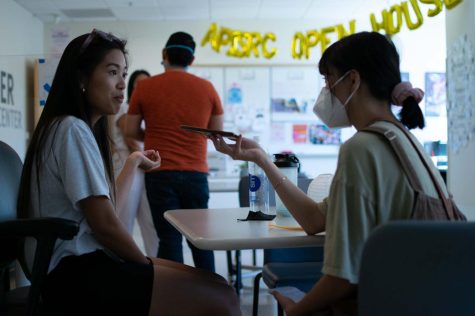 "I think that a lot of students who come to school, do their homework, or do their lectures, and then you go straight home, hoping that maybe you'll meet some friends along the way," said Buensuceso. "So the resource center is really a catalyst for friendship and community. I feel like it's very inclusive. Just because we are the APISRC, you don't have to specifically identify, you can go pop into any of the spaces and you'll feel that same welcoming and warmth."
ASIRC will be holding a Books and Boba event on Sept. 29, from 4 a.m. to 5 p.m. where it will host its first book club discussion and provide free boba. 
In October, there are plans to host a Larry Itliong day in celebration of Filipino American month. 
CLSRC
Students also have the opportunity to help organize events within the different resource centers.
Grecia Mena-Monror, a second-year transfer student, became a part of the committee for the Dia de los Muertos (Day of the Dead) event after hearing about it while visiting the resource center with one of her classmates. 
"Being more active in school is one of the things I didn't really do during community college, and I think that's one thing I wanted to take advantage of since my stay at Cal State LA is kind of short," said Mena-Monror, " I wanted to be more active and I'm hoping to achieve that through the resource center."
The Dia de Los Muertos event will be held by the Chicanax Latinax Student Resource Center on Oct. 27 from 5 p.m. to 8 p.m.
"We're planning on having face painting, sugar skull decorating, and in order to highlight different Latinx identities across the board, we're including Guatemalan culture into the mix," said Kamila Campos, the student program coordinator for the CLSRC. "A way that Guatemalans celebrate their Day of the Dead is they create these big kites made out of fabric and fly them, and we're going to do that on a smaller scale."
GSRC
"This year, we will continue to keep it as a safe and welcoming space for students, across genders and all across sexuality spectrums, said Mario Pizarro, the program coordinator for the Gender and Sexuality Resource Center. "We've added books to our library. We are currently operating a small closet, a GSRC closet, where folks can grab a pair or two of clothing if they need."
Kimberly Leon, a second-year Spanish major, heard about the resource center last spring semester. 
"I was able to find people I connect with, and I was able to be myself without having that restriction of hiding that from others," said Leon.
A Quiero Mis Quinces, a Queer Quince, will be held by the GSRC on Sept. 15.
"In essence, we put our own queer spin to a tradition thats very popular in the Latinx community that tends to usually exclude LGBTQI folks," said Pizarro.
There are plans to hold an event for National Coming Out Day on Oct. 11.