'DASH to Class' — It's Free
Program Gives Students Free Transit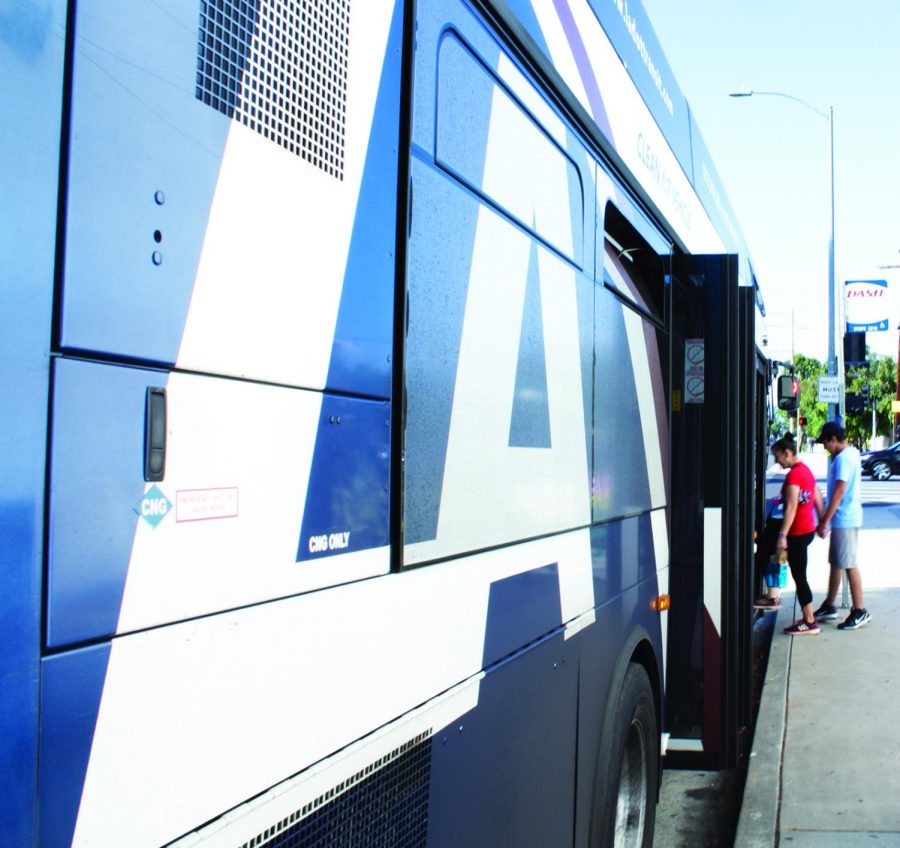 Students packed a bus heading eastbound from Eagle Rock on a recent Monday afternoon and only a handful of the 17 interviewed knew about a program that gives students free rides.
"Not many people know about it, only one driver knew and told me it was only for August. I didn't know when the program would end so I continued to pay just in case," said Viridiana Lugo, a Highland Park High School student.
In August, the Metropolitan Transportation Authority and the Los Angeles Department of Transportation's DASH service joined forces, sponsoring free rides year-round for K-12 students and college and vocational students. The service, "DASH to Class," is available for all 26 Dash routes using a student-reduced TAP card. Many students in the region depend on public transportation to get them to school, so the program could potentially benefit a broad cross-section of families — if they're made aware of it.
Lugo's friend, Briza Granadeno, a frequent DASH rider, said she commutes "10 to 25 times a week," which can add up. She said she also thought the free service ended in August but plans to sign up now: It "will save…money because I pay 50 cents every time I ride." 
Gabriel Ramirez, a student from Eagle Rock High School, said he only rides the DASH twice a month and was "not aware of the program at all." He added that he "would definitely be using the DASH," as soon as he applies for a TAP card.
One student — Jasper Talwani, who attends the East LA Performing Arts Magnet school — said he had heard about the program but hasn't taken advantage of it yet.
"I saw it on the TV ad inside the bus, but didn't pay too much attention to it. I did read that rides would be free for students," Talwani said, as the bus drove along its route, beeping to its next approaching stop. "Four times a week does add up, so I will be giving [the program] a chance."
City leaders have said the program is intended to incentivize using public transit and ensure kids get to school to increase academic success.
"Students, whether they're getting ready for kindergarten or graduating college, they will be able to ride our LA DOT buses anytime, day or night all year round," said Los Angeles Mayor Eric Garcetti in a press conference video on the DASH website.
Transit agency officials say they're hoping to raise awareness about the program among young people through their social media accounts, @ladottransit and @ladotofficial.
"We understand with any new program, it will take some time for the word to get out. We have seen a steady increase since the launch. We are confident the program will recruit more student riders," Kay Sasaki, a transportation planner with the City of Los Angeles, wrote in an email. Only 23 percent of riders K-12 and 26 percent of college students use reduce fares, according to LA METRO, so there is definitely room for growth. Moreover, the 6-mile corridor from Eagle Rock Plaza to Arroyo Seco Park has eleven schools, including a community college, resulting in many potential riders.
"LA DOT has prioritized schools within a one-fourth mile [area] from dash stops," Sasaki said. That is aimed to help "reduce transportation barriers for thousands of students; while helping lower truancy and absence rates," which in turn, has been shown to increase academic success.
Sasaki said more than 600 applications in English and Spanish have been provided to about 30 schools. The number of students enrolled was not available as of late last month.
Tammy Lara, interviewed during the bus ride on Monday with her two elementary school children, said she commutes on public transportation "twice a day, Monday to Friday" and spends about $15 weekly on fare for herself and her oldest son. That said, she said she's thankful to learn about the "DASH to Class" program and plans to sign up soon.
Students and parents can submit an online application at www.ladottransit.com/studentsridefree/ or apply in person by visiting the Downtown DASH office at 201 N. Los Angeles St., Los Angeles, CA 90012.