Dungeons and Dragons at the Playhouse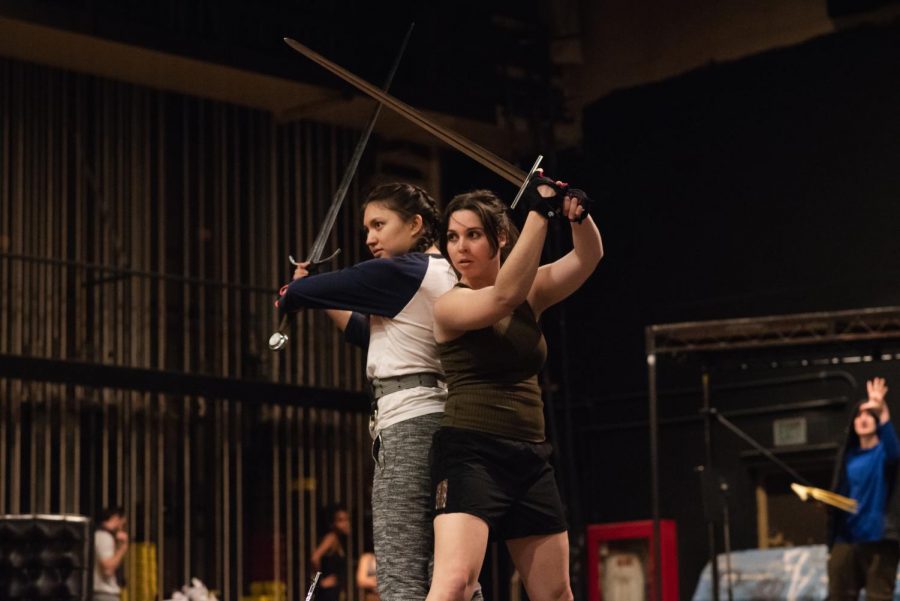 Cal State LA's State Playhouse opens its doors for "She Kills Monsters", a dramatic comedy, next week as the first show of the spring semester.
Written by award-winning playwright Qui Nguyen, the story follows Agnes Evans (Jessica Berón) as she learns to cope with the loss of her geeky teenage sister, Tilly (Casey Cuellar). After discovering a Dungeons and Dragons notebook made by Tilly, Agnes jumps into the game created by her late sister which she soon discovers is filled with adventure, monsters and 90's pop culture.
Director Sara Guerrero connected to the play as she bonded with friends over Dungeons and Dragons in high school.
"In high school, if you played Dungeons and Dragons you were totally a geek," said Guerrero. "My good friends were in academic decathlon, and I was a total theater geek. So we played Dungeons and Dragons. Now being called a nerd is different from back then."
With its two female leads, "She Kills Monsters" allows itself to go against the male-dominated geek culture while presenting an emotional journey for its characters.
"Through Agnes, we learn about what she missed out on. Not only is she is learning about her sister, she is learning about herself," said Guerrero. "She is the one driving the plot. She wants to play. She could have easily shelved the book and continued without knowing anything about her sister. I appreciate having a female protagonist who's driving the bus."
As the founding artistic director of the Breath of Fire Latina Theater Ensemble, Guerrero feels that it is important to give opportunities to underrepresented individuals.
"Growing up, I didn't see a lot of directors that looked like me. My designers are all women. I have a fight choreographer who is male but even my movement choreographer is a woman," said Guerrero.
The show features live swordplay, a colossal puppet dragon and a dance sequence. The recently renovated State Playhouse gives the cast plenty of room to bring that vision to life in hopes that it will extend to the audience.
"She Kills Monsters" will have seven showings at the State Playhouse: March 7-9 at 7:30 p.m., March 10 at 2:30 p.m. and March 14-16 at 7:30 p.m. Tickets are available online at calstatela.edu/theatredance for $5. A spring 2019 pass is also available online for $10, giving access to all three of the spring Theatre and Dance events.