El Monte parents and students ambivalent about school reopenings this week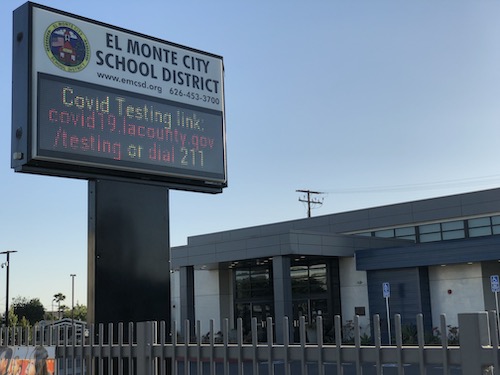 After weeks of trying to keep their children focused while they're in virtual classes,  keeping track of homework assignments and in-class work, and helping them deal with the isolation of being at home, some parents in El Monte are really looking forward to school the reopenings this week.
Parents have the choice of allowing their children to return in person or continuing their education online and although the district has come up with modifications on how schools will operate to ensure the health and safety of their students, there are still concerns.
"Yes, there are 'safety' and 'distance' measures that they are going to be implementing but what about the children that always get sent to school sick?" Ruby Andrade, a parent from the El Monte City school district through, said in a Facebook Messenger interview. "They are putting others in jeopardy. Some parents can't afford to keep them home or just don't care."   
Carmen Aparicio, a mother of two, is one of those parents who really needed the childcare but initially, she was torn because of concerns for their safety.
"I was pretty much one of the first ones that wanted to stop sending the kids to school out there," she said in an interview on Zoom.
Later in the year, she said, "I got a survey from the school district and they were asking me if I needed childcare. And I said, 'Yes, I needed child care,' but I didn't know what was going to happen."
After that, she was able to take advantage of district-provided child care services through the Dorris Dann Kids Campus since last fall.
"They go there, pretty much every day," she said. The experience, including seeing the safety precautions taken, has made her feel more confident about the safety of kids who go back to school.
"You know, at the beginning, I didn't want them to go back. I was like, 'I didn't see the point of then going back,'" Aparicio said, referring to the three last months that the kids will be attending for this school year. "But I think it's good. It's good for the school, too, because they know what they're missing, what they're lacking, and they will have a better idea how to improve, if anything." 
The El Monte City School district board has gotten a range of response to school reopenings, including complaints, questions and concerns. In response, the district has responded with a reopening plan overview video.
"The safety of our staff and students has been our top priority. Access and availability of the vaccines was very important to us," said Maribel Garcia, Superintendent for El Monte City School District, in the reopening plan video. 
With Los Angeles County moving into less restrictive tiers as cases of Covid-19 decline, the county's Department of Public Health announced its plan to begin the reopening of schools as soon as mid-April, allowing students to return to the classrooms as long as their school meets the required safety protocols.
El Monte City School District, which has 14 schools and about 8,233 students, said on its website and in a meeting with parents last month that it will begin with a gradual return of students, depending on their grade level. 
PALS/ TK/ Kindergarten and first, second and third grades:

These students will return Monday, April 19.

Fourth, fifth and sixth grades:

These students will return Monday, April 26.

Seventh and eighth grades:

These students have a planned return date of Monday, May 3, but that could change depending on the status of Covid-19 cases and guidance from health officials.

Head Start: The program planned to have a

staggered reopening

beginning Tuesday, April 20.
The district said on its website that it has been able to provide vaccination opportunities to employees in the district, thanks to partnerships with East Valley Community Health Center, the county's Office of Education and City of Hope.
The district has started sending information to parents and students on each individual school and grade level's reopening plans. This includes detailed safety protocols about campus entry and exit points, along with classroom, bathroom, and recess protocols.
Information about school opening requirements are available on the county's Department of Public Health website.
Community News produces stories about under-covered neighborhoods and small cities on the Eastside and South Los Angeles. Please email feedback, corrections and story tips to [email protected]