El Monte Spring Fair gives small businesses a platform
Vendors praise the event, suggest improvements
Anne To, Community News Reporter
May 2, 2022
Brightly colored ticket booths, bustling carnival games, and towering roller coasters drew droves of customers to the El Monte Spring Fair last month.
Waiting on the sidelines were vendors offering piping hot churros and skewers and others selling jewelry and gifts ahead of Mother's Day.
Events like the spring fair are essential to small businesses, allowing them to advertise what they provide and sell their products. El Monte's spring fair is Los Angeles' largest one, according to La Prada Events.
"This is a great spot for any small business that wants to grow and get their name out there," said Joaquin Rico, owner of Rico's Kitchen in Desert Hills.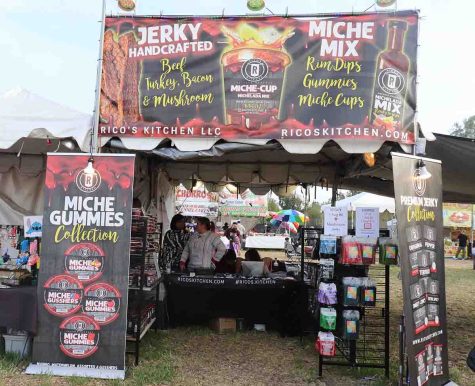 The family-owned business started taking their handmade jerky and gummies to fairs and farmers markets in early 2020.
"Three and a half years ago, I made a bag and brought it to work, and one of my coworkers asked me to make them one," said Rico. "We started selling it to coworkers and their family members. Everything started growing, so I quit my county job and started doing this 100%."
A saving grace during a pandemic
Rico and Atherley said farmers' markets allowed them to not just get the word out about their products, but to have somewhere to sell their products during pandemic-related closures, allowing their businesses to maintain sales.
"At that time we started doing the farmer's markets because it was the only thing open to the public. That went really good for us and then we had the opportunity to do the fairs," said Rico.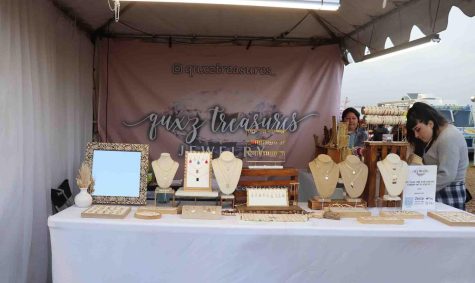 Monica Atherley, the owner of Quxz Treasures, said the pandemic also helped consumers get more used to buying products using their phones and devices.
"It actually improved our business. A lot of people reverted to online shopping and that helped," she said. "It's given me the opportunity to reach a different audience than I am used to."
She said she sells affordable gold jewelry. She usually has customers who want one-of-a-kind pieces, but they want more casual and cheaper products at the fair.
"So not only am I marketing for myself here, but I'm also gaining a different type of clientele I didn't know that I could reach," she added.
"I love gold jewelry, but it's expensive. I would always venture off to Forever 21, H&Ms. The earrings would hurt my ears or the necklaces turned black. My fingers turned green," said Atherley. 
Having been raised by a crafter for a mother, Atherley began her business wanting to bring affordable quality gold jewelry to the market.
Improvements suggested
Vendors pay fees to partake and would like to see more visibility in the coming years.
"Anyone can get a space to do any vending. They will charge you a fee to put up your tent or food quarter for however long. The fees vary from the size of the area you need," said Art Dardan, the head of security at the event.
Vendors said they appreciate the broader audience the fair allows, though more advertising on Instagram and on the fair's site — instead of just Facebook — would be helpful.
Some vendors also said it would be helpful if the booths and stalls were inside the fair, near the amusement rides and games — instead of sectioned off in a separate area.
Atherley said, "I feel like the booths are probably better in the action…By the time I [get ready to] go, everyone's just kind of rushing."
Community News produces stories about under-covered neighborhoods and small cities on the Eastside and South Los Angeles. Please email feedback, corrections and story tips to [email protected]