Local entertainers used pandemic to pivot
Blaise Sanchez, who grew up in Diamond Bar, got into stand-up about five years ago because his girlfriend at that time was a comedian.
Ironically, she ended up leaving him because of his jokes.
"Oh my God," she'd say.
"Yes?" Sanchez replied.
Sanchez, who is also a body masseuse to earn living, regularly performs at music and comedy events around Los Angeles County and is hosted by Young Baca, a promoter and entertainer who helps with a number of projects, including "The Lil Brown Boys Podcast," based in Lynwood. Sanchez, Baca and the podcast creators, like many artists and performers, managed to pivot during the pandemic to grow their audience.
When Baca first started hosting seven years ago, he only put on about one show each week. He then partnered with Michael Mendoza aka "Sushi" and together, they built a successful weekly event.
Still, the acts they hosted encountered problems during the COVID-19 pandemic.
During the closures, Sanchez said it was difficult to do stand-up, since a lot of venues were not allowing open mics. Also, none were close to him.
The comedian then tried to start his own outdoor open mic in Altadena in spring 2021. But it only lasted four months, likely due to the location and fears about the virus.
Working with Baca has been key since his events are often at the Pacifico Cantina in Montebello, Mi Ranchito Bar in Boyle Heights and the Sunset Rooftop in Hollywood.
"I love Baca's shows because he fosters the community aspect of the entertainment industry," Sanchez said, adding that he loves being part of Baca and Sushi's weekly event because it's a welcoming community.
In an interview with UT Community News, Baca credited his team: "I am able to do 35 to 45 shows a month because I have an amazing team."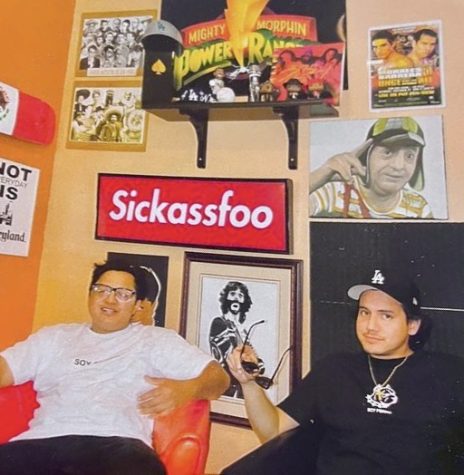 During the lockdown, Baca said he had to change the locations he was allowed to host at and his shows were forced to be more "underground."
The pandemic helped elevate a podcast he helps promote because the producers had more time to hang out, brainstorm and create it — and the consistency created for their content was key in growing their audience.
They doubled the subscribers on YouTube for their podcast, "The Lil Brown Boys Podcast," during the pandemic, from a few hundred subscribers in fall 2018 when it launched to over 400 subscribers this year.
The podcast team — Pancho Chavez, Franky Rosales, and Kristian Quintanilla — started the work at Chavez's apartment.
Chavez and Rosales, who used to work together at a warehouse, got the idea to start a podcast because they would have "crazy" conversations about current events and their own observations that would make them laugh. Their backgrounds, from the "hood," and how they see the world, plays into the humor, they said.