Former Cal State LA professor posthumously honored at memorial service
Over a hundred attendees appeared at former Cal State LA Professor John Eichinger's memorial service on Feb. 11. Those who had known Eichinger, his coworkers, friends, family and former students gathered at the Woman's Club of Claremont to celebrate his memory.
Eichinger worked at Cal State LA for 30 years and was known for his work in the field of science education. He was given the rank of Emeritus Professor, after his retirement from Cal State LA.
On Jan. 3, Eichinger passed away at the age of 70, after fighting pancreatic cancer. He is survived by his wife Danube Eichinger, and his twin sons Bjorn and Wolfe.
Eichinger was known for his love of learning, his humor and his dedication to learning. His friends and students remember him fondly.
"He was a colleague, and one of my friends," said Cal State LA Interim Associate Dean A.Dee Wlliams. "We were in the same division."
Williams said that he never observed Eichinger in one of his lectures personally, but has hung out with him outside of work as friends.
"I first knew him as Mr. Eichinger," said Heidi Riggio, a Cal State LA professor of psychology. "He was my eighth grade science teacher at Lorbeer Junior High School in Diamond Bar."
She remembers Eichinger fondly for his qualities as an fun and supportive mentor.
"When I was in his class, he called us 'The A Team,' because we are the first class of day, period 'A', and because we were the Honor's science course," Riggio said.
At the memorial, a projector played a slideshow video of various pictures of Eichinger with friends and family at the front of the stage. They also had pictures of Eichinger around the clubhouse and at the tables.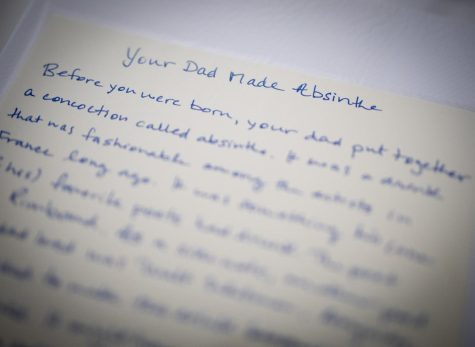 Potted plants from Eichingers' garden were also offered to attendees. Brochures were placed near the entrance, dictating Eichingers life and biography. A table of refreshments, small lunches and snacks were placed at the back as well.
As people arrived at the memorial, they lined up to give their condolences to his wife, Danube.
"He had a thirst for life and an endless curiosity about the world that kept him seeking his entire life," Danube said. "Most importantly, however, was that he loved his friends and family beyond end. Deeply. Loyal to a fault."
The atmosphere at the memorial was surprisingly lively. Instead of a somber mood, the attendees talked to each other, all from different parts of Eichinger's life.
Whether they knew Eichinger as their mentor, coworker, as a friend or family, they were all gathered to recount stories, laugh and mourn Eichinger collectively.
Eichinger's family had much to say about him.
"He had so many hobbies, he was constantly learning new things," his son Wolfe said. "We had so many fond memories of family trips, camping, hiking, road trips and stuff. He was a role model for everything, but especially for trying to learn."
His wife recalled how loving he was in his life.
"John would have wanted people to remember that he cared about them. Truly. Deeply. Genuinely," said Danube. "He wanted everyone to live well and be happy, and that was the driving force behind his teaching."