Glendale measure would raise $30M a year for city services: Questions raised about city resources used to "educate" people about it
Measure S: Glendale's "Quality of Life and Essential Services Protection Measure"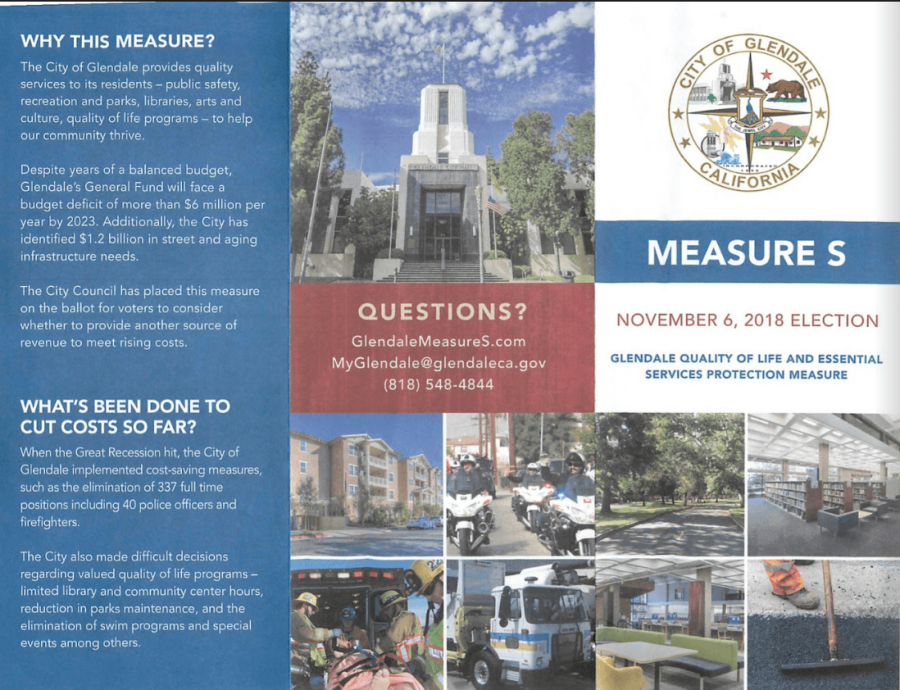 Boushra Rafi, Contributnig Writer
October 23, 2018
Glendale voters will decide on a sales tax measure to raise $30 million to improve city services and infrastructure such as public safety, fire, roads, parks, recreations and housing.
That's according to city officials, who said under the measure, people shopping in Glendale would pay 10.25 percent instead of 9.5 percent on their purchases. In other words, if you spend $100 on new clothes, for instance, you'd pay $10.25 cents in sales tax instead of $9.50.
The Glendale City Council unanimously voted in July for Measure S, and now it's up to voters next week.
The measure's opponents include the owner of one of the oldest and most established music stores.
Tom Lorenz, the city's director of Communications & Community Relations, said the measure would keep the money generated from it local.
"Revenues generated in Glendale don't stay in Glendale, they are going to the county, other county authorities or Sacramento and that's unacceptable… the idea here is to control the balance," said Lorenz.
But opponents say the measure could drive local businesses out of town and send more business to online retailers instead of local shops.
"People are tired of paying for government inefficiency and it is not right…[Government officials] have no money because of retirement benefits. People are really tired of money being taken out of their pockets," said Ken Grayson, owner of Grayson's Tune Town in Montrose.
The City of Glendale is currently raising awareness about Measure S by sending fliers to homes along with their utility bills, according to Grayson.
In addition, the city's website uses five YouTube videos to explain the sales tax measure.
David Kline, vice president of communications and research for the California Taxpayers Association, said the organization is concerned that the city is using taxpayer dollars to effectively campaign for the measure.
"The site doesn't include a single mention of the potential negative aspects of giving the city one of the highest sales tax rates in the state," Kline wrote in an email.
The city spent $3,900 to send out Measure S inserts into utility bills for city residents who use Glendale Water and Power, run by the city — something often done to  raise awareness about various matters, said Kevork Kurdoghlian, a public information assistant for the city.
"There is a difference between the activity of campaigns, which is advocacy, and the City's effort to educate the public about a slate of candidates or measures. The city takes great care not to advocate for or against candidates or measures," he said, adding that the city attorney reviews all election-related material to ensure it follow the law. "The City's Measure S website and other Measure S information are educational, not advocacy."
City officials said if the measure is approved, that's the highest sales tax could go: 10.25 percent is the most allowed by law.
"If this tax is not approved now, other taxes are on the way — but the revenue from that tax will not stay in Glendale," Kevork Kurdoghlian, a public information assistant in the City of Glendale said.
For instance, he said one of the air quality management districts has produced agenda reports on a potential tax increase in its jurisdictions within its region.
Some Glendale residents, who are frequent users of the city's buses, parks and libraries, support Measure S.
John Grepo, a student who lives in Glendale, said he's OK with a sales tax hike: "I don't mind…I think it is a good idea because it helps out the community."