Golden Eagles Return to Action – 2019 Season Preview
Baseball Season Coming Back In Full Swing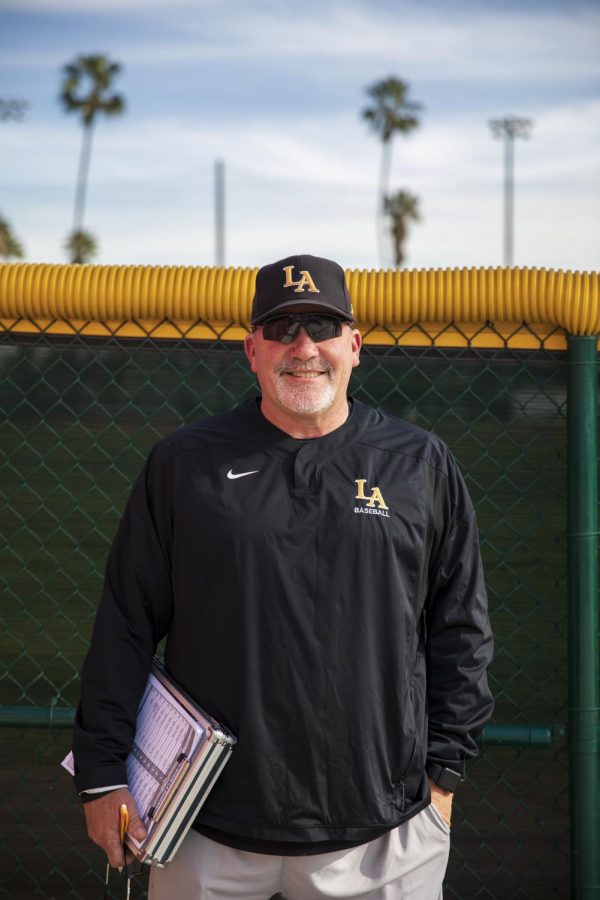 2018 was a challenging season filled with highs and lows for the Golden Eagles baseball team. Despite injuries to certain players, the Golden Eagles were able to overcome these challenges, as they finish the season with an overall record of 28-24. The Golden Eagles also finished fifth in the California Collegiate Athletic Association (CCAA) conference with a record of 24-20.
The Golden Eagles were one win away from reaching the CCAA Championship game last season, only to be eliminated from the CCAA tournament by the Cal Poly Pomona Broncos, 13-11.
Although they fell short of the championship game, the Golden Eagles will look to build off the success they had in 2018 and pick up where they left off as the start of the 2019 season approaches.
Despite their 2018 finish, Golden Eagles Head Coach Vince Beringhele and his team refuse to let their CCAA opponents be an outside distraction this season.
"I keep a close eye on us," says Beringhele. "There are some good teams in this conference. Every year, any team can beat you top to bottom. To keep an eye on anyone else but us would be a mistake on my part."
Beringhele will return for his 12th season as the head coach of the Golden Eagles, as he looks to guide his team to another winning season. Since taking over in 2008, Beringhele has led the Golden Eagles to winning seasons in eight of the last 11 years, compiling an overall record of 282-262, and a conference record of 225-197.
Beringhele credits his assistant coaches (past and present) for the team's success. He also states that there is a "sense of pride" instilled into the players by the coaching staff.
"I build a program that the players can appreciate and they play hard to win for the University and for this baseball program."
The Golden Eagles saw 16 of their seniors depart after the 2018 season, leaving behind a large void in their lineup. This season, the Golden Eagles will carry a roster of over 30 players, featuring more newcomers than returning players.
"It's been a learning curve for the newcomers," says Beringhele. Beringhele also mentioned that the leadership displayed by the returning players has been tremendous to the coaching staff as they were able to help guide and lead the new incoming players.
"We're a completely different team in 2019," said Beringhele. "We lost the middle of our order, but we hope to be a steady team this year."
Beringhele is proud of how much his returning players have improved compared to last year. Amongst the returning players this season are team captains Spencer Sundahl and Jordan Peabody, both possessing the experience and leadership to guide their team.
Some notable newcomers to the Golden Eagles roster includes Jesus Mercado and Michael Tillman. Mercado is projected to be the team's starting third basemen, while Michael Tillman is projected to be one of the three starting outfielders. Both of these players were added to the roster just this month.
"Both of these guys are quality players and they're all in and ready to go," said Beringhele.
Another stand-out addition to the Golden Eagles is Tyler Odekirk who is projected to be the starting shortstop for the Golden Eagles. Odekirk is a transfer from the University of San Diego and he was voted as one of the team captains this season for the Golden Eagles.
With a roster of over 30 players, and a of combination new and returning faces, chemistry plays an important factor in whether or not a team is successful.
"The returning seniors and juniors on this team have done a really good job of creating a cohesive, family feel for this team and I think it's going to go a long way with how this team does," said Beringhele. "Talent-wise, we're pretty average this year in a lot of areas, but I think our team chemistry will take us over the top."
The Golden Eagles' pitching staff and bullpen will play a crucial role in the Golden Eagles' success this season. Last season, the Golden Eagles had an ERA of 5.74, which was the fourth highest in the CCAA, but they also had the third most saves with a total of 16.
"We have to pitch to our ability and get our ball to the spots," said Beringhele. " We're going to need quality starts from our starting pitchers to get us through the 6th inning and then letting our bullpen take over."
Last season the Golden Eagles were third in the CCAA Conference in both home runs (44) and runs batted in (291), but they were eighth in the league in team batting average (.277). On defense, the Golden Eagles committed the second most errors in the league (87), with a fielding percentage of 0.956, which was tied for third lowest in the CCAA.
With the season starting next week, Beringhele and his team will continue to focus on the fundamentals.
"Defensively, we've worked on making routine plays. Offensively, we've worked on our swings and we worked on our bunting game. There isn't any part of our offense that we haven't worked on."
The Golden Eagles will begin their 2019 season at home on Monday, Feb. 4 at 6 p.m., as they take on the Biola University Eagles in a non-conference contest at Reeder Field.
The Golden Eagles will then be on the road as they participate in a round-robin series at Dixie State University in St. George, UT. Here they will take on the Colorado Mesa Mavericks as well.
The Golden Eagles will return home on Friday, Feb. 15 as they begin conference play against the Cal State San Bernardino Coyotes.
The Golden Eagles' plan is to set up their pitching rotation prior to their upcoming road trip to Dixie State and the CCAA season opener against the Coyotes.
"We have got to get our rotation set up and in order to do that, we're going to pitch a lot of guys against Biola, try to get everyone an inning or two," said Beringhele.
For the Beringhele, the Biola game will give his team the chance to fine tune their mechanics as they prepare for their road trip to Dixie State University and ultimately for their conference opener against the Coyotes.
"Every game is important in Division II and we want to get off to a good start, and I think we can do that with the plan we have in place," said Beringhele.
About the Contributors
Anthony Quach, Sports Editor
Anthony Quach is a journalism major in his senior year at California State University, Los Angeles. He began as a contributing writer for the University...