Haunted maze, football and tacos delight visitors at Halloween event in Lincoln Heights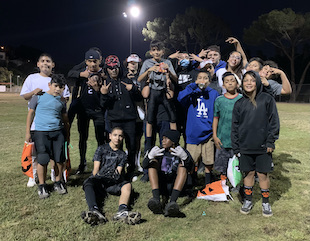 Parents in costume chase kids around, eliciting delighted shrieks and laughter.
Kids of all ages chatter excitedly, strategizing and playing football on a nearby field.
Fog machines fill the air with puffs of smoke.
Cars tricked out with spooky decor line the sideline of the field. 
Speakers blare a blend of the Michael Myers theme song and Michael Jackson's "Thriller."
A special surprise awaits folks at the end of the trick-or-treat line: Tacos.
Hundreds of Lincoln Heights Football Program participants, their families and other community members attended its Trunk-or-Treat event on Oct. 28.
The event, held at Lincoln High School on Broadway, is considered one of the community's favorite annual activities. Some of the families attending decorated their cars and showed up in costume for a night of fun and memories.
Some notable costumes from the event were Jason Vorheese, Michael Myers, a scarecrow, characters from the movie "The Purge" and the new hit Netflix show "Squid Games." Many of the costumes were worn by parents; This event seemed to be just as fun for them as the kids.
"Events like these keep the kids off the streets and from bad influences," said Frances Donado, a parent and the owner of Tipsy Taco, which has provided food for the event for two years. "My daughter loves being a part of the program. It keeps her connected with her friends. My son is in high school now and still talks about the fun he had at these events."
The event was open to the public but one goal was to build community among the football program participants.
"We do this event for our parents to get to know each other. Our kids get to bond off the field — and that translates to play on the field together," said Franchisca Peitmeyer, president of the program. "It's not just about the games  — wins or losses. It's about the memories that stick with them the rest of their lives. This event is a safe place for everyone to come trick or treat and have fun."
The event's haunted maze was a hit with children, who invited others to join them and went through it over and over.
It only took about 20 seconds to get through the maze but what awaited inside made those seconds feel like minutes: Sounds of chainsaws and screams filled the small corner of the event. Workers in the maze jumped out to scare kids at every turn, delighting in seeing the brave faces of children peeking around each corner. 
Coach Carlos Flores, head coach of the 8U football team, was the mastermind behind the maze madness.
"I do it for the kids. They love it. Putting everything together and seeing the joy it brings is my favorite part," he said. "For some kids, this is their favorite part of the season. They are talking about it as soon as the school year starts."
Besides being fun, he said, the event is another draw for the football program: "Well I can tell you what, nobody missed practice today. That's for sure. Everyone wanted to be here."
Community News produces stories about under-covered neighborhoods and small cities on the Eastside and South Los Angeles. Please email feedback, corrections and story tips to [email protected]