La Puente's homeless population rose six-fold in just three years
Residents with previous housing insecurities share their stories, advice
La Puente resident Maria Soto knows the fear and anxiety felt by the growing number of folks in the city who don't have a bed to sleep in every night.
That's because she was in a similar position two decades ago.
Soto recalls the day she got the news: She was opening up the day's mail when she got the dreaded letter: She would be forced to move out of her apartment.
The homeless population in the city of La Puente increased six-fold since 2018, up from nearly 16 in 2018 to almost 100 in 2020. That's according to an analysis of figures from the Los Angeles Homeless Services Agency.
As a smaller city with about 40,000 residents, La Puente doesn't have any homeless shelters but refers people to nearby programs that do, said Kimberley Cardona who works for the city of La Puente. For instance, the city sends referrals to Union Station Homeless Services, a Pasadena nonprofit that provides services to unhoused folks.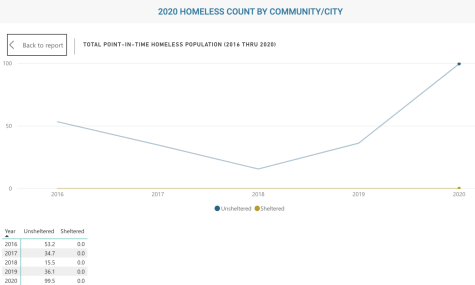 "From there, we get them connected with a case manager," Cardona said.
The city has four rental complexes, each ranging from 80 to 300 units, that accept Section 8 housing vouchers: Nantes Manor, La Puente Park Apartments, Lavilla Puente Apartments, and Sunny Gardens Apartments.
Giselle Rubio, a housing specialist for the city, said that it has gotten many questions as of late about rental disputes with landlords and whether there are low-income Section 8 housing units available.
As for Soto, she discovered 20 years ago that her minimum wage job as a warehouse worker in the City of Industry wasn't enough to support herself and her three children.
The eviction letter felt like the proverbial nail in the coffin.
Unsure of her next move, Soto knew she needed to find a place for her and her three kids. Soto had applied to the La Puente Park Apartments but was told there was a waiting list.
Soto then crashed with various family members, staying with her sister for a couple of months, then moving in temporarily with her oldest son.
It took eight months to get the call she had been praying for: A unit had opened up.
Overcome with emotions, Soto shared the news with her family.
She finally had her very own place to call home.
Best of all, it was an affordable housing unit that cost $95 per month.
She moved into a two-bedroom with her three kids. Over the years, they grew up and slowly moved out.
At 71, only she is left.
She retired five years ago when she could no longer do her job packing boxes because of carpal tunnel syndrome in her hands.
While her rent increased over the years, she said she's beyond thankful it has remained affordable, at the $245 now. Her social security check helps cover that.
"This is the only thing I can afford. I can't pay $1,000 a month or more for housing," she said. "If I wasn't living here, I would be homeless."
That's also the case for Jenny Garcia, who also lives in the complex and was laid off from her job as a receptionist for an eye doctor during the pandemic.
Garcia found the affordable housing unit years ago but was on the waitlist for five years before getting in. With the increase in homelessness now, Garcia can only imagine how long the waiting list is now. A city spokesperson did not provide this information before deadline.
"I feel for the people who are on the waiting list," Garcia said. "I hope more low-income housing is available for those in need."
Community News produces stories about under-covered neighborhoods and small cities on the Eastside and South Los Angeles. Please email feedback, corrections and story tips to [email protected]