How burlesque seduced one performer into an unconventional life
A hostess at Goodfellas, a restaurant in Corona, was dressed all in black in 1940's attire when a co-worker addressed her: "Loretta, can you seat these people over here? Oh my God, I got your name wrong. I am so sorry."
Her real name also starts with an "L."
It was a happy accident because, at that time, she was struggling to find a burlesque name that suited her.
The name "Loretta" felt like home. It felt familiar, yet seemed more fitting and comfortable than her birth name, which she had never liked and won't be identified in this story to protect her from the societal stigma and safety issues related to her burlesque persona.
As a child, she loved watching old Hollywood films, specifically from the 1960s and prior. "Loretta" sounded old-fashioned and reminiscent of the time period she idolized. 
That's how Loretta Erotique got her name years ago.
Singer, seamstress and burlesque artist Erotique has navigated body image, sexuality and self-confidence in the world of sensual dancing and beyond. 
Burlesque has been around since the 1840s, partly rooted in vaudeville culture, according to an article by HuffPost. While it's relegated in mainstream culture to a form of stripping, dancers say it's empowering and can promote body positivity and inclusion.
Early interest in dance and burlesque
Loretta grew up singing, playing the piano, and doing musical theater.
One day, as a 7-year-old, she was watching "America's Next Top Model." The guest judge on the show was the "Queen of Burlesque," Dita Von Teese. Dita sported a long black 50s pencil dress with cap sleeves, and a pillbox hat atop her black hair, which was curled perfectly like a 1950s pin-up girl. In the episode, Von Teese taught the models how to be gentle and seductive without being too crass. 
Von Teese moved her body sensually and effortlessly. Though she was just a child, Loretta felt inspired by her elegance and femininity.
"Ugh, why wasn't I born in 1926?" she recalled thinking to herself. "Then, I could live through the 40s and 50s.
Self-image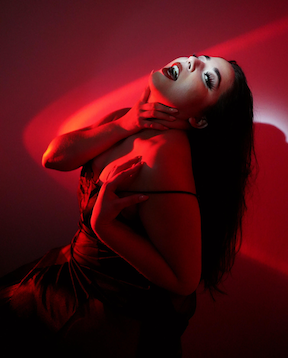 Before her twenties, she didn't feel comfortable being viewed sexually in front of others.
She started developing curves at a young age and was catcalled by a man when she was just 9 years old.
Whatever she wore to cover up her body, even a long a-line skirt, would still draw unwanted eyes. Growing up, the things she liked about her body were also the things that she hated about it.
Her body image suffered somewhat in college, when she studied musical theater, because she didn't blend in well with the other students.
Erotique wanted to continue performing but felt that the theater community was too judgmental and competitive.
After getting a bachelor's degree in theater, Erotique quickly realized she had fallen out of love with that career path.  
But her love for burlesque never seemed to go away.
As a teen, Loretta would practice burlesque-style dance moves for herself in the mirror but didn't dare tell her family about that since she was raised in a traditional Latinx household.
Being promiscuous was looked down upon and sexuality wasn't openly discussed in her family. 
The expectation was that women save that part of themselves for after marriage, which didn't seem fair to Loretta. She wanted to completely own her body and do with it what she chose — outside of marriage.
"I'm deserving of that," she thought.
As an adult, she was conflicted in a different way: She grew to love her body and wanted to inspire others to do the same. But she also wanted to decide when her body was viewed sexually and by whom.
"I wanted to not fear expressing myself as a woman," said Loretta. "You can't change certain things but you can change your mindset."
That is when she opened up to the idea of performing burlesque.
She wanted to live an authentic life, not for anyone else but her.
At the same time, she knew she had to tell her family about it and worried she would lose them over it.
"This is who I am and if you're not comfortable with that then you're gonna lose me," Loretta recalled thinking before she talked to her family.
To her surprise, her family didn't question her choice and even helped her prepare for her performances.
Her mother offered to help Loretta sew or just be there for moral support before or after work. 
Her father has helped construct prop pieces for her shows, and her sister is very supportive as well.
"As a child, she loved dancing, performing, and producing. As she got older though and she participated in school or college performing activities, it seemed not to fulfill what she was seeking," Loretta's mother said. "She always felt out of place, whether among friends or family. It was heartbreaking to see her struggle but when she found burlesque that lit up her life. I couldn't be happier for her. She has found her passion and loves every moment of it."
Loretta's debut
When she was 23, Lorreta decided to take her first burlesque class with Empowerment In Heels, a Burlesque School that is " focused on empowerment as a way to provide a safe space for all bodies to explore the beauty and catharsis of Burlesque". 
Loretta decided she no longer cared how she was perceived and thought to herself, "Better late than never."
She loved and appreciated her skin and her body and didn't want to have to hide it because of societal judgments.
"This is my body and it's keeping me alive, I get to walk and talk and do all these things with my body, why am I hating it?" Loretta recalled thinking to herself.
She felt she had to embrace her body type to set an example for her sister and the people around her. 
She wanted them to see the good things in themselves and not identify with what they perceived to be "negative" aspects of their bodies.
"Those bad things you feel are bad, [they] aren't. They are in your head. Things you may hate about yourself someone else might love about you," she said.
In July 2018, the day after her birthday, Loretta was performing at a student showcase at the Three Clubs in Los Angeles. She was behind the stage waiting for her big solo. She felt fearless. She had always loved the stage and was eager to kick off her new life as a burlesque dancer. 
When Loretta finally took the stage she couldn't see the audience because of all the lights directly on her. It was a crowd of about 25 people, made up of Loretta's and other dancers' close friends and family.
As Etta James' "I Just Want to Make Love to You" jazz medley played, Loretta began to peel off her black homemade costume, piece by piece, revealing all red items underneath.
Off came the black gloves to reveal red ones. The black corset hid a red one. One reveal after another gripped the audience. As the 5-minute performance ended, the crowd went wild with applause and cheers.
 Jackie, an experienced burlesque dancer in the audience, immediately knew. (She didn't want to be identified in this story because of safety issues related to her burlesque persona.)
"She has something special," the performer recalled thinking. "Her attention to detail with her act development and the creativity in her costuming is well past what anyone would expect from a student showcase."
Loretta's act stood out.
"I do double glove reveals routinely now because of what I saw in her burlesque debut," said Jackie, now a close friend of Loretta's.
Loretta took a deep breath and was backstage before she knew it.
A fellow burlesque dancer whom she looked up to told her, "You have what it takes to make it in Burlesque." Loretta was beyond flattered.
"Ah!" Loretta sighed with joy.
She wanted everyone to experience shows like that as a release or distraction from the mundane life. Loretta wanted to invite the audience to escape with her.
It was an out-of-body experience, except she didn't feel like someone else, she felt that she was finally herself.
After that first burlesque performance, Lorreta never looked back.
Loretta Erotique was born. Through embracing her sensuality and creativity, she felt empowered and finally in control. 
Plans for the future
Loretta's ability to create custom pieces for her burlesque shows that fit her hips and curves was inspired by her abuelita. Loretta credits her abuela for teaching her how to sew when she was 14 years old. 
Something as little as zipper placement on an item of clothing can impact how successful a burlesque performance is. "In burlesque, it isn't just about taking off your clothes," Loretta said. "It's the preparation and fluidity of it all, how you're taking your clothes off, how you're dancing, and much more."
Loretta plans to have a bigger workspace in the future so she can create more garments, like boas and other items, for herself and others. 
She also wants to include her Latinx culture and her talent for singing in her future performances.
Although Loretta said she didn't feel confident singing publicly as a kid, as an adult, she intends to embrace her contralto vocals, the lowest singing voice for a female — much like other contraltos who are her singing influences: Rosemary Clooney, Ella Fitzgerald and Judy Garland.
On her Cinco de Mayo show, Loretta donned a sparkly red dress ensemble with red gloves to match and belted out "Quizás, Quizás, Quizás" by Osvaldo Farrés. Loretta was scared at first to sing in Spanish while stripping down in her act. As a proud Latina, she didn't want to dishonor her Latinx culture. After performing, Loretta knew she made the right choice.
The audience whooped and cheered. They were thoroughly engaged. Loretta felt she had honored her body and her culture.
The familial aspect of this dancer community has been essential to Loretta's success and participation in Burlesque. She said they have always "openly and genuinely" rooted for her to win.
Loretta said she is exactly where she belongs.
Updated July 25, 2022: A performer's full name was removed from this story because of safety issues related to her burlesque activities.