Festivities abound for Mexican and Central American Independence Days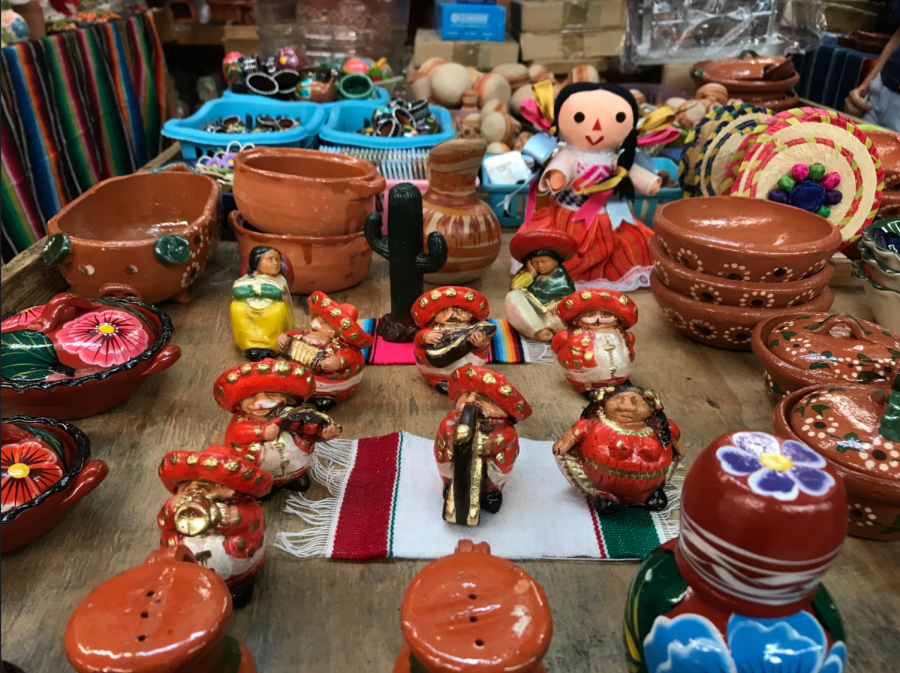 By Fernanda Hernandez, Community News Editor
September 10, 2019
In honor of Central American and Mexican independence days – on Sunday and Monday, respectively – we compiled a list of local celebrations this week and profiled two of the biggest Latinx shopping centers in Los Angeles, the Mercado de Los Angeles in Boyle Heights and the Alameda and El Faro swap meets in Vernon. Mexican Independence Day, Sept, 16, 1810, celebrates the moment a Catholic priest known as Father Hidalgo first urged independence. Central American Independence Day, Sept. 15, 1821, marks the day that Guatemala, El Salvador, Honduras, Nicaragua, and Costa Rica became independent from Spain after nearly three centuries of colonial rule.
El Mercado de Los Angeles, called "El Mercadito," is not only a place for good Mexican food like flan, chuleta, esquites, churros, but a place for community members to embrace their culture. 
El Mercado de los Ángeles, llamado "El Mercadito," no solo es un lugar de buena comida Mexicana como flan, chuletas, esquites, churros, pero también es un lugar donde los miembros de la comunidad abrazan su cultura.
At the Alameda and El Faro swap meets in Vernon, you can get an acupuncture session, a quinceañera dress, a tostada ceviche and a pony ride all in one place.
Where to go to celebrate
Mexican Independence Day Outdoor Concert
The San Gabriel Mission Playhouse will be hosting a free outdoor concert Friday, Sept. 13, at 6 p.m. The featured acts will be Mariachi Canteres de Mexico! and Esperanza Flores Ballet Folklorico. There will be food for purchase such as Chanos Mexican food and natural ice-cream popsicles from Nomad Ice Pops, according to the playhouse's website. There is free parking on the premises.
Annual Festival y Desfile Centroamericano
Like most years, the Confederacion Centro Americana (COFECA) will be hosting its festival and parade for Central American Independence Day at MacArthur Park. The event is 11 a.m. to 10 p.m. on Sept. 14 and Sept. 15, according to the group's Facebook page. Admission is free.
Desfile de Independencia Centroamericano
On Sunday, Sept. 15, the Consulado General de El Salvador in Los Angeles is hosting a parade to celebrate the independence day of Central America. This event is free, it's for the entire family to enjoy, and it is set to start at 11 a.m. and end at 2 p.m., according to the consulate's Facebook page. The country that is hosting this year's parade is Honduras and it will take place on Vermont Ave. and Pico Blvd. near El Salvador Community Corridor.
Mexican Independence Day Fiesta
Park Plaza On Maine in Baldwin Park will be hosting festivities to celebrate Mexican Independence Day on Saturday, Sept. 14, from 2 p.m. to 5 p.m. There will be performances by mariachis and folkloric dancers, according to Patch Los Angeles. There will also be carnival-like games and contests for the entire family to enjoy. One of the contests will be a piñata design contest, which is free to enter. To learn more about this contest, you can visit parkplazaonmaine.com or call Tim Murphy at (626) 419-2193.  
Fiestas Patrias: Mexican Independence Day on Olvera Street
La Placita Olvera, as it is commonly known by the people of Los Angeles, will be hosting its annual Mexican Independence Day celebration on Saturday, Sept. 14, and Sunday, Sept. 15, from 10 a.m. to 8 p.m., according to the Los Angeles Department of Cultural Affairs' website. There will be artisan exhibits, food, and cultural activities for the community to enjoy. As always, the admission is free.
Family Days: Mexican Independence Day
La Plaza de Culturas y Artes will be celebrating Mexican Independence Day on Sunday, Sept. 15, from 12 p.m. to 4 p.m. The event is free and the families will be able to enjoy live performances by Conjunto Jardin and Tierra Blanca Arts Center and Las Colibri, according to the local AARP's website. They will also be providing free kitchen and gardening workshops.