Indigenous Peoples' Day gathers a crowd of over 50
Anne To, Multimedia Reporter
October 17, 2022
The sound of a conch's horn and the tempo of the drum led a crowd of over 50 students down the main walkway and around the library on Indigenous Peoples' Day.
The dance company, Xipe Totec, danced and led the students while lighting sage along the way.
On Oct. 10, the Associated Student Inc. (ASI) and the Cross-Cultural Center held an event to celebrate Indigenous Peoples' Day in front of the U-SU plaza, 
Yahir Flores, the ASI Diversity and Inclusion Officer, planned the event in order to educate students about native tribes.
"Our main focus is to bring about acknowledgment, recognition and informative perspectives to our students, to celebrate our native identified students, staff and anyone," Flores said. "Just really have our students learn and get a better understanding of the importance that it is to acknowledge our native tribes."
On the U-SU stage, a banner with the words "This is Tongva Land" was hung throughout the entire event. That caught some students by surprise. 
"I did not know that we were currently on Tongva land," said Kylie Wines, a chemistry major.
The land of Los Angeles originally belonged to the Tongva people as Toovagnar. Cal State LA has adopted a land acknowledgment statement as the campus resides on Tongva land. 
"That tells me that we have a lot of work to do in educating our students," Carolyn Dunn, a Cal State LA Native American and Indigenous Peoples Caucus member. "Even though the university has adopted that land acknowledgment, we are not doing a really good job at messaging."
Xipe Totec used chachayotes, ayoyotes and other traditional Mashika (also known as Aztec) instruments during the performance.
"These are traditional dances that we learned from the south of Mexico," said Raul Ribes, a member of Xipe Totec. "We're all united by the dance. It's our dance. It's our heart. It's our soul."
Dennis Garcia, a Chumash council member for the Tataviam Band of Mission Indians, came to perform a blessing.
"Every word I say is awareness, awareness, awareness," Garcia said. "About who we are and that we've been here forever, before anybody else got here, multi-nations, multi-tribes and multi-cultures."
Garcia performed an eagle song.
"What we do when we sing about the eagle, we sing to try to be respectful, to try to show our pride in our culture and the strength we have in our culture," Garcia said. "That's what that symbolized before the United States took it to symbolize themselves." 
Daniel Jesus French, a Mohwak from Kahnawake, sang songs and performed spoken word about his experiences as a mixed indigenous person.
"This day is about celebrating indigenous people from this continent, but regardless, I wanted everyone to leave with that sense of loving themselves," French said. "I think that's what this day is all about. It's all about making a whole day about indigenous people to show love."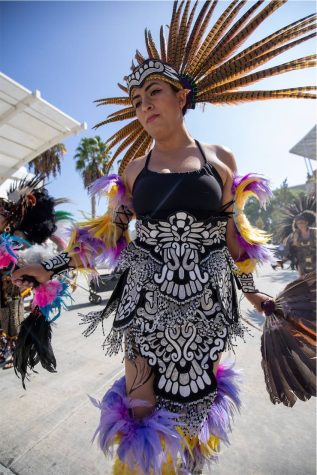 French experienced some technical issues during the event as the microphone went out. Students gathered around the front of the stage as he performed an impromptu acapella performance by having the audience snap their fingers to the beat.
Indigenous Peoples' Day beginnings
In 2017, Los Angeles County formally recognized the second Monday of October as Indigenous Peoples' Day. 
"I think indigenous people deserve a little more representation because they really were here first," said Brandon Phan, a mechanical engineering major. "So it's good that the name got changed from Columbus Day to Indigenous Day."
Phan remembers being taught about Columbus a lot when he was younger but was never taught as much history about indigenous people.
"I'd never really had that much of an understanding growing up as to why we were here, but after learning a bit more when I was older, I could understand. We took a lot of land from them."  Phan said. 
A group of local Los Angeles teachers visiting Cal State LA were moved by the performances and event. 
"I'm part of the generation that grew up hearing the Christopher Columbus side of the story and as the years have progressed, I think California has become better about celebrating indigenous culture and informing their students about indigenous history," Elizabeth Lima, one of the teachers visiting Cal State LA, said. "I wish more of our students were here to watch because we were so excited, but I'm so happy that the students at Cal State LA and any visiting, were able to experience this."