Leaving corporate America to start a Hawaiian 'hot dog' stand
Whittier man decides to invest his hard work ethic into his own business
Jay Salazar considered himself a loyal employee.
When his boss at the printing company where he worked asked him in late 2020 to drive 100 miles to Palm Springs to service some printers, he didn't think twice. He knew he'd hit traffic on the way home to Whittier but he woke up at 4 a.m. to ensure he didn't on the way there.
When he arrived, he was surprised to find more than 100 printers that needed servicing. And no one else would be helping him.
That means what he thought was a one-day job became a two-month job — with the same daily routine and commute, leaving before the sun rose and getting home after sunset. He was barely ever home.
After two months of checking the toner, making sure each printer wasn't jammed, and switching out new ones for old ones, one day, Salazar had enough.
"I had been working for this company for eight years and I was super dedicated. I had put in so much effort into my career," he said, adding that he "noticed this company was demanding more of me but not compensating me for my efforts."
On Feb. 4, 2021, Salazar sat in his car with his two weeks notice in hand. He stepped out of his work car, swiped his key card for entry, walked to his manager's office and placed it on his desk.
He didn't know then his life would forever change.
Learning about musubi and Hawaiian culture
Ironically, something his manager had once introduced him to led him to the next phase of his life.
One day, years ago, his boss suggested they eat at a Hawaiian spot for lunch. That's where Salazar tried musubi, a Hawaiian dish, something he had never heard of before. It's a slice of Spam atop rice, wrapped together with seaweed. As soon as he bit into it, he was hooked.
"I started trying to make my own. It made a quick snack for my wife while she's working," said Salazar.
The musubi also seemed to be a healthier alternative. Compared to some hot dogs, which are 330 calories each, his musubi was only 60 calories.
In April 2019, Salazar had won a trip to Hawaii, where he fell in love with the flavors and culture.
Rice was more often served than bread. Sauces were mixed from different ingredients like mango, pineapple and teriyaki. Instead of hot dogs at the local 7-11, you could find musubi.
When he returned home, he started making different varieties of musubis and his friends and family loved them, so he started selling them as a pastime.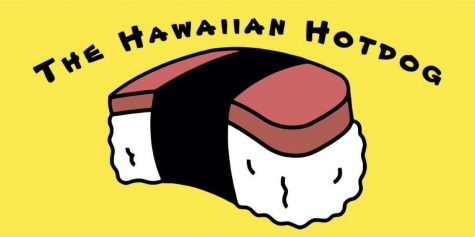 Starting the business
Salazar created an Instagram page dedicated to his musubi creations. His page was getting noticed and orders were being placed.
After he left his job this year, he decided to work full-time on musubis, calling them the Hawaiian Hot Dog.
"I started thinking I worked so hard and put so much effort into this company and I didn't really have much to show for it, but what if I put that same dedication into the food and the business I was creating?" said Salazar. "If I'm going to work hard, it's going to be for me and my family. With the support of my wife and my family and friends, I made the leap."
He knew it would be a risk. About 20 percent of small businesses fail within their first year and about 30 fail within the second year, according to the Bureau of Labor Statistics.
The California Homemade Food Act, which took effect in 2013, made the production and sale of some homemade foods legal. But in order to do that, you have to apply for a home-based cottage food permit. Salazar applied and was approved.
Salazar's love of food and cooking led him to experiment and create his own forms of musubi. He made a blend of spices to add to the rice to make it more flavorful and created his own mango sauce to give the musubis an extra punch. He even began to attend pop-ups where multiple small businesses get together and branch out.
Facing challenges
One of his biggest challenges is negative associations with musubi's star ingredient: Spam.
Spam is a canned lunch meat product that went to the shelves in 1937. It can be quite salty and the idea of meat in a can isn't appealing to many.
When Salazar attended pop-ups, events where multiple businesses gather to sell their wares or food, people were often hesitant to try the food. Salazar watched people walk right past his booth, wishing they would give it a chance.
Those who were brave enough to try it, fell in love.
"I'm a person that always loves a challenge and I refuse to be defeated and I've put so much love and dedication into my food that I hope that I can win over even the most selective eater," he said.
Still, it would usually cost $35 to $75 to participate in pop-ups. The events featured other vendors with foods like tamales, tacos, barbeque, quesabrosas (or quesadillas with birria for dipping) — foods people knew. The Hawaiian Hot Dog was unknown territory.
"There would be times where it would be a slow start. We'd get looks but not many takers," Salazar said, adding that he ultimately realized the pop ups didn't work well for his business.
Finding success
What did sell were weekly specials and new items like Spam Taco Tuesday, Breakfast Burritos Wednesdays, and Teriyaki Bowl Thursdays.
Lunch became the busiest time for Salazar and more catering orders were placed.
"A lot of people were stuck at home and many were not willing to wait in long drive-thru lines so I grabbed the opportunity for curbside pick-up. It has been a good experience and I've been able to meet some cool people," said Salazar.
Considering that, the Hawaiian Hot Dog has actually seen increased weekly sales of about 5%.
Fans like Gabby Galarza love Salazar's cooking methods for the Spam.
"I love how he makes it taste so good by broiling it with some sauce. He makes boring food 10 times better," she said in a phone interview. The success has led Salazer to consider opening a small restaurant one day with a few tables and enough room for people to come in, enjoy the food and relax.
Salazar's brother, Joshua, said he was happy to see his hard-working older brother living his dream.
"He's finally doing something he wanted to do. I know he's happiest when he's running his business," said Joshua Salazar. "Plus, I also get to try his newest creations."