Lindahl's Hat Trick leads the Golden Eagles to Victory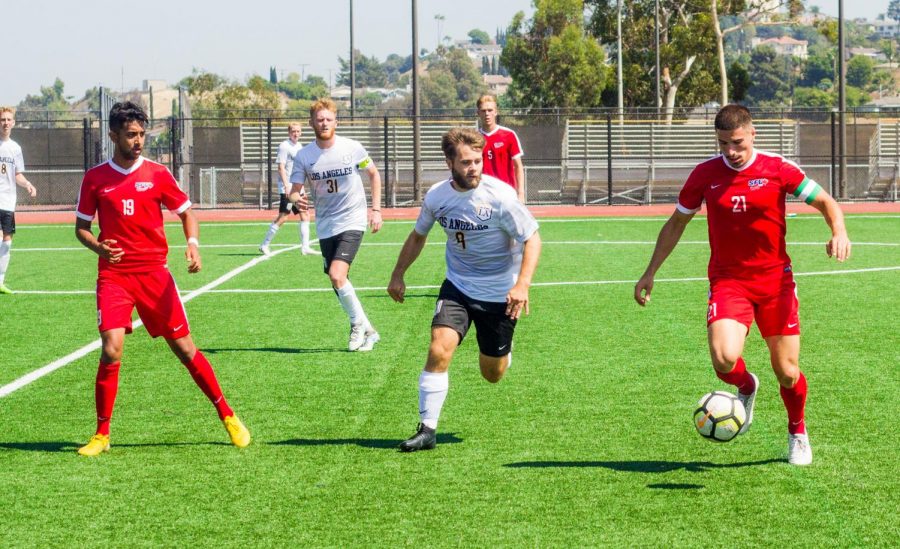 In a battle between Eagles vs Eagles, the Cal State LA men's soccer team proved to be more "Golden", as the LA Golden Eagles triumphed over the Concordia Eagles this past Saturday by a score of 3-0. No one had a bigger day than Robin Lindahl, who was responsible for the entire Golden Eagles offense that day, scoring all three goals and earning his first career hat trick with the team.
"My performance is only as good as the performance of the team, and my teammates were amazing that game, assisting me like they did," Lindahl said.  He was assisted on each goal by a teammate: Eddie Leon, David Elizaga and Leonardo Nogueira, respectively.
The goals are "a product of collective work, the group itself helped create those goals for him. [Lindahl] deserves create for finishing them, but obviously the group itself deserves credit for helping create them," head coach Chris Chamides said.
Lindahl was named the CCAA Player of the Week for Sept. 2 to Sept. 9 for his performance against the Concordia Eagles, etching his name in the record books with the 27th hat trick in the program's history.
The win improved the Golden Eagles' record to 3-1, as they bounced back from a 2-1 loss against Simon Fraser who is currently ranked number three in the nation. Lindahl believes that it was "extremely important to rebound" after the loss, saying the win was "extremely important, both for the confidence of the group and for the record overall. It's a big difference to go 3-1 instead of 2-2."
The LA Golden Eagles' next game will be on the road as they travel to Chico State University to take on the Wildcats in their first CCAA conference game on Friday.
About the Contributor
Anthony Quach, Sports Editor
Anthony Quach is a journalism major in his senior year at California State University, Los Angeles. He began as a contributing writer for the University...