Live painting, music and performances produce a night of creativity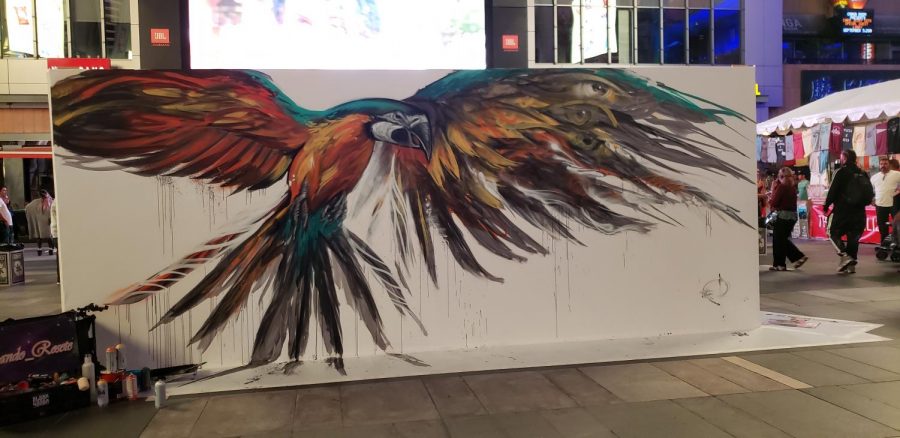 Street artists, jugglers, musicians and community members gathered late last month for a night of creative expression at the "Friday Night Block Party."
The event gave performers an opportunity to showcase their work in front of a live audience and for community members to enjoy live music and art free of charge.
Street artists — including Armando Rosete and Allison Bamcat — painted 10-foot murals, live at the event. The murals include Rosete's of a bird in motion, its teal and orange feathers spread, seemingly flapping.
Rosete, a tattoo artist and muralist who has lived in Alhambra and Lincoln Heights, goes by "Pops Born to Cre8." He said when he was growing up, he wasn't sure what career he wanted to pursue until his best friend, Doug, encouraged him to take the path he's on now, becoming part of the art world. He said Doug would pick up art supplies for him and let    him paint in his room everyday. 
From there, they both started to create work for underground raves, hip hop events, and festivals. He started producing graffiti art and moved onto creating work for art galleries.
"L.A has so many different cultures in a small spot. It's so easy to jump in and out of so many environments and life styles and movements," Rosete said. "It's not about how long it took me to do [this] piece, but how all the experiences and everything I went through to really develop my style, my emotions, and my feelings to really create work like this."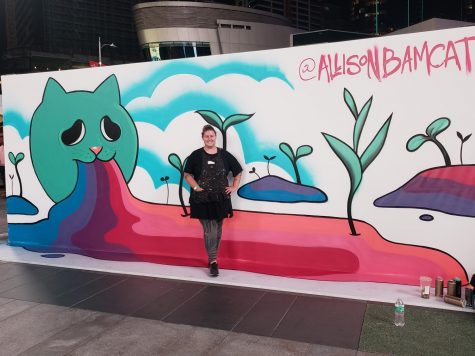 As for Bamcat, she is not just a street artist, but also a designer and muralist. She said her mom enrolled her in drawing classes, from a young age.
"I was just a little girl and doing art was something I knew I wanted to do," she said.
Bamcat said that her mural "Too Much Fun" took her about three hours to complete. "I wanted to do something funny and colorful[something] that people would want to take a picture in front of," she said. Some folks attending the event took the mural in intently while others did double-takes walking by.
"It makes me feel very joyful because I love how all the colors are very vibrant, and it just describes me and my personality," Hector Gonzales said about the mural.
This story was originally published in the print edition of the University Times in September.
Community News reporters are enrolled in JOUR 3910 – University Times. They produce stories about under-covered neighborhoods and small cities on the Eastside and South Los Angeles. Please email feedback, corrections and story tips to [email protected]