Mariachi Plaza development planning gets extension
Metro needs more time to analyze the project, ensure it will work
At a virtual meeting on Dec. 3, the Los Angeles County Metropolitan Transportation Authority unanimously approved a 6-month extension on its agreement with the East LA Community Corporation, which is planning to develop the Mariachi Plaza area.
The extension will give Metro's staff a chance to "fully understand ELACC's capacity and approach to timely development of the projects, including further development of their cultural preservation and updated outreach plans," according to the agenda report.
And if the project moves forward, the extension will also provide ELACC with a chance to, among other things, get more community feedback and environmental and other clearance for the location, the report said.
The agreement was set to expire Dec. 15 and the decision now extends its term to June 15, 2021, with three optional extensions of six months.
The decision also included directing staff to establish key breakthroughs in the modified agreement for community outreach and cultural preservation and to report back to the board prior to exercise of any of the three options to extend the agreement. 
The project ELACC is working on is called Lucha Reyes and it is one of six joint projects Metro is working on in the community of Boyle Heights. 
The Lucha Reyes project will provide 60 units of affordable apartments targeting low income families and young adults; 6,340 square feet of street-level retail facing Mariachi Plaza; a 6,000-square-foot community garden, and a 2,035-square-foot Mariachi Cultural Center.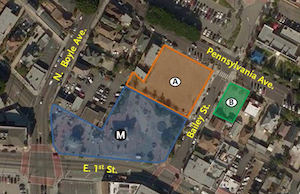 ELACC is a nonprofit organization founded in 1995 that aims to provide affordable housing, community services, community organizing, and wealth-building services to over 2,000 residents. 
On Thursday, Dec. 17, ELACC held a community meeting about the Lucha Reyes Apartments to update people on the project and to let them know how to voice their suggestions and concerns.
"I want to assure everyone who cares about the future of the plaza that our objective is to give community members more reasons to visit and offer more opportunities for performers, small businesses, and street vendors to showcase their talents and share their work," Manuel Bernal, ELACC's president, said in a recent statement.
The statement clarified that the group is addressing concerns about the project potentially encroaching on Mariachi Plaza by planning a five-foot gap between the plaza and the new development and there are no plans to demolish any existing buildings.